GLOBAL red meat processors are throwing billions at improving productivity and efficiency in their operations, in the face of serious ongoing labour challenges.
Especially in North America and Australia, processors continue to be pressured by labour issues, in part, but not solely driven by COVID.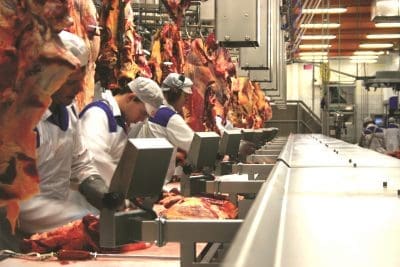 While it was less evident in Australia, the COVID pandemic has added heavy burdens in some meat processing countries since it emerged in the second quarter last year. At one point a year ago, the US lost 40 percent of its beef processing capacity either to sickness among workers, plant closures due to levels of infection, or reduced manning levels designed to moderate the spread of the disease on-site – or all three.
In Australia this year, some processors conceded that the principal limiting factor behind low rates of slaughter some weeks was not the chronic shortage of killable cattle, but simply a lack of labour resources to kill and debone them.
The issue was highlighted in this article with Australian Meat Industry Council's Patrick Hutchinson back in May.
Fuelled by record high global meat prices, processors in some regions (Australia excluded) are making record high profits, helping finance current investment in labour efficiency-driven by technology.
Global giant JBS recently delivered its third quarter results, described as "the best and strongest moment in the company's history" across its operations in North and South America, and Australia. JBS global's net income for the quarter reached US$1.5 billion, and net revenue US$17.7 billion.
Results like that have left an enormous warchest for processors to invest in efficiency and labour saving.
US meat processing giant Tyson Foods recently announced it will spend more than A$1.8 billion on new automation capabilities over the next three years to reduce labour costs and associated risks, increase yields, and ultimately deliver cumulative savings.
The productivity initiative is designed to help the company's facilities improve production capacity and efficiency and continue to unlock value, shareholders were told in a recent virtual Investor Day. Across its North American operations in beef, chicken and pork, Tyson employs about 137,000 staff.
Chief executive Donnie King said the company expected to deliver more than US$250 million in savings by leveraging new digital solutions like artificial intelligence and predictive analytics to drive efficiency in operations, supply chain planning, logistics, and warehousing.
Underpinning Tyson's investment is the forecast that global protein consumption across beef, pork, and chicken will rise by 43 million tonnes over the next ten years.
The COVID-19 global pandemic and associated responses had had an adverse impact on Tyson's business and operations, and the extent that the pandemic continued to impact operations would depend on future developments, shareholders were told. These included the scope, severity and duration of the pandemic, the speed and effectiveness of vaccine and treatment developments and their deployment, and public adoption rates of vaccines and their effectiveness against emerging variants, including Delta and Omicron.
In its recent third quarter financial results briefing, Tyson's rival JBS said the company had invested A$1.8 billion in modernising and expanding its global facilities since 2020, with an emphasis on labour efficiency and productivity.
Efficiency drives with an emphasis on meeting the labour challenge are also being seen in Australian processing.
Teys Australia is putting the finishing touches on a brand new centralised high-tech Dematic beef aggregation and automated sortation system near the Port of Brisbane.
Bristling with labour-saving robots and smart technologies, the site will aggregate and manage chilled and frozen product from Teys' three large Queensland export beef plants at Beenleigh, Lakes Creek and Biloela.
Stand by for a full story about this major investment project early in the new year.
Click here to view an earlier article on the installation of a Dematic carton sortation and retrieval system by Nolan Meats in Queensland.