A $20 million-plus investment in latest refrigeration and automated product handling infrastructure has taken place at Nolan Meats processing facility near Gympie in southern Queensland.
The investment  – the largest ever made by Nolan Meats in the family company's 60 year history – includes latest-generation large-scale plate freezing infrastructure, automated storage and retrieval system, and robotic palletising technology.
The new distribution centre will pave the way for likely further plant expansion over the next few years, including a new boning room, which will ultimately take throughput to 1100 head per day, in two 550-head shifts.
The new distribution centre was officially opened at a ceremony on Saturday morning, attended by local community, industry and government representatives, plus a group of key meat customers visiting from Korea. The facility, with an overall capacity of 86,000 cartons, replaces an older style leased off-site distribution centre in Brisbane, two hours from the Nolans plant.
Total frozen storage is 40,000 cartons, including sorting system, high-density system of 60 lanes holding 10 pallets each of 36 cartons picked and allocated to orders and racked pallets. Total chilled storage is 46,000 cartons, including sorting system.
The project now allows the company to efficiently and effectively chill, freeze and sort product in large volume on-site, for distribution to a range of export and domestic markets.
There are four key components to the new distribution centre:
New plate freezing facility
Dematic multi-shuttle automated storage and retrieval system (ASRS)
Robotic palletising system
Expanded general chilled and frozen cold storage capacity
The transformation of the Nolan Meats processing facility at Gympie demonstrates the ongoing confidence, commitment and investment from the local family-owned enterprise.
Ever since founders Pat and Marie Nolan borrowed from a local dairy farmer and opened their first retail butcher shop in Gympie in 1958, there has always been an underlying desire and effort to achieve and grow the business. Today, Nolan Meats employs 405 team members, who are a vital part of the operation.
The efficiency gains and speed of weighing, labelling, chilling/freezing, sorting and dispatching coupled with reduced energy requirements delivered through the new distribution centre will position the business for its next stage of growth, according to directors Michael, Tony and Terry Nolan, who each have hands-on involvement in the vertically-integrated meat business.
"While recent trading conditions have been difficult for processing, this latest expansion is about focusing on the future," Terry Nolan said. "It allows us to produce more and better quality products for more markets. Any efficiency we gain from this development will benefit our consumers by keeping our high quality beef affordable for them," he said.
"The latest technology adopted in the automated chilling and sorting system was selected to ensure full traceability and increased efficiency in high volume product handling. It is delivering exacting temperatures and shelf life that meet the needs of our growing export and domestic sales," Tony Nolan said.
The new facility is designed for both conventional carton handling, as well as returnable crate handling now preferred by some domestic supermarket groups.
Here's a brief summary of the project's key features:
Plate freezers:
Three new Milmeq plate freezers have been installed, with a capacity of 1280 cartons in each of three 'stacks' (each containing up to 64 cartons per level, with 20 levels) at any one time, delivers plate freezing capacity of 3840 cartons daily.
The best-in-class plate freezers will take product with core temperatures of 10-14C from the boning room to minus 25C in just 18 hours – half of the time that more traditional methods of blast freezing would require. Unlike other plate freezers, these ones open progressively, allowing cartons to be placed in contact with the plates more quickly, optimising the chilling and freezing process.
The plate freezers are fully automated, and the design includes a SCADA system and CCTV monitored from a control room.
Other benefits include a compact physical footprint, industry-leading energy efficiency and consistent presentation of flat cartons, which provides a flow-on effect of space saving in shipping containers. Click here to view Beef Central's earlier discussion about the value of plate freezing to the Australian beef processing industry.
Automatic storage and retrieval system:
A Dematic multi-shuttle automatic carton storage and retrieval system has been installed, with capacity for 36,000 live cartons – 24,000 chilled and 12,400 frozen. The sorting system has ability to age individual vacuum packed chilled cartons.
A series of robotic lifts and trolleys (see video) take individual cartons to a designated position on 23 levels, in a chilled/frozen facility which is 80 metres in length.
In a new innovation, Nolan Meats is also using the carton storage and retrieval facility as its active chilling system: one third of the facility is 'active' for fast chilling of cartons out of the boning room, with the remaining two-thirds used for 'passive' storage.
Cartons coming out of the boning room in random order are allocated a location in the automatic storage and retrieval system, and when a wholesale or export order is being put together, the required specifications are dialled-in, and the specific carton product required is retrieved and despatched by conveyor to the pallet stacking area (see references below).
Robotic palletising system:
Two robots installed in the robotic palletising area take pre-selected cartons retrieved by the Dematic automated storage and retrieval system and build orders for domestic wholesale or export customers. Each has a capacity to build 60 pallets of beef cartons per hour – or one per minute – to precise tolerances, and with minimal carton damage. The first pallet stacking carried out by robots took place last month. Arriving cartons are sorted by barcode in SKU, and to order for dispatch.
After pallets are built, there is a further cold room capacity for 660 frozen pallet positions, and 600 chilled. Beyond the individual sortation area, there is general storage in the chilled area for 400 tonnes of product, and 600t frozen.
The dispatch load-out and assembly area has capacity of 1512 cartons with three cold-chain loading docks.
Big labour savings
"This installation is about being more efficient; delivering better quality product, through better and quicker freezing performance; significantly reducing damage to cartons; while also greatly improving our labour efficiency," Terry Nolan said .
The new automation systems have taken 25 labour units out of the cold storage and distribution side of the Nolan Meats business. Those staff are being re-deployed to other parts of the business, as it expands.
"In coming years we want to double the capacity of our boning room so we can bone 500+ carcases per shift, and then double-shift into a +1000-per-day operation," Mr Nolan said.
Part of the move to the new distribution centre involved some reconfiguration of Nolans' existing boning room, which started in February this year. That included a six-station automatic carton erection and lidding machine; expanded boning room pack-off area linked to the distribution centre via conveyor system; additional vacuum packing throughput; weigh label and X-ray systems; and associated conveyors.
Under the new system, all cartons are identified by barcode.  Each SKU (in excess of 5000) label contains the product, date packed, number of pieces per carton, and MSA cooking method/aging information.
Big team effort
Michael Nolan acknowledged the enthusiasm and dedication of the Nolans team that coordinated the multiple contractors, suppliers and local service providers.
"They worked well together to deliver the project on time. Many of our production people put their hands up to work on weekends and public holidays. This integration with the existing plant ensured all customers had no interruptions to their regular supply patterns," he said.
Major contractors for the project included Milmeq, which did the plate freezers, McNab Constructions out of Toowoomba which did the construction work, and conveyor systems and robotic palletising systems from PFI in Brisbane.
Food processing plant equipment provider Milmeq said the Nolan Meats project was the culmination of two years of work, from conceptual design to completion, where both parties were actively involved in every part of the process.
Product manager Roy Robinson said both Milmeq and Nolans were very hands-on with their approach to the concept design.
"This was a very collaborative process," he said. "It's not often we have the design completely finalised before installation, but Nolans recognised the importance of considering the project from all aspects and this attention to detail at the design stage allowed for a very smooth project delivery."
Milmeq draftsperson Carin Mitchell, who worked on the plant's killfloor design back in in 1999, said it was great to partner with Nolan again after 18 years.
"I really enjoyed working with Mike Nolan and the team; it's great to have all of that input and another set of eyes going across the design," she said.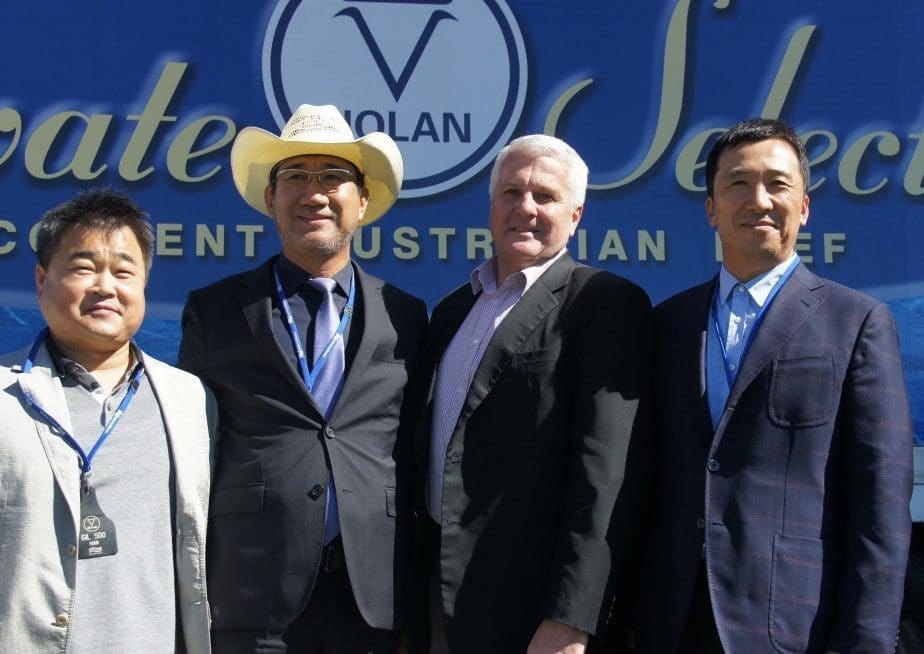 Korean export customers with Nolans' Terry Nolan during Saturday's distribution Centre opening.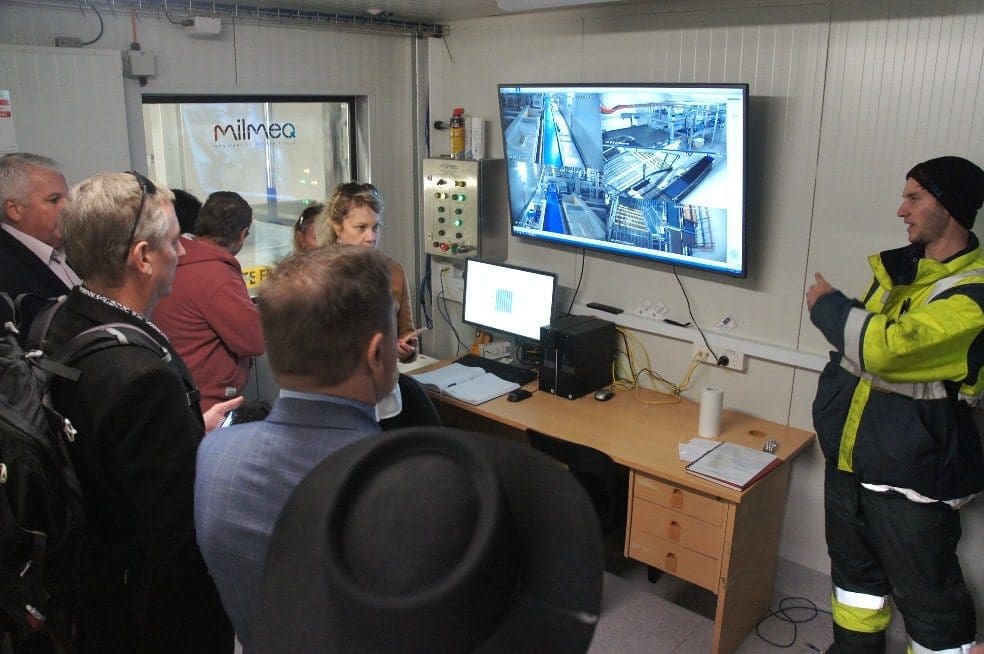 Visitors in the plate freezer control room during Saturday's distribution centre opening