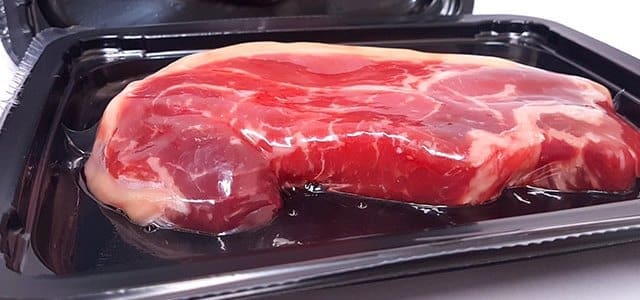 Flexopack's general manager, Clive Jacobs and technical manager Rick Bardell with samples of the company's ovenable bag packaging products at FoodTech Queensland.
A HOST of innovative new packaging solutions are taking red meat products in exciting new directions, adding convenience, shelf-life, flexibility and value to supply chain offerings, as well as helping reduce food and packaging waste.
There was plenty of evidence of the trends at the recent FoodTech Queensland trade show held in Brisbane, attended by Beef Central.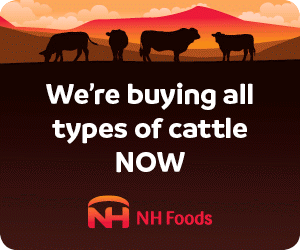 Protein packaging solutions provider Flexopack highlighted its range of 'ovenable' vacuum bag products, designed to produce high-quality, pre-cooked, heat-and-serve value added protein meals with greater convenience and flexibility.
In most applications, the slow-cooking of the protein, such as shanks, ribs or shin meat, in a gravy, is done at the factory, and all the customer has to do is re-heat the product either in a hot water bath, microwave or in the oven, while still in the bag. Some formats of ovenable bags are shelf-stable, meaning they do not even need refrigeration.
Flexopack's general manager, Clive Jacobs, said there were different packaging grades available, depending on each application, from a simple sous vide (hot water bath) grade, to a sous vide + oven re-heat, and a full ovenable bag, in which raw meat can be placed, allowing the entire cooking process to take place in the bag, at up to 200C.
Major supermarket groups like Woolworths are using the ovenable bag material in their rotisserie 'grab and go' chickens and roast meats (beef lamb, pork and corned beef, cooked in the bag at 200C, after being sous-vide prepared at the factory).
"The uptake in the ovenable bag space has been dramatic – it is one of our fastest growing lines," Mr Jacobs said.
"With all the hours of slow-cooking done beforehand at the factory, word-of-mouth is starting to spread, and more consumers are starting to buy into this space for the convenience," he said.
Consumer perceptions
One of the challenges still being overcome, however, is the natural consumer wariness about cooking a piece of meat at high temperatures, while wrapped in what looks like 'plastic.'
But the polymer and resin-based materials used, manufactured by Flexopack itself, are completely safe for the ovenable purpose they are developed for, both in terms of forming barriers, and heat resistance.
"The ovenable bags also allow the manufacturer to be creative regarding different sauces and flavourings, and provides a way to 'value-add' a lower-priced, tougher secondary cut of meat. Take any tougher secondary cut of meat and sous vide it for a few hours, and it eats beautifully, falling off the bone," he said.
While 'dry' meats can also be utilised in the bags, the process lends itself most to recipes employing marinades, sauces and gravies.
"Another advantage of this system is that the product retains its moisture – it does not dry out," Mr Jacobs said.
"We worked with a hospitality industry customer who was featuring ribs in a sauce. They previously sous-vided the ribs in the factory before sending them to each outlet, where the products were opened and put into a tray to be re-heated. This meant the product tended to dry-out, and did not present as well.
"Now, the sous-vide pre-cooked product is kept chilled, and only re-heated on-demand, in the self-venting bag, retaining all of the moisture and eye appeal."
While restaurant/food service sector was currently the major application for the ovenable bags, retail applications were now taking hold, with both Woolworths and Coles now offering ovenable products like lamb and beef in a red wine sauce.
In its latest development of 'ovenable' bags for meat proteins, Flexopack has developed a skin-pack vacuum-sealed form, using an aluminium tray, which can go off the shelf, and straight into the oven.
"Some might argue that the Australian consumer is not quite ready for a product like that yet – it takes time for such new products to gain acceptance – but it is available, and is already being seen in Europe," Mr Jacobs said.
Shifts in packaging for export meat
In the chilled fresh protein space, a noticeable trend evident among meat packaging exhibitors at FoodTech this year was the shift in emphasis away from Modified Atmosphere Packaging (MAP) solutions, to Vacuum Skin Pack (VSP) and thermo-form pack in various formats.
There are a number of reasons for that, including extended shelf-life in VSP, but importantly, in Australia, MAP has been found to have a large negative impact on tenderness in muscle meats in chilled retail packs, which has sent major users like Coles and Woolworths scurrying for alternatives.
A significant part of the trend is also a move among chilled red meat exporters to ship product not in traditional vacuum-packaged whole primal or sub-primal form, but as retail-ready portioned consumer packs, ready to be stacked out of the box onto supermarket shelves overseas.
With long transport distances involved with many of Australia's export customer destinations, the issue with that is shelf-life. Whole chilled primals from Australia typically have shelf-life of 120-130 days or more in shrink-bag form. But once greater handling and slicing is applied to take the same product through to retail-ready form, challenges emerge in retaining that level of retail shelf life performance in VSP form.
"We're not quite there yet with a thermo-form pack, for example, but our R&D team is working very hard with our big customers to recognise that this is a growing market. We want to look at not just the packaging, but the whole process that contributes to shelf-life when shifting from vacuum seal bags for whole muscle to retail ready packs," Mr Jacobs said.
"We're getting there. If we get everything right, then there is no reason why we couldn't get the same shelf life as a vacuum-sealed chilled primal. That's the objective," he said.
Solutions to reducing packaging waste
Packaging sector giant Sealed Air mounted a display which emphasised reduction in packaging waste through smart new product solutions. In fact the war on packaging waste was clearly evident on many displays at FoodTech.
"Reducing, reusing and recycling are great ways to make a smart difference ,and they certainly have their uses in the greater scheme of things. However, the best way is to embrace the opportunity to re-design, reinvent and change the status quo," the Sealed Air company argues.
For example, beef and other fresh animal proteins packed in MAP or VSP trays often require absorbent pads under the product to retain product 'purge'.
We've all seen meat products in supermarket shelves, exhibiting 'weep' or 'purge', where blood gathers in the tray-pack or vacuum skin pack in an unappealing way.
Sealed Air says that across the Australia/New Zealand fresh meat sector, more than 750 million soiled soaker pads from meat trays end up in landfill each year.
Rather than re-designing the pad to make it recyclable and therefore addressing 'end-of-life' concerns, Sealed Air has approached the issue from another direction, in an equally sustainable way.
The company's Cryovac HydroLoQ barrier tray, seen for the first time at the Brisbane FoodTech trade show this year, is a new concept where the absorbent soaker pad is replaced by specially-designed cavities and grooves in the tray base, which gather and retain purge, performing the same role as the pad. The recyclable tray offers extended product freshness and shelf-life, and with no soaker pad to dispose of, is designed to leave nothing behind, the company says.
Another example of re-design on the Sealed Air stand was the gradual evolution from MAP packaging to vacuum skin technology. For example the company's Cryovac Darfresh packaging solution has been shown to at least double the shelf-life of fresh red meat, enhancing logistic and retail efficiencies and offering a better consumer experience.
"Extended shelf life of this magnitude means less food waste, less packaging waste and better profits for processors, and this means better business sustainability," a company spokesman said.
"In the minds of consumers, plastic waste is still perceived to be worse for the environment than food waste," he said. "According to a recent survey, Australian and New Zealand consumers agree that re-sealable packaging is the best way to reduce household food waste."
Consumer education
The findings also showed that packaging has a reputational impact on the supermarket. More than 45pc of shoppers said they would react positively to a store promoting their food items as being packaged in a way that optimises food freshness.
"Consumers need to understand how packaging contributes to a safer and less wasteful food supply chain," the Sealed Air spokesman said. "They need to know how it impacts food accessibility around the world and how it drives better business sustainability for local producers and processors.
"Brand owners have a role in telling this story. Without a story, consumers and non-industry stakeholders see packaging as unnecessary, simply adding to our waste piles," he said.
"To reduce is priority, but whether we design for reduce, reuse or recycle, the full product lifecycle must be at the front of mind when designing packaging. A smart design that yields a sustainable outcome for all of the value chain is a fail-proof way of leaving our environment in a better place that which it was found. And, that's a stronger story we should all own."
Part of the problem was that there were some misconceptions out in the marketplace when it comes to the sustainability of food packaging, the Sealed Air spokesman said.
"Sustainable packaging is often met with the perception that it is green and environmentally friendly in that it is made from renewable materials and can be recycled or is compostable. Quite often, the focus on end of life and its disposal dominates. But, there's a missing part of this story about packaging's primary role in keeping food fresh and safe. If you consider the resource-intensive nature of our food supply chain, packaging that can double shelf life offers immediate and substantial environmental benefits," he said.
"Longer shelf life and freshness allows us to consume products within a greater time period, enabling less waste. But, it also goes a step further. There are also peripheral benefits, such as not wasting the resources that surround the packaging of products, such as the water and energy required to produce an item."
Sometimes, damaged products or spoiled foods could have a greater environmental impact than the products that protect them, the spokesman said. For example, the carbon footprint of 1kg of beef was nearly 400 times that of the plastic packaging used to protect it during distribution and sales, he claimed.
"We need to remind stakeholders that sustainable packaging involves understanding the life cycle analysis of the whole package including the product, packaging and shipping. This is something some people do not consider when looking at the big picture. Cost sensitivity is a concern, but is often negated when processors and retailers realise the myriad of supply chain benefits.
"From reduced re-work and down time through to extended shelf life and product appeal, it's easy to see how value sells itself. Again, while the initial outcome seems obvious, if you dig a little deeper, there are other considerations that need to be taken into account."