Victoria's troubled Tabro export beef processing plant may yet return to operations, with reports this week suggesting a buyer may have been found for the mothballed facility.
Sources close to recent discussions indicate that a well-established Victorian processor is close to signing a deal to purchase the Tabro plant, near Wonthaggi, in Victoria Gippsland.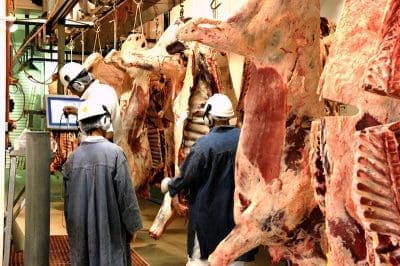 Discussions initially centered on a 51pc majority stake, including operating rights – with a second entity holding the remainder of the shares – but that has now changed to outright ownership by the Victorian processor.
Negotiations are said to be at an advanced stage, and signed contracts could be exchanged within a week, Beef Central was told.
In July last year, a group headed by Western Victorian businessman and Wagyu beef producer Tim Clarke from Minjah Pastoral Co announced ambitious plans to re-open the facility under new ownership, as a key platform in a new vertically integrated beef project.
Mr Clarke's MMG 1829 Holdings Pty Ltd confirmed the acquisition of the Tabro abattoir. At the same time MMG also announced the purchase of Melbourne-based export meat trading and supply chain management company, InterAgri Group.
"These purchases are the first step in a list of strategic acquisitions to create a supply chain that addresses key challenges such as food security and sustainability, with a strong focus on provenance to feed the growing demands of increasingly sophisticated consumers," Mr Clarke said at the time.
Neither deal progressed. Beef Central understands that no killing ever took place under MMG control, and the plan has now lapsed.
Beef Central first wrote about the likely Lance Creek deal in this article back in last year February. At that time, the Clarke family was strongly rumoured to be heading the deal, but it was not confirmed by Tabro management at the time.
The 500-a-day capacity Lance Creek facility holds an export approval for the China market, and is USDA export licensed. Beef Central understands the China market access is a critical attraction in the latest negotiations.
Tabro chief executive Shaun Brorsen said back in February last year that the acquisition by MMG meant that the processing plant would "restart after a period in administration."
"MMG's investment in infrastructure will increase our output capacity from 500 to 800 head a day over the next 12 months," Mr Brorsen said at the time.
Originally owned by processing industry veteran, the late Ted Brorsen, Tabro Meats included two Victorian plants at Lance Creek and Moe, in the Gippsland region.
As Beef Central wrote earlier, the business was sold in 2014 to China's Hengyang Group (formerly Foresun Group). Almost immediately after that deal was struck, Australian cattle and sheep prices started to rise dramatically, and the business got into trouble. Both plants were shut for long periods during 2016-17, and the Lance Creek facility has not operated at all for the past four years.
At one point in 2016, Chinese-owned Tabro attracted attention for late payment on slaughter livestock, an issue the company vowed to resolve. The Chinese owners said they spent about $10 million on both processing plants during the 2015 Christmas shutdown period to lift efficiency and performance.
A 2018 deal to sell the Lance Creek plant to Chinese-owned Harmony Agriculture and Food Co went close, but Harmony ultimately pulled out of the deal, and in 2019 went broke itself. At one point Harmony was apparently getting a small service kill done at Lance Creek.
In 2019, Hengyang Group sold its second abattoir at Moe to large southern processor, HW Greenham, which has since successfully revamped and re-opened the site.
The Lance Creek (also known as Wonthaggi) abattoir is in some of the most productive dairy and beef farming country in South Gippsland, and in earlier times was well supported by local producers and agents across Victoria and beyond.