NEW bandsaw technology is providing greater workplace safety for employees in the Australian meat processing sector, while reducing lost production time and compensation claims from injuries.
Domestic and export lamb and mutton processor Southern Meats, based at Goulburn in southern New South Wales, has invested in several BladeStop bandsaws.
Southern Meats' OH&S manager Claire Graham said four major incidents in five years involving conventional bandsaws resulted in 827 hours of lost time, and more than $100,000 in worker compensation claims.
"In one incident, the employee lost partial movement in his thumb, while another required a skin graft," Ms Graham said.
"In contrast, the only incident that has occurred since the installation of BladeStop bandsaws resulted in a small cut on the operator's thumb which was dealt with at our on-site medical centre and the employee was back at work straight away."
Safe Work Australia statistics show that in 2012-13, there were 95 accepted workers compensation claims and $400,000 paid in compensation due to powered saws in Australia's meat and meat product manufacturing industry.
The new BladeStop technology, developed in Australia, has been designed to mechanically stop the bandsaw blade within 15 milliseconds when the unit senses that a person has come in contact with the blade.
Read Beef Central's original article on the BladeStop technology here.
The units have been developed by Machinery Automation & Robotics with funding from Meat & Livestock Australia and the Australian Meat Processor Corporation.
As part of their commitment to improving work health and safety outcomes in the industry, both Research and Development Corporations are part of the Primary Industries Health and Safety Partnership (PIHSP).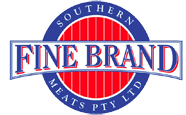 Southern Meats processes 3000-5000 lambs per day and employs about 320 staff, depending on the season. The majority of the production is exported to North America as well as the European Union and Muslim countries, while domestically the plant processes lambs for Costco Australia. Much of the production is sold under the company's Fine Brand label.
The company was one of the first abattoirs in Australia to be approached by MLA 11 years ago to become directly involved in the research and development of the BladeStop technology.
Ms Graham says prior to the technology development, it was hard to encourage people to learn how to operate the bandsaw.
"Nobody wants to learn a more dangerous job that can potentially cause amputation of fingers and loss of income – which can lead to added stress for those that have families. Now a lot more staff members are interested in learning the ropes on the new bandsaws," she said.
Click here to see a short video on Southern Meats' adoption of the BladeStop technology:
Southern Meats staffmember Fred McGregor is living testament to the potential dangers of the conventional bandsaw.
"I severed a tendon in my thumb when the blade went through the top part of my knuckle while I was cutting a sheep spine," Mr McGregor said.
"I'm now back at work and using both types of machines, and think the new technology is amazing. It gives all of us a greater sense of confidence."
"You put on a belt which is attached to the bandsaw – it's like a wire circuit and you become the relay. As soon as you come into contact with the blade, the machine reacts, pushes the ram out, grabs the blade and stops it instantly," he said.
"We feel a lot safer. You feel confident that you're not going to have a more severe injury, and therefore you know you'll get home to your family at the end of the day in one piece."
Beef Central has become aware of a second bandsaw safety technology which performs a similar function to BladeStop, which is about to be launched onto the Australian market. Keep a look-out for a separate article on that equipment in coming weeks.
The Primary Industries Health and Safety Partnership (PIHSP) aims to drive sustainable improvements to workplace health and safety outcomes in agriculture, forestry and fishery through investment in RD&E. It is funded by the Cotton, Grains and Rural Industries Research and Development Corporations, as well as MLA and AMPC. For more information visit www.rirdc.gov.au/PIHSP