AUSTRALIA's fifth largest beef processor, Bindaree Beef, may be seeking a strategic foreign investor to make a $100 million cash injection in an effort to expand the business's processing and beef export capacity.
The Australian Financial Review this morning reported that the Inverell, NSW business has hired PricewaterhouseCoopers Securities in Brisbane to unearth the "strategically aligned partner" and is calling for first-round bids in late February.
Bindaree is one of Australia's top five red meat processors with capacity to handle 1300 head of cattle daily.
The Fin Review suggests other part of the business is Sydney-based meat sales and trading business Sanger Australia, which supplies beef, lamb, pork, veal and poultry to more than 40 countries worldwide. Beef Central's previous understanding was that Bindaree did not hold equity in the Sanger business, but that it was a simple supply/marketing agreement for Bindaree product.
According to a teaser document sent to prospective investors, Bindaree made just over $40 million in earnings before interest, tax, depreciation and amortisation in the 2014 financial year, on $571 million revenue. It is forecasting an ambitious 61 percent EBITDA growth in 2015, but buyers will take some convincing to value the business off such strong numbers.
After an extraordinary 2014 year when beef export processors have enjoyed record throughput and unprecedented profit, market watchers have told Beef Central that the time is ripe to offer any Australian processing business to the market. In essence, the books have never looked better.
The Financial Review's article suggested industry sources had put a value on Bindaree of $400 million to $500 million, however, the vendor and its advisers "were expected to push for a higher valuation."
Independent processing sources say the business is worth nothing near that. Using a typical processing sector benchmark trading around 4.5 to 5 times EBITDA, that values Bindaree at more like $200 to $250 million.
"It will be interesting to see whether the strategic investor search ends up in a bid for the whole company," this morning's Fin Review article said.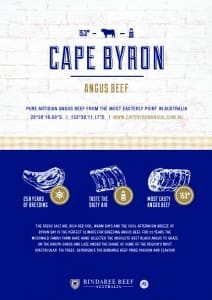 "Bindaree told potential investors its current shareholders were committed to the business, but it wouldn't be the first time a sale process has masqueraded as a strategic stake auction," it said.
The sale would be pitched around growing global beef consumption, particularly in China's emerging middle class, the industry's high barriers to entry, its large-scale processing facilities and Bindaree's brand portfolio.
Rumours were circulating late last year that another large Australian processor – possibly Thomas Foods International – had, or planned to made an offer for Bindaree, but Beef Central's inquiries at that time went nowhere. Such a move would have given TFI a much larger 'footprint' in the northern Australian region, where its operations are limited to the small Wallangarra plant.
If that bid was genuine, but rejected, the view is that Bindaree's McDonald family saw an opportunity to take the business to the market in order to "arouse some competitive tension."
If Bindaree's relationship with Sanger is simply as a seller of Bindaree's product, it is difficult to see how the company can support its ambitious claim of 61 percent EBITDA growth in 2015, without controlling the sale of its own product.
If a large overseas injection of capital does emerge, it would make a mockery of Bindaree patriarch JR McDonald's longstanding public opposition to foreign ownership of Australian beef processing assets.
The Bindaree prospect caps off a 12-month period of extraordinary high movement in Australian processing assets, either in outright sale or cash injections. Recent examples include Harmony Foods sale of Kilcoy Pastoral Co to Chinese interests; V&V Walsh in WA which took on Chinese equity; and Churchill Abattoir's recent announcement of Chinese equity injection.
Is CPC under takeover scrutiny?
The Bindaree move comes as London-based private equity firm Terra Firma considers selling its stake in Australia's largest privately owned beef producer, Consolidated Pastoral Company, after receiving approaches from Chinese players.
Australia's free trade agreement with China signed late last year has red meat producers expecting an $11 billion boost from the abolition of tariffs in the next nine years.