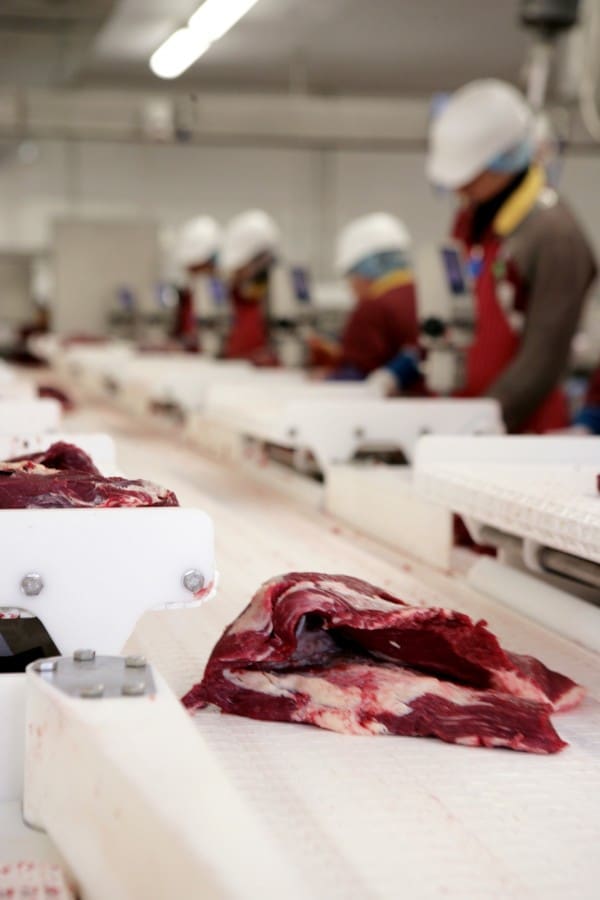 AS often happens on a rising slaughter cattle market, the physical saleyards system tends to jump ahead of direct consignment on price, until processor grids can catch up.
That certainly appeared to be the case last week as the first full week of saleyards selling for 2015 exploded into life.
Huge price rises witnessed last week both through saleyards and direct consignment – where some processors lifted grids as many as three times over a seven-day cycle, in trying to keep pace – has had the desired effect of flushing very strong numbers of cattle onto the market.
The current price bonanza, with many descriptions up an unprecedented 35-45c/kg on rates seen late last year, has flushed a big wave of saleyards cattle out this week, but the question now appears to be whether this will force a correction in saleyards prices, due to oversupply.
So far, it doesn't seem to have happened. Roma store sale in Queensland this morning yarded +8000 cattle, and was described by Landmark's Rod Turner as 10c/kg dearer for many categories, with steers 260kg selling to a phenomenal 298c/kg liveweight.
Prices yesterday were relatively unchanged at Wagga Wagga, where agents yarded +7000 cattle, up about 2500 on the week before, forcing selling to go well into the night. The bulk of that offering was purchased by northern feedlots. Feeder steers 400-500kg averaged 236c/kg and reached a top price of 247c/kg. Vealer prices were notably higher lifting 13c, with the better finished vealers selling from 228c-247c/kg. The cow market softened slightly with just over 1200 penned, but well-finished cows still sold from 180c-206c/kg.
Similarly Pakenham sale yesterday hosted a large yarding of more than 3200 cattle, in direct response to recent price signals. The market was described as firm for export weights and dearer for young cattle. Both Toowoomba sales yesterday (500 head and 830 head) were quoted as firm, but quality was generally mixed.
Only yesterday's Forbes sale, which attracted more than 3000 head, up more than 50pc on the week previous, showed a few lines (particularly among heifers and cows) falling a little in price on the week before.
But there's still a whole lot more saleyards cattle to come this week. There's more than 2000 booked for Gympie today, Warwick tomorrow has 2000, Wodonga 5000 today and Gunnedah tomorrow with 4000, as the avalanche of cattle continues.
Another factor which could put pressure on slaughter cattle in coming days is that next Monday is the Australia Day public holiday, which will put a 20pc deficit in many processors' cattle requirements for next week.
There's a strong sentiment evident in the marketplace that current supply and price activity is somewhat opportunistic, and that the real gauge of longer-term cattle pricing for 2015 may not emerge until March and April. That's when these short-term 'spikes' in supply are likely to die down, and more consistent supply of better quality cattle comes forward, and buyers and vendors adjust expectations.
"The market is still trying to re-align to a new set of supply and demand drivers, and it will take a bit of time to find its level," a solid market observer told Beef Central yesterday.
Export processors in the largest concentration of processing capacity in southeast Queensland yesterday described current direct consignment bookings as 'comfortable', but obviously anticipated sourcing greater numbers via the saleyards system as this week unfolds.
While there was evidence of some saleyards results last week being ahead of equivalent direct consignment pricing, that appears to have more than corrected this week, with latest grid adjustments. Latest public grid offers from large southeast Queensland processors this morning included:
450c/kg for 0-2 tooth grassfed heavy steer
445c for four-tooth grassfed heavy steer
440c/kg for six tooth steer
best cow 430c/kg
450c/kg for YG grassfed steer.
For specialty lines, PCAS grassfed steer was quoted this morning at 485c/kg; EU steer 470c/kg; 465c/kg MSA grassfed steer. One SEQ specialist grainfed processor is offering 520c/kg for 100-day grainfeds for May delivery.
Central and North Queensland grids are within 5-10c/kg of those rates, as strong live export competition is brought to bear. In southern Australia, grid pricing is perhaps 35c below those SEQ quotes, hence the heavy traffic in slaughter and feeder cattle out of saleyards as far south as Wodonga, where the freight differential back to SEQ plants and feedlots remains attractive.
Kills rise as season ramps-up
The Eastern States slaughter took a predictable rise last week, as more large processors returned to work after the holiday break, or added a second shift.
Most large two-shift sheds like Dinmore and Beenleigh are back to full rosters this week.
The National Livestock Reporting Service quoted a seven day kill of 137,544 head for the week ended Saturday, a rise of 13pc or 16,000 head on the week before, but still a massive deficit on weekly kills above 175,000 head seen for most of the back half of 2014.
All states were well up last week in their seven-day tallies, with Queensland lifting to 41,509 head (+1pc on this time a year ago), and NSW rising to 33,440 head (-5pc year-on-year).
Worth noting within the Qld statistics is the particularly low rate of female kill. At 29 percent, it is possibly the lowest female contribution to slaughter seen in two years. For periods during last year's drought, it was well above 50pc.
The low Qld female kill number suggests two things:
a)      there are a lot of grainfed cattle (skewed towards steers, over females) currently locked into the state's slaughter pipeline, after heavy placements during the final quarter last year, and
b)      slaughter-weight females, generally, in Queensland are now short, after what's unfolded over the past two years.
Further south, Victoria picked up where it left off last year with a large kill of 31,911 head (+14pc on last year); South Australia remains strong at 10,185 head (up 10pc on a year ago); and Tasmania 4942 head, (+2pc on last year).
As mentioned above, next week's kill will be affected by the Australia Day Monday holiday, which will be observed at most plants across the nation.
Tough going for lotfeeders looking for replacements
Given the high rate of turnoff of grainfed cattle over the past three or four weeks, one of the real challenges now facing feedlot operators and grainfed supply chains is replacing those cattle, at realistic cost. A 500kg flatback heavy feeder at the current rate of around 260c/kg live values him at $1300, before any feed cost is factored in. Put another $500 worth of ration down his throat, and he owes at least $1800 to his owner at close-out. The trend was clearly telegraphed in Beef Central's recent feedlot breakeven report, click here to view.