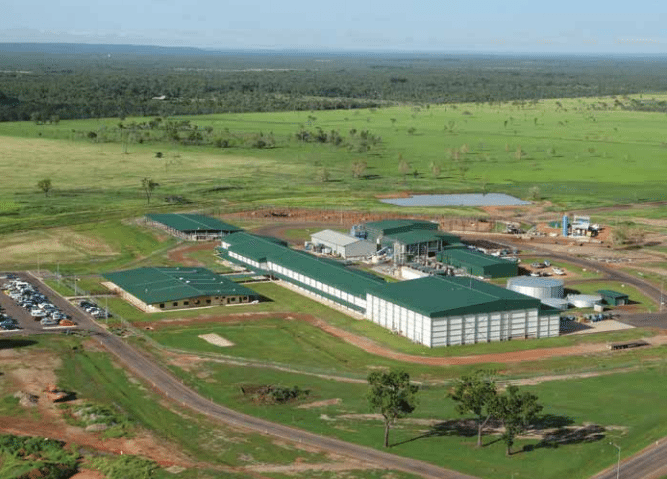 THE decision by the Australian Agricultural Co to hold its 2017 annual general meeting in Darwin this week will inevitably draw attention to the performance of the company's Livingstone Beef processing plant.
The $100 million Livingstone plant, commissioned in late 2014, has now completed two full years of operations, and investors are keenly interested in progress, as the company continues its progression from cattle producer towards being a vertically integrated, luxury, branded beef business.
However the location of this year's AGM means the investor ranks are likely to be limited mostly to the 'suits' in the front row representing institutional investors. It's unlikely that many of AA Co's legion of 'ma and pa' investors – many of them retirees, with time on their hands – will be able to justify the trip to the Top End to ask their often probing and always entertaining questions about operational performance.
Earlier, AA Co told investors and analysts during a full-year results briefing that Livingstone's operations and efficiency continued to improve.
"It's been widely publicised over the past year or two how tough the trading environment has been for all red meat processing operations across Australia," AA Co's then managing director* Jason Strong told the briefing.
"Our focus at the Livingstone plant is very much on the things that we can control, the things that we know that we can improve – rather than those external factors which have been so challenging for so many processors across Australia, including availability of raw material supply, the cost of supply, and the sales environment," Mr Strong said.
30pc increase in volume
"This past year (to March 31), we've increased the number of head processed at Livingstone by 26 percent, increased the volume of beef produced by 30pc (effectively more cattle that were heavier in carcase weight), and reduced conversion costs by 30pc," he said.
"Obviously handling more volume has an impact on efficiencies, but just as importantly, it's about running the plant better, and getting better at operating throughout the year."
Mr Strong said the Livingstone plant had managed to operate for the full 12 months, processing throughout the northern wet season last summer, by utilising nearby depoted cattle.
"We had some shorter weeks earlier this year, but kept operating in all weeks, except for one, after we re-opened for the new season on January 9," he said. "We're very pleased with the progress made in our second year at Livingstone, and certainly look forward to continuing that progression."
One analyst asked what Livingstone's earnings, or EBITDA were for the 2016-17 year ended March 31.
"Livingstone is vitally important to our northern supply chain," Mr Strong said.
"Everyone is aware of the challenges in processing over the past year or two. But the premise behind investing in the construction and operation of the Livingstone facility is about strengthening that northern supply chain, and that's still very much the commitment to the plant."
"As we have said previously, we're still not pulling-out the individual results of the plant and reporting them. But we are very focussed on this increase in efficiency and operational improvement, which was shown in the increase in volume and decrease in cost of conversion."
Sourcing of slaughter cattle for Livingstone – internal versus external – was the basis of another analyst's question during the briefing.
"We (AA Co) still supply as many internal cattle as we can into the plant, but we're a much smaller component of the total supply – it's in the 20pc region," Mr Strong said.
Shift to primal cuts from manufacturing beef
Another analyst asked about the apparent shift in focus to domestic sales last year, at the expense of Japan and the US.
Mr Strong said some of the increased sales out of Livingstone, had gone through an Australian entity (hence the larger domestic figure) but had in fact ended-up in offshore markets, principally the US.
"It does not represent an increased focus on the domestic market – more a case of the transitional path that some product has taken."
"But having said that, there's also been some increase in domestic sales out of the Livingstone facility. There's some quite good domestic markets for individual lean primal cuts, for use in beef jerky production, for example. That's allowed us to capture a whole-muscle cut sale out of Livingstone into the domestic market – adding more value than a trimmings opportunity, for example," he said.
From a revenue perspective, a surprising 48 percent of production coming out of Livingstone is now primal muscle cuts, 13pc came from hides, offals and fifth quarter products, and only about 39pc of revenue actually came from trimmings/manufacturing meat.
"We've already taken a step past the notion that the 90CL lean manufacturing beef price is a proxy for revenue from Livingstone," Mr Strong said.
"In thinking about all of our supply chains, we think about the end product and what we are targeting – for every animal, every decision and every operational activity. All of our products – whether it be a burger made from beef from the Livingstone plant, or a high-end Wagyu product used in fine-dining – is lined up with our customers' requirements. We're making sure that the cattle are lined-up in a way that that can achieve the customer's requirements to ensure they have the most fantastic eating experience – regardless of where they are eating our product."
Environmental issues continued in 2016-17
AA Co's annual report which will be available at Wednesday's AGM, says Northern Australian Beef Ltd (Livingstone Beef), had had a number of environmental management issues to contend with during the 2016-17 year.
NABL holds, and must comply with, an Environmental Protection Licence under the Waste Management and Pollution Control Act for the storage, treatment, recycling and disposal of waste in connection with the facility. The EPL contains stringent and detailed environmental requirements overseen by the NT Environment Protection Authority.
"NABL strives to comply in all respects with the terms of the EPL, however since commencement of commissioning and operations at the Livingstone Beef Processing facility in October 2014, NABL has experienced some compliance issues under the EPL relating to waste water treatment systems and odour management," the report said.
"In 2016 the NT EPA issued directions to NABL on two occasions under the Act. These directions required NABL to provide further information to the NT EPA or take corrective measures. NABL and AA Co complied with the directions given and provided all information requested by the NT EPA.
"NABL continues to work on improvements in process and equipment at the plant to address these issues, including the construction of an extension to the existing waste water treatment system. NABL and the NT EPA continue to work together constructively to monitor compliance with the EPL," the annual report says.
* AA Co managing director Jason Strong resigned unexpectedly last week. See Beef Central's earlier report.
AA Co holds its 2016-17 annual general meeting in Darwin on Wednesday 23 August.