Should processors and all major cattle purchasers publish their price grids for all to see?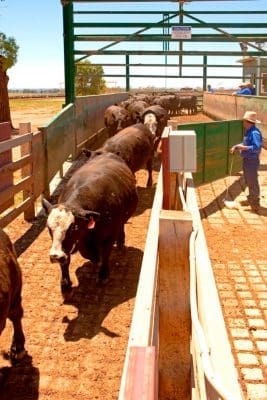 That was the first of 14 recommendations made by the Australian Competition and Consumer Commission in an interim report released on October 31 following a six-month study of competition issues in Australia's cattle and beef market.
The recommendation was one of several aimed at increasing the transparency of price reporting in non-saleyard, direct-to-processor sales, which account for the vast majority of slaughter cattle transactions in Australia.
After completing its six-month investigation, the ACCC concluded that cattle prices in Australia "are not usefully transparent", particularly prices for prime cattle, and that in turn makes it difficult for producers to make informed decisions.
Here is how the ACCC summarised the issues it found with price reporting for prime cattle:
 "There are significant gaps in reporting: the prices for paddock sales and OTH (Over the hooks) and saleyard transactions are inconsistently reported and in some cases incomplete in terms of the cattle types and geographic locations.
 This makes it difficult for producers to compare historical prices between channels (ie saleyards versus direct to works) on a like-for-like basis.
This lack of transparency distorts pricing signals intended to guide production decisions and may create information asymmetries between industry participants.
"In addition, direct sales prices are rarely reported, and reported prices for OTH transactions only reflect the prices offered to producers, rather than the prices actually paid.
"Further, the ACCC has found that pricing grids are difficult to interpret and are sometimes difficult to access.
 These issues appear to shift a significant amount of risk onto producers when selling prime cattle Over the Hooks (OTH).
 As cattle are transacted OTH in very large numbers, this is a significant concern."
The ACCC said specific gaps in price reporting it identified included:
Direct sales prices are only partly reported and rely on a small number of contributors;
Reported OTH prices are aggregated to the state level;
Reported OTH prices reflect the average offered price for each cattle category and weight, not the actual prices paid;
As much as 90pc of cattle slaughtered are bought directly from paddock. This is an important source of price information and feedback on preferred characteristics and specs. (The ACCC attributed the 90pc figure to information it had received from processors);
Producers say it can be hard to access price grids, and to compare, and carcase trimming varies from one processor to the next, which makes it hard for smaller producers in particular with lesser experience or fewer resources to interpret pricing offers from competing processors, in the ACCC's view.
The ACCC also suggested that producers do not have the same access to information that buyers enjoy:
"There are information asymmetries between producers, who are reliant on publicly available information, and buyers who have access to their own corporate pricing information. Buyers are also more likely to have wider market knowledge, and systems and staff to interpret public and corporate data."
Grids difficult to understand and compare
ACCC agricultural commissioner Mick Keogh told Beef Central that the ACCC's study showed that it was difficult for producers, when looking at two competing grids, to work out whether they would receive a better result selling to one processor or the other.
"Add to that the trim variation that occurs and it is a bit hard to get to the bottom of," Mr Keogh said.
He also suggested that an app could be developed to allow producers to compare grids from different processors.
Is it fair, or beneficial, to ask competitors to publish prices?
So is it fair to ask competing processors to print their price grids publicly, and will it deliver actual benefits, or may it in fact lessen competition?
Mr Keogh said processing sector representatives had suggested during the ACCC study that requiring processors to publish grids would lead to "price signaling", where competitors in effect start to mirror what each other is doing, which in turn could result in a lessening of competition.
"There is some validity in their argument, particularly in markets where there is only one or two that are competing, and that is a bit of a challenge," Mr Keogh said.
"On balance you have to weigh up whether you are better off with more access to those (grids), or whether in fact, more access would simply mean everyone following at the same price.
"It is a bit of a moot question and I am not sure if anyone is really clear on what the answer is.
"Certainly in a competitive market where you might have three or four players all potentially bidding, and I think the experience is pretty strong that the more transparency you have the better competition is.
"And where only one or two are operating, that may be more problematic."
AMIC examining legal ramifications
The peak council representing meat processors, the Australian Meat Industry Council, told Beef Central that it was limited in the comments it could make publicly about the ACCC recommendations at this point.
AMIC chair Lachie Hart said the Red Meat Advisory Council was taking a lead role in working with all industry councils to form a whole-of- industry response to the interim report and to provide feedback to the ACCC by the November 23 deadline.
As a result the council preferred to wait until that process was complete.
However, when asked specifically about the ACCC's call for processors to publicly reveal price grids, he said the council was seeking legal advice on that particular recommendation.
"Based on competition policy, that recommendation could put individual (processors) in a conflict with law.
"We are obviously taking that recommendation seriously and we have a legal team investigating that.
"But RMAC has been given the lead role to work on all those recommendations, there is very strong stakeholder support for that process, so let us just give those peak councils the opportunity to work through the recommendations."
Report paints industry poorly to global market
Commenting on the report more generally, Mr Hart said AMIC felt the ACCC's recommendations "hit the mark in most cases".
However, AMIC also believes the report contains a lot of comment, claims and allegations that do not have substantive evidence to support them.
He said this had painted the industry in a poor light which was concerning to the processing sector.
"We deal in a very competitive, international global marketplace," he said.
"The processing sector is feeling incredible competition abroad, (with) low supply which is impacting on the economies of individual organisations.
"The last thing we want at the moment is negative statements being made about our industry at a time when we have some great opportunities going forward.
"All the mega trends are all showing significant opportunities for the red meat industry in the future.
"So at a time when we're wanting to attract investment to the industry, and resourcing and employment, it is disappointing that we are seeing as a consequence of the ACCC report, the industry being tarnished negatively."
However he added that the ACCC report also validated some of the steps the processing sector was already taking to address transparency issues,
These included moves towards objective carcase measurement; an AMPC-MLA joint venture project to explore how data can be more effectively and efficiently communicated up and down the supply chain; and a significant review of Australian beef language.