AS IT completes its first full year of operations, the Australian Agricultural Co's much-scrutinised Livingstone meat processing facility near Darwin is now contributing positively to the company's bottom line.
Speaking during a recent half-year financial presentation covering the six months to September 30,   managing director Jason Strong told analysts that AA Co's Northern Beef business centred on Livingstone had made a positive contribution to consolidated operating pre-tax earnings.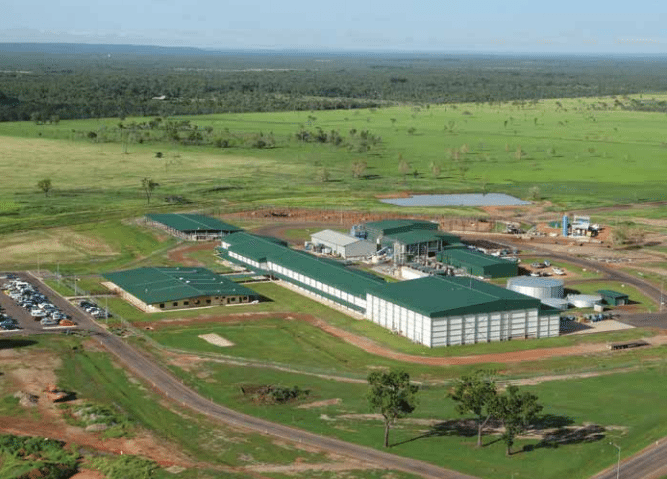 The facility was now operating at 85-90 percent of its single shift capacity of 520 head per day, he said.
For the company's first-half ended September 30, AA Co reported that Livingstone Beef had contributed 16 percent of AA Co's total group meat sales revenue, of $217.6 million.
Chief financial officer Andrew Slatter told the briefing that Livingstone's percentage contribution to beef sales would continue to increase as production lifted through the plant.
The facility started killing small batches of cattle in October last year, but has only moved to a more operational model in 2015.
Few agricultural supply chain projects in Australia's history have attracted as much media scrutiny as the Darwin meat facility during its development phase. The novelty value in the establishment of the first significant abattoir in northern Australia in 50 years, and the collective nay-sayers who insist it won't work, has fed a media frenzy of epic proportions over the past 12 months.
The $91 million facility incorporates technologies not seen in conventional abattoirs, and plans to employ up to 320 staff when it reaches its full 1000-a-day double shift capacity.
Mr Strong said Livingstone Beef was a key strategic step in allowing AA Co to capture more value along its entire supply chain.
Operating pre-tax earnings from the Livingstone facility was listed at $1.3 million for the first half of the company's 2015-16 year, up from a $3m loss for the corresponding period a year earlier, prior to opening. Conversion costs (per beast basis) had steadily decreased through the period.
Results showed the northern beef division's meat and by-product sales for the half-year averaged $4.72/kg carcase weight basis, generating 7300 tonnes of product (carton weight). Slaughter cattle purchases for the plant during the half-year averaged $160c/kg liveweight, totalling 9200 tonnes liveweight.
Total revenue from the Livingstone facility for the full 2014-15 financial year was published in July's annual report at $8.8 million, with 1300t shipped weight sold, at an average price of $6.74/kg.
As the plant throughput expands, AA Co was now purchasing a significant volume of external cattle to supplement its own supply to the Darwin plant, Mr Strong told the recent half-year financial briefing.
"Livingstone Beef's processing costs are declining as throughput increases and operations are optimised," he said.
"Making a positive financial contribution to the business was really our first objective."
"Having achieved that, increasing numbers further from here is really going to be driven by availability of livestock and profitability of processing them, now that we are past this breakeven point for Livingstone," he said.
He was asked whether the company had any intention of establishing a second shift.
"We certainly do," he told analysts. "But the driver now is not that we must do a second shift, at all costs. We will head to a second shift when the cattle supply and profitability make that a good option.
"But obviously increasing throughput provides more efficiency, and reduces average cost of conversion. But it also has to make a margin to do that. At the moment we are quite comfortable with the way the plant continues to develop," he said.
Another analyst asked whether the Darwin plant was encountering strong competition for slaughter cattle from the live export sector.
"There are certainly spikes in competition and pricing for cows from live export," Mr Strong said.
"But we've been able to manage a good consistent supply to the plant, and have not been short at any time this year for supply – in fact we have quite a bit of cover over the next few months. The team's been doing a great job of balancing our own supply and external purchases to ensure that we not only have a stable supply of cattle into the plant, but are also managing the purchase price, in some pretty volatile market conditions."
Another question asked where most of the turnoff from Livingstone was going.
"The biggest chunk of manufacturing meat sales has been destined for the US. Most of our beef exports generally this past year have been more product to the same customers, not necessarily finding new customers," Mr Strong said.
Livingstone's contribution was seen in AA Co's overall half-year operating results, where an 89.5 percent increase in beef sales for the half to $218 million was due to increased prices and the ongoing shift in volume from live cattle to boxed beef.
Total meat sales volume across the whole business was up 90pc on the previous corresponding period.
Mr Strong said the increase in operating profit was directly attributable to the focus on selling the highest quality beef in each of the supply chains in which the company operated.
"We are selling more kilograms, off the same herd base, for more money," he said.
"While we continue to build our branded beef business we are also continuing to invest in the fundamentals that are so important to a robust supply chain."
Sales of boxed beef increased by $103 million half-on-half, and now accounted for 85pc of total revenue.
Rise in service kill costs
In processing costs relating to the company's southern grainfed operations where it get a service kill done at three abattoirs supplying AA Co's brand programs, there was a 7pc rise in gross processing costs in the six months to September 30, rising from $1.13/kg to $1.21/kg year-on-year, on a hot standard carcase weight basis.
Mr Strong said this partly reflected the increase in numbers and consolidation back to three service kill plants, where previously four were used.
"That's given us more control, but obviously also delivers a trade-off in price," he said.
Despite conducting service kills at three separate east coast abattoirs to supply the company's Wagyu and other branded beef programs, he said the company was not looking at investment in existing or new processing businesses in the eastern states.
"We've looked at it a number of times," he said. "It's easy to move into a discussion around that, given the amount of service kill processing we do, at multiple sites. But we have no plans at the moment in looking at such investment," he told analysts.
"But we do have an absolute commitment to ensuring that we have security in our southern processing arrangements. That's included the move from four to three sites, and what we can do to improve the relationships and efficiencies and security of processing."
"We are very conscious of the shift in processing cattle supply that's been happening this year, and the pressures that may impose, with plants likely to do less numbers next year and early-shut-downs already happening."
"For us, security of processing is very important."