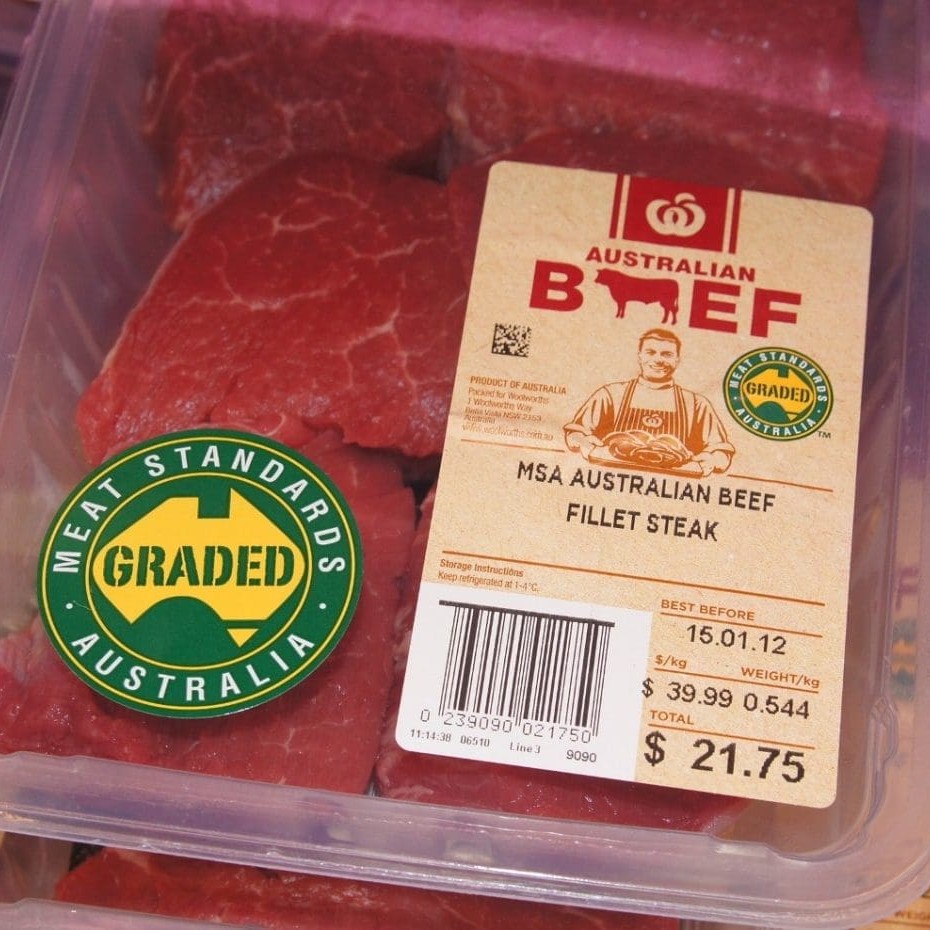 In the latest round of beef retailing wars among the nation's major supermarket players, Woolworths today becomes the first national supermarket chain to offer Meat Standards Australia graded beef to customers.
The historic move comes 13 years after MSA was first launched. While both Coles and Woolworths have widely adopted the meat science principles behind MSA, neither company has to this point embraced the program's full identity, arguing that to do so would undermine their own commercial brand programs.
MSA's use at retail has since 1997 been limited to participating independent butchers and some smaller regional supermarket chains.
In a statement being issued later today, Woolworths says to demonstrate its commitment to great quality beef, it had become the first national supermarket to give customers a guarantee on consistent eating quality including tenderness, flavour and juiciness.
Woolworths has been working closely with Meat and Livestock Australia over its adoption of MSA, an industry-audited grading program that delivers an eating quality guarantee.
The grading system has been developed following years of research and more than 550,000 consumer product tests on 78,500 cuts of meat, using eight different cooking methods.
Woolworths General Manager of Fresh Food, Pat McEntee, said his company was proud to be the first national supermarket to deliver MSA graded beef to its customers.
"Woolworths is the country's favourite butcher and we sell more Australian beef than any other retailer. The introduction of the MSA grading system offers our customers an independent endorsement of the quality we know we have been offering customers for decades," he said in a statement.
"One of the most commonly asked questions our butchers receive from customers is 'How do I cook my beef?' This grading system now takes the guesswork out of how to cook the perfect steak or roast."
From today, Woolworths customers can find the MSA-graded logo on 12 of the company's most popular cuts of beef. There will also be information booklets in stores to guide customers on how to cook each cut to achieve best results.
The MSA logo identified that specific cuts of beef have been graded to meet high standards for tenderness, juiciness and flavour, Mr McEntee said.
Twelve of Woolworths most popular steak and roast cuts of beef have been certified as MSA Australian graded beef.
MSA Steak cuts include fillet, scotch fillet, bone-in rib-eye, porterhouse, rump, blade (boneless) and oyster blade. Roasts include fillet, scotch fillet, standing rib roast, rump and bolar blade.
Woolworths provides more consumer information about its engagement with MSA on its website. Click here to view.
Beef Central publisher Jon Condon points out in-store features of Woolworths new MSA program adoption
Beef Central publisher Jon Condon talks to consumers about Woolworths adoption of MSA. Click here to view video below.