A SUBSTANTIAL processor action of Wodonga's new Barnawatha saleyards has ended, with yards management and agents agreeing to move to post-sale weighing.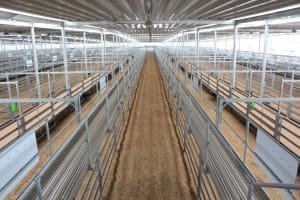 Tuesday's first prime sale at the brand new selling facility was thrown into chaos when up to nine processor livestock buyers failed to attend, at least some in protest over a surprise decision by agents and administrators to pre-weigh stock before sale. Others said they did not attend the sale for other reasons, including adequate cattle supply to cover requirements.
The result was a 20c/kg drop in price for many of the 2000 head on offer, with some lines passed-in.
See Beef Central's original report here.
ABC reported today that Gary Edwards, from yards owners Regional Infrastructure, refused to acknowledge that a boycott by buyers had taken place.
"There were a number that didn't attend but there was a number that didn't attend any market," he told the national broadcaster.
But he said that as a result of what occurred, changes would be made.
"We would look to post-sale weighing probably as early as next week, but I guess fortunately the facility is designed to handle either methodologies, so it's not a hugely onerous task to switch," ABC reported.
Victoria's peak farmer lobby group has called on Australia's competition watchdog to investigate Tuesday's meat processor boycott of Barnawartha saleyards.
The Victorian Farmers Federation has condemned the processors' action, branding it an act of "outright bullying."
"It's time these processors accounted for their actions," VFF livestock president Ian Feldtmann said.
"It's extremely alarming that eight meat processors have the power to disrupt a whole market overnight, leaving producers totally exposed."
"I'll be writing to the Australian Competition & Consumer Commission and asking them to investigate whether processors have breached the Competition and Consumer Act.
VFF cited an ACCC compliance warning, which states "Competitors who act collectively in these areas are at risk of breaching the competition provisions of the Act. A collective boycott occurs when a group of competitors agree not to acquire goods or services from, or not to supply goods or services to, a business with whom the group is negotiating, unless the business accepts the terms and conditions offered by the group".
NSW Farmers links outcome to processor competition
Meanwhile NSW Farmers has also issued a press statement, attempting to link the standoff over weighing methodology at Wodonga with concerns over market consolidation in the processing sector.
NSW Farmers has rasied new concerns over ACCC's decision over potential erosion of livestock competition from JBS's purchase of Primo, which operates an abattoir at Scone.
NSW Farmers said recent actions by processors at the Wodonga saleyards had "reinforced farmers' concerns about the consolidation in competition and the increasing power of processors in the market place."
President Fiona Simson said with many processors out of the bidding process, cattle prices at Monday's Barnawatha sale fell by 20c/kg.
"These aren't the actions of good corporate citizens. It's alarming that processors attempted to resolve a dispute by abstaining from the bidding process," she said.
"Industry recognises that the issue of pre-sale versus post-sale weighing is contentious and we all want the outcome that is best for the industry. But you don't resolve these things through strong-arm tactics."
"It is this sort of behaviour that has renewed our concern about the ACCC's decision on JBS. Tuesday was a demonstration that a reduction in competition means farmers' lose – that is the bottom line."
"Our farmers' ability to get a fair price for the produce is dependent upon competitive tension in the market place. This acquisition will diminish competition and it will be incredibly difficult for any new entrants to enter the market."
"At the centre of Minister Joyce's Agriculture Competitiveness Green Paper was a desire to see increased farm gate returns. Clearly, the ACCC has shown little regard for the minister's primary policy objective in the agricultural portfolio."
"This is another reminder that we need a better resourced and better educated competition and consumer commission."
"The JBS decision underlines the importance of reform to competition law. We need a greater resourcing of the ACCC and a dedicated team that has an understanding of rural Australia. This decision puts competition law reform at the top of the farming agenda."