A NUMBER of large beef processors are concerned about a pre-sale weigh policy imposed at the brand new Barnawatha NVLX yards near Wodonga, with at least one saying his company will not buy at the yards while the policy is in place.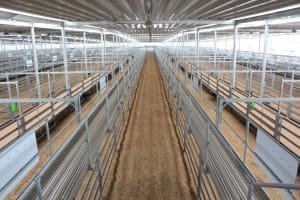 The new NVLX Barnawatha yards opened for business last week, to great fanfare, with a bumper yarding of 6000 head.
The National Livestock Reporting Service's report from today's second sale, where 2000 prime cattle were yarded, noted that "not all buyers were in attendance." The sale saw prices back 20 to 30c/kg across many categories, with perhaps half a dozen regular buyers absent.
Teys Australia has confirmed it will not be operating at Barnawatha under the current weighing policy.
"We've suggested they do both (pre and post-weigh) and let the market sort it out," Teys general manager livestock Geoff Teys told Beef Central, when we called him for a comment.
"Our company told them a year or more ago, when they were just starting to build the yards, that we would not buy at the sale, under a pre-weigh system. We told them the same thing six months ago, and we suggested that the best way around the whole thing was to do both, and let the market forces work it out."
From inquiries we've made this week, Beef Central understands that Victoria is the state where saleyards weighing policies are least consistent. Some sites pre-weigh, while others post weigh, but the majority of Victorian yards appear to follow northern states and South Australia, where the overwhelming majority of yards post-weigh cattle after sale.
A couple of southern yards, like Wagga, are somewhere in between, weighing cattle as they enter the ring – effectively, 'half a curfew' – rather than weighing stock in off the truck.
Teys as recent as a fortnight ago bought more than 1000 cattle at the Wodonga sale, consigning them in all directions to Naracoorte, Wagga and Beenleigh abattoirs and the company's Condamine feedlot.
Several other large southern processors told Beef Central yesterday they too were deeply concerned over the Barnawatha pre-weigh policy, but had not at that point, made a decision about future attendance at the sale.
From a cattle buyer's perspective, the biggest problem with pre-sale weighing is the impact it has on dressing percentage yield variability. One southern processor told Beef Central yesterday that cattle weighed before sale could deliver dramatic dressing percentage variations.
"Some have emptied out, having travelled a fair distance, or been curfewed, while others might have come from a paddock across the road from the saleyards, and are still full," he said.
"We've seen virtually identical cows sold on a pre-sale weight basis that display dressing percentages anywhere from 51pc to 56pc. With a post-weigh system, we see much more yield consistency, and as a result we are more confident to bid-up, knowing what the yields are going to be at the meatworks."
He said as a processor, pre-sale weighing and the high variability in yields it delivered meant that buyers tended to err on the side of caution when bidding.
One processor said his company walked away from buying at Ballarat pre-weigh sales, because the yields achieved "were just so inconsistent, we could not afford to operate there. One week we'd get 57 percent and the next week 51 percent, out of the same cattle."
"Because of that, processors will actually pay more in a post-sale weighing situation, because they can be more confident about what they're getting. In pre-sale weighing, they will factor the 'yield risk' into the price," he said.
"They are kidding themselves if they don't think we work out the yields for each saleyards market, and adjust our prices accordingly, to the lowest common denominator," the processor said.
"It is a fallacy if they think they are getting better money out of pre-sale weighing. In the past a lot of the pre-sale weighing centres, nobody patronised them, so they just fell over anyway."
One veteran Victorian processor said at a guess, 20 percent of saleyards cattle sold in Victoria were currently pre-sale weighed.
"Despite all the compelling arguments against it, some farmers still think they get a better deal, weighing the cattle full off the truck. But they are fooling themselves."
The processor conceded, however, that on those days when processors were short of stock and had to bid-up for slaughter stock, pre-sale weighed cattle might actually extract some market advantage, because processors could not afford the 'fudge factor.'
"But it's a market of last resort, and certainly not any sort of advantage, week-in, week-out," he said.
"The frustrating part about this episode at Barnawatha is that the yards were built to be post-sale weigh, and agents told the buyers they were going post-sale, as a step forward."
"Then at the last minute they've changed their minds. It's because the old Wodonga sale was pre-weigh, and the cockies were propping about any change. The first priority for the agents was to fill the yards for the first sale, so they have done a backflip."
"They are saying that they only want to go pre-sale weighing for a month, but that does not make sense either. Either it's wrong, or it isn't."
As a result of the weighing decision, one southern processor said he would instruct his commission buyer to operate at Barnawatha today only if the cattle were cheap enough, but otherwise to keep his hand in his pocket.
Beef Central's calls to the president of the local Albury-Wodonga Stock Agents' Association this week went unanswered.