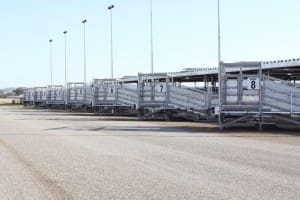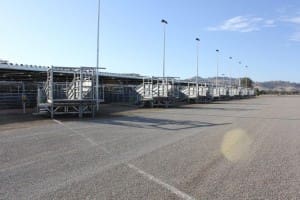 Australia's newest cattle selling centre officially opens for business today, with a hefty 6000 head offering yarded for the event.
Saleyard staff and agents have been working since midnight last night to assemble the first consignment of cattle to be sold through the Northern Victoria Livestock Exchange at Barnawatha, about 15km west of Wodonga.
The new purpose built facility replaces the Bandiana yards which has operated on the outskirts of Wodonga since 1979.
The NVLX is the sixth and largest regional livestock exchange built by Pallisades Investments and managed by its asset management partner Regional Infrastructure Pty Ltd since 2008.
The $25 million investment incorporates wide-ranging state of the art saleyard design features including fully undercover pens and selling areas, rainwater capture and storage, elevated walkways that separate people from livestock, soft floors and sealed roadways which reduce dust issues.
The facility includes 216 selling pens and 80 dual-purpose pens, and has the capacity to handle up to 7000 cattle in a single sale or 270,000 cattle per year.
Wodonga is Victoria's largest cattle selling centre, with the Bandiana yards handling 239,000 cattle in 2014.
The decision by the Wodonga City Council to call for tenders to relocate cattle selling from Bandiana to a new site was not without controversy, with some 7000 people signing a petition in 2011 calling for the yards to remain where they were.
Concerns raised by opponents of the move included the potential impact on retail trade in Wodonga on sale days, flood mitigation and environmental issues at the new site's location on the Murray River flood plain, additional transport costs, and the loss of heritage attached to the existing yards.
However the council maintained that keeping the existing facility would have required $6m in investments on environmental and occupational health and safety upgrades, and ultimately voted 5-2 in September 2011 to invite tenders for the construction of a new greenfields facility.
The Bandiana Yards was bought by Pallisade Investments from the City of Wodonga Council in 2008, and has been managed by its investment partner of Regional Infrastructure Pty Ltd (RIPL) since that time.
In addition to the NVLX at Wodonga, RIPL also manages five other selling centres on behalf of Pallisades Investments: the Tamworth Regional Livestock Exchange, the Central Tablelands Livestock Exchange at Carcoar west of Bathurst, the Central Victorian Livestock Exchange at Delacombe south west of Ballarat and the Central Queensland Livestock Exchange at Gracemere south west of Rockhampton
RIPL general manager Andrew McCarron told Beef Central the covered facility and wood-chip based soft flooring created a better and more comfortable environment for cattle.
"We had a storm last night that came through and everyone was dry so that was good, and the cattle were laying down, it is much more comfortable and easier them to move around on that type of flooring," Mr Carron said.
"It means at the end of the day they leave the facility in a much better condition than you would conventionally see in a yard that is uncovered and with concrete floor."
Mr McCarron said other features of the new facility included a range of high-tech equipment that included soft-ware and air-operated gates and drafting based on NLIS ear tags.
The 103 hectare site also includes fully catered amenity areas and a cafeteria, agent offices and administration buildings.
All wastewater can be treated and contained on site, while the expansive roof also enables the facility to capture and store rain water.
"We have 18,000 square metres of roof, so last night we probably captured around about a megalitre of water," he said.
Mr McCarron said the final investment by Pallisade Investments would total around $25 million.
"It is an Australian company, and the funds being invested are all Australian funds, which is excellent," he said.
"It is so good to see private companies confidently making these types of long term investments."
The NVLX will continue with the same selling program as the former Bandiana yards with a weekly prime sale every Tuesday, a weekly cow and bull sale every Wednesday, and a store sale every second Thursday.
Key features of the new facility:
Cattle facility
Total area of 28,271 square metres
Approx. 1.77ha of the facility is under cover (roof 164m long x 108m wide)
The Cattle Pavilion roof features 30% natural light, skylights and ventilation
Soft flooring under all covered areas
296 selling pens including dual purpose receival/selling pens, dedicated bull pens and selling pens with raised
buyer walkways
2 combination weigh/processing areas (bulk weigh and automated individual animal weigh processing systems)
2 manual draft stations with skillion roof
88 delivery pens
2,830 sqm holding pens with feeding facilities
13 ramps including electrically adjustable delivery ramps, fixed dual purpose ramps and trailer ramps
Amenities
Administration and amenities building with courtyard 8 modern agent offices
Conference room, NLRS office, buyers lounge
First aid, site manager and administration offices
80 seat cafeteria
Toilet and shower amenities
233 space sealed car park plus dedicated truck parking areas available
4 bay avdata truck wash
Holding/agistment paddocks totaling 71.9 ha Maintenance / hay sheds