Does the red meat industry need a strategic and well-resourced communication plan to combat the dramatic acceleration of anti-meat messaging in mainstream media in recent times?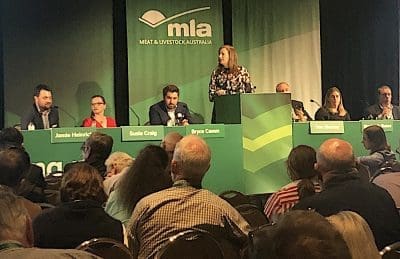 That question was put by Central Queensland cattle producer and former Meat & Livestock Australia director Geoff Maynard to six panellists representing different sectors of the red meat supply chain in a sustainability forum during MLA's 2018 Red Meat Forum in Canberra last week.
All six members of the panel – Kangaroo Island sheep producer Jamie Heinrich; McDonald's Australia sustainability manager Susie Craig; ALFA president and outgoing Australian Beef Sustainability Chair Bryce Camm; Red Meat Advisory Council Chair Don Mackay; NAB natural capital manager  Stephanie Russo and JBS farm assurance and supply chain manager Mark Inglis – agreed a communication strategy was needed.
However, they also uniformly added that industry claims about sustainability can only be as strong as the industry's weakest link, and any campaign to proactively promote red meat's sustainability credentials must be accompanied by an industry commitment to lift the worst performers and hold them accountable for their actions.
Mr Maynard said there had been a dramatic acceleration of anti-meat messaging in mainstream media in recent times, including:
For the first time mainstream print media like the Australian and the Courier Mail were running anti-meat articles "fairly regularly";
the world's richest and most influential billionaires were investing in fake meat and urging people to stop eating real meat on environmental and health grounds;
fast food chains like Hungry Jacks were proudly offering and promoting vegan burgers; and
the ABC ran an online poll last week asking if there should be a tax on red meat, "inferring that it is a foregone conclusion that meat is bad for the environment".
"These people are placing us in the same category as tobacco," Mr Maynard said.
"We laugh at that concept but that is what they're suggesting.
'These people are placing us in the same category as tobacco'
"In social media when we as farmers get together if we're very successful with a story we get 200 or 2000 likes or views.
"You watch the animal activists and they get 26 million. I watched one it went for three weeks and it got to 26 million.
"So they're really stomping on us as far as getting messaging out.
"With that as the background, should we have a robust and well-resourced strategic and targeted communications plan to combat this uninformed assault?"
'Being on the defensive never works'
In response to that question, Kangaroo Island, SA, sheep producer and Sheep Producers Australia director Jamie Heinrich said it was clear "the answer is yes".
He said the industry needed to get on the front foot "because being on the defensive never works".
"We need to go out there and tell everyone what we do well and why we do it well and why we love what we do and why we are an amazing product," he said.
"The sustainability framework is a really good base to show what we are actually doing and why we're sustainable."
He suggested Australia's red meat sector should look at working with other industries and even other countries to create a budget more in line with groups like PETA.
"That is probably something we need to work together on," he said. "Working together in big groups like that is always difficult but it is something we need to do."
Must be able to back claims up
McDonald's Australia sustainability manager Susie Craig said the answer to the question of whether the industry needs a communication strategy was "absolutely yes".
"But behind every good communication strategy there needs to be facts, and data, so you're not just telling stories, and I think certainly that is the role of the framework."
Drought highlights strong farmer support
Incoming Australian Lot Feeders' Association President and outgoing chair of the Australian Beef Sustainability Steering Group Bryce Camm, said a communications plan was needed, but agreed with Susie Craig that the industry "needed have its deck sorted out at home first".
"You have got to have good integrity systems, and quality assurance systems behind that, and industry has invested in that over 25 years," he said.
"You have got to have a report card monitoring progress, and a commitment to continual progress, which in the beef sector space we have been building over the last four years."
He said the industry also needed clear messaging to impact against the naysayers.
He noted that the recent experience with drought showed that there is a strong level of public support for farmers.
"We see so much public support around the drought piece," he told the forum.
"We have got to find some way of linking that, that we're not all basket cases that need a handout in a dry dam somewhere, linking that to actually this is a successful resilient $40 billion sector that is now the largest manufacturing sector left in the country.
"People should be proud about that, they should get behind this sector and support it because it is delivering great food and it is exporting it around the world.
"I think we have done a lot of the back work, I think the comms strategy that delivers some good clear messages is one part we have yet to do."
Engage champions with social media clout
Independent Red Meat Advisory Council chair Don Mackay said the industry needs to engage champions with strong social media clout to help share its message.
He said a lot of what people within the red meat industry say about the red meat industry on social media is read only by other people within the industry.
"We have to find the champions of our industry that have five million followers," he said.
'If Richard Branson comes out and says anything, 20 million know within a second'
"I don't know how many I've got but it's measured in a few hundred I suspect and no one takes any notice other than people in the industry.
"So we have to figure out a communication strategy that talks about the things that Bryce and others have mentioned, about what we are and what we do and the relevance and importance of this agricultural sector…
"If Richard Branson comes out and says anything, 20 million know within a second, and that is what we don't have."
Industry only as strong as its worst performer
NAB natural capital manager Stephanie Russo said that while a communications strategy was needed, it was critical the industry hold those not doing the right thing to account, because the industry was only as strong as its worst performer.
"I think it is a communication strategy coupled with strong agreement across the sector about the things that are really important and holding people to account when they do get things wrong and supporting sectors to transition," she said.
"… you need to have all the framework sitting behind that to make sure you are lifting the bottom of the sector and making sure people are doing the right thing in the minds of consumers and investors."
Age should be no barrier to sharing good stories
JBS Swift Australia  farm assurance and supply chain manager Mark Inglis said there had been a groundswell of producers looking to tell the good stories and be transparent about their operations, but there was still a way to go.
Unlike teenagers whose smartphones never left their hands, the average age of farmers was much older.
"I think as an industry we do need to start becoming very proactive in telling the good stories that are out there and trying to get those followers, in trying to access these influencers and the people that are out there who will carry our story."
What was not discussed during the forum was which body or industry organisation should have responsibility for leading and developing such a communication strategy.