SOME estimates suggest up to 700,000 cattle headed into southern states out of Queensland for restocking purposes after the 2019-20 drought started to break in southern Australia.
Many of those cattle carried some (in some cases, a lot of) Bos Indicus content – largely foreign to southern beef producers and feedlot operators.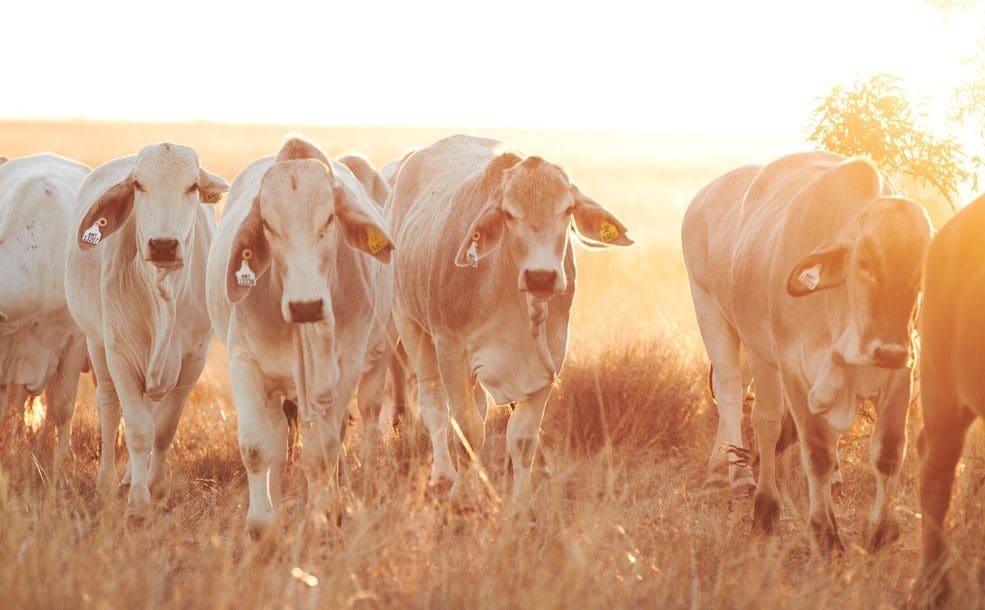 So what happened to those cattle? How have they, and their progeny, been received in the southern states markets?
Beef Central has this week asked a number of NSW supply chain managers, cattle buyers, lotfeeders and others for some answers, and the results may surprise some readers.
The fact that the big drought broke much earlier in southern Australia than it did further north in 2020 sparked one of the biggest herd population shifts ever seen in the cattle industry. By pure necessity, it broke many of the well-established regional 'breed preference boundaries' that have existed for decades.
It's meant that up to 50 percent of recent Dubbo store sales, for example, yarding 4000-6000 head a week, have displayed some indicus content.
"Some recent Dubbo sales have looked more like a Dalby or Roma store sale than something this far south," one veteran central western NSW cattle buyer told Beef Central.
"The volume of northern cows that came into this country – including a lot of Brahmans and tropically adapted types like Santas, Droughtmasters and Brahman cross – has been astonishing. Some came from as far distant as the Kimberley."
The buyer said up to 70 percent of the original local breeding cows in his region west of the Newell Highway (Coonabrarbran, Dubbo, Forbes, West Wylong) had been either liquidated or relocated during the drought years 2019-20, leaving a huge breeding void.
"Then we got the best three years we've ever had. Because Queensland was still in drought, locals all went to Queensland (and in extreme cases, as far as the NT and Kimberley) to buy replacements, because southern cattle became too expensive, as soon as it started to rain."
"They bought everything – cows and calves, heifers, weaners – and a lot of them had bos Indicus in them, even a few pure Brahmans."
"There was nothing wrong with the cattle themselves  – I've seen some of the best Droughtmaster cattle in the past two years I have ever seen in my life – but they are highly unusual to be seen this far south, out of the ticks."
Those 'imported' cows had now had a calf or two, and some were now coming back on the market, as cull cows.
A second factor was that a lot of Queensland cattle headed into NSW in 2020 on agistment, rather than being sold. Some of those had since been sold in the south; or their resultant progeny were sold in the south. Still other progeny of agisted northern cows returned to Queensland as feeders.
"Processor cow grids don't discriminate on breed, so there has been no great price impact on the slaughter cow offerings on those animals," the cattle buyer said.
But the situation for the progeny of those cows, mated mostly to British type bulls since arrival, was somewhat different, he said.
People feeding for supermarket domestic trade were happy to take them, because the supermarkets were happy with a flatback or better.
"Plenty of those guys that feed 50-70 days for the domestic market bought the better end of the progeny (40pc content and less) out of those indicus-influenced cows. There was no real evidence of price discount on them, relative to other British/Euro flatback feeders, but obviously well behind Angus," he said.
The Bos indicus feeder heifers eligible for the supermarket trade were making much the same c/kg rate as the British and British Euro cross heifers, he said.
MSA performance may have been impacted a little, but still well within acceptable index ranges.
"The big inflow of those northern cattle was critical for post-drought recovery in this region. They gave us heads on hooks, that otherwise would have taken years to breed into," the cattle buyer said.
A lot of the better end of the northern Indicus cows were being retained longer-term in central western NSW herds, until reaching culling age.
However when mated to Angus bulls, for example, most certified Angus brand programs require at least second cross Angus content to qualify for Angus breed premiums. In the case of Verified Angus, third-cross is required, as well as visual inspection for indicus features. Similarly, large southern certified grassfed brand programs like those run by Teys (Riverine) and JBS (Great Southern) do not accept cattle with indicus influence.
Where the progeny of restocker Queensland cows have hit some resistance in the south is in heavier feeders for 100-day and longer export grainfed programs.
The cattle buyer contact estimated that as many as two-thirds of these had in fact drifted back into Queensland for 100-day grainfed programs, where lotfeeders are more familiar with feeding indicus-derived cattle. They were largelky unwanted in the south.
Some of the larger southern Queensland yards which will appear in Beef Central's Top 25 Lotfeeders feature in coming weeks have been prominent buyers of indicus cross heavy feeders out of Dubbo and other southern sales recently.
"The price differential between an Angus heavy feeder and a Hereford heavy feeder, is much the same as it is between Angus and these flatback lower-content indicus types," he said. "But higher Brahman content feeders, different story – they've had a bit of a touch-up at times."
"These southern buyers avoided the long ears and the humps. They've either gone back into Queensland, or onto grass, to simply chase weight," he said.
"Very few of those higher content feeders have gone south – the Victorians have a big presence at Dubbo sales too, but they aren't used to cattle like that, and did not chase them."
"In theory, I suppose those people who liquidated their Angus cows and restocked with Santas or Droughtmasters may have lost any Angus breed price premium – but that is not quite the same thing as price discrimination in the marketplace based on breed type."
Angus premiums in central NSW are currently worth around 50c/kg on feeders, and at the height of the trend around May last year when lotfeeders were giving 600-620c for Angus feeders the premium was a dollar a kilo.
Two and a half good trades
The cattle buyer contact suggested many NSW buyers of northern cattle had had up to three good trades in a row since the drought broke.
"In 2020, many bought northern weaners for $600-$800, and sold them the next year as feeders for $1500. They bought the northern weaners the following year for $1000-$1200, and sold them for $2000 as feeder weight steers.
The final crop was bought in year three at around $1300-$1500 a head.
"Half of those cattle, that sold late last year, they would have done alright out of; but the balance, yet to sell, have been exposed to this year's big fall in feeder steer values. At 450kg, a heavy flatback feeder bred in the north is this week only worth around 380c/kg or $1700. That's not much return."
"Of course, the wind-back in live export activity last year and the year before helped make those northern weaners look more attractive. That put a little supply pressure on."
Hybrid vigour, temperament
Asked whether any NSW producers who had imported indicus breeders were interested in the hybrid vigour factor, the cattle buyer had not heard of it.
"In my opinion, they bought them because that was all they could afford. Heterosis did not even come into it," he said.
"Angus cows were $3000 each at the time that northern Brahman-type cows and calves could be had for $1500. Simple choice, because economically, it wouldn't make sense to try to buy back in with Angus cows at that price."
Asked whether there had been reports of temperament problems among the northern 'imports', given breed type and comparatively little human imprinting versus more closely-managed southern herds, he had heard nothing about 'wild northern cattle.'
"You do see the odd, slightly stirry mob, but not to any great degree," he said. "It wasn't a consideration to a lot of people who invested in them. Some may have added an extra rail in the yards," he said, only half in jest.
Asked where the current cycle with 'out of place' Queensland indicus derived cattle was up to, the NSW cattle buyer said he thought the local influence would be seen for years.
"The imported cow base could be here for the next three to five years, in my opinion," he said.
"It will gradually dissipate with each cross, and as these Queensland cows reach retirement age."
Southern buyers had stopped sourcing out of Queensland last year, because when the season turned around in Queensland, the northern and southern cow prices started to look much the same.
But the northern weaners bought out of Queensland earlier probably still have another 12 month cycle, before they made their way through the system.
"As time went on, the buying shifted to younger and younger northern cattle, partly because they could get more on a truck, and prices were rising as demand increased."
"A lot of those young cattle showed great weight for age and some compensatory gain, coming onto this country."
Some northern types may never see a feedyard
Another large NSW grainfed beef supply chain manager had a somewhat different view on pricing on the northern indicus 'imports.'
He thinks because the manufacturing beef market has fallen so hard this year, of lot of those indicus influenced young cattle will not find their way into NSW feedlots at all.
"In a lot of cases, they may end up being finished on grass, and some may be priced-up by processors as the equivalent of manufacturing cows," he said.
"A lot of those young cattle would be 50pc plus indicus – Brahman cross cattle – while those that have the ability to grade MSA (lower indicus) probably got through."
"The NSW feedlots won't buy those higher content cattle, and as a result, their options to sell them are very reduced," he said.
At the same time the feeder market in Queensland has come back significantly this year, reducing that option. Crossbred commodity type feeders that pre-Christmas were making well into +500c/kg in northern markets are now making well short of 400c/kg.
As a result, some of those higher indicus cattle that stay in NSW may be finished on grass, and be sold simply as a 'manufacturing' type product, with a considerable grid price penalty attached.
"It will be all based around weight on those cattle. Owners will simply aim to get them as heavy as possible, to maximise the $/head return. They won't go into MSA markets, or as the traditional Bos Taurus grass markets that NSW and Victoria have."
The supply chain manager said currently, +50pc indicus export feeder weight cattle in NSW were experiencing a 20-30pc reduction in value relatively Angus types, and those feeders with a more moderate level of indicus carried a 15pc reduction.
"They're proving to be difficult to sell, and the grass paddock may be the next option," he said.