FULL Eastern States weekly slaughter figures have been compiled by the National Livestock Reporting Service for the first time in six weeks this afternoon, since a dispute emerged between the nation's largest processor and Meat & Livestock Australia in early October over the accuracy of NLRS reporting of kill numbers.
NLRS stopped issuing weekly kill data for Queensland – representing roughly half the Eastern states total each week – and combined eastern states slaughter back on October 4, after JBS Australia withdrew supply of data for the company's four northern plants at Dinmore, Beef City, Rockhampton and Townsville.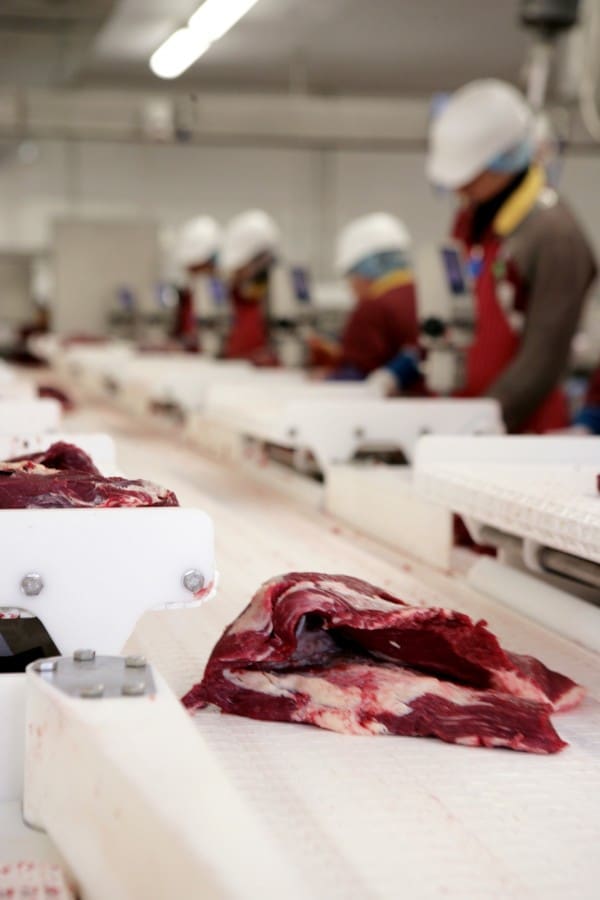 At the time, JBS said it would no longer supply throughput data out of the company's northern supply chain until it could be assured that the NLRS report's figures were accurate. Click here to view Beef Central's original October 4 story.
JBS confirmed to Beef Central this afternoon that it had made last week's slaughter data available to NLRS, in advance of discussions with MLA over the matter later this week. No guarantees have been made about access to JBS data in future weeks.
Several processors, including JBS, earlier raised concerns over NLRS slaughter reporting, suggesting over-inflated figures were harming Australian exporters' ability to effectively negotiate price on export meat.
Essentially, what critics were saying was that export customers viewing the inflated figures falsely believed there was more meat in the pipeline in Australia than was actually the case, and consequently were negotiating harder than what would otherwise be the case.
Critics questioned September weekly kill figures for Queensland, citing known plant closures and shift reductions as clear evidence that published figures were over-inflated. A week before JBS decided to withdraw its data, NLRS twice amended its original weekly kill report downwards after criticism, and was accused of not issuing the second amendment to industry at all.
"This issue is having an impact on market sentiment and leading customers of Australian beef to a false sense of security over supply," one processor critic told Beef Central at the time.
"Our sales team is telling Japanese and Korean customers that kills are back, so they had better make purchases or miss out. Then the inaccurate slaughter number gets published, and it says kills have actually gone up. Is it any wonder Australian processors can't lift revenue when customers think we are lying to them about supply?"
While JBS was the only processor to withdraw its figures last month, other processors certainly shared the company's concern over the accuracy of NLRS kill data. One suggested it had been happening off and on since the early 2000s.
One processor suggested the market for fullsets into Japan had fallen US15c/lb in one week during late September, based on inaccurate signals to Japanese trading customers from NLRS reports that Australian kills were rising.
"It's important to understand the culture in Asia. Those customers see MLA/NLRS as an extension of the government, and unlike Australia, the Japanese and Koreans trust governments implicitly. It makes it hard for us to convince them that the figures, in fact, may be wrong," an export processor said.
Who benefits from timely kill reports?
Since the slaughter reporting accuracy issue first arose in early October, a number of stakeholders have asked the question: Who actually benefits from the provision of a such timely weekly kill reports?
Some say the only real benefactors are export meat customers, who tend to clobber meat traders around the head with the figures, when the numbers are larger than expected.
Beef Central last month spoke with JBS to better understand the company's views over reporting of slaughter numbers.
Chief operating officer of the company's northern operations, Anthony Pratt, reinforced JBS's view that misreporting was damaging Australia's performance in export markets, as discussed earlier.
He said in the case of industry-wide weekly kill statistics, no information was better than wrong information.
"As an industry we spend millions of dollars to build platforms to collect data. And yet we currently rely on a weekly phone call to try to build a picture about the state of the national kill," Mr Pratt said. "If it wasn't so serious, it would be funny."
"As an industry, we have a unique ability to make very simple things incredibly complex," he said. "Complexity equals cost."
"What do we, as an industry hope to achieve with the data being put out?" he asked. "What benefit is there for the producer, or us within the processing sector? How is the collection and publication of this helping achieve a higher farmgate return?"
Since those comments were made a month ago, the Australian Meat Industry Council has written to MLA suggesting that although the practice of 'just in time' weekly slaughter reporting had been ongoing for many years, and there were some perceived benefits to aggregated industry data, AMIC noted the potential, and actual, significant negative price impacts for processors – and by extension, the producers and feedlots that supply them – when high figures are published in a short time after the event.
Rather than the current voluntary 'just I time' weekly reporting, AMIC said it would rather see the industry maintaining the collection of monthly slaughter data by the Australian Bureau of Statistics, with the weekly voluntary slaughter figures discontinued.
"This would provide a greater competitive advantage to processors, rather than to overseas buyers that can, and do, react to weekly slaughter data via price adjustments," it said.
"If the slaughter data is designed to be used for forward planning in production, the five-week delay in the provision of the ABS data fits the long production cycle of livestock," the council said.
AMIC also rejected MLA's proposal to publish variances by processors if greater than 5pc on both the NLIS and EPAC data sets.
"There may be any number of reasons for a larger-than-normal variance in slaughter figures," AMIC said. "This proposition would breach commercial confidence, and could be interpreted as a 'name-and-shame' type measure, which is not supported by the processing industry via AMIC members or non-members."
AMIC also said an MLA proposal to publish the names of plants that do not participate was also a 'name-and-shame' type measure. "The system proposed by MLA is voluntary, and the processing industry, via AMIC members and non-members, cannot support such a proposition," it said.