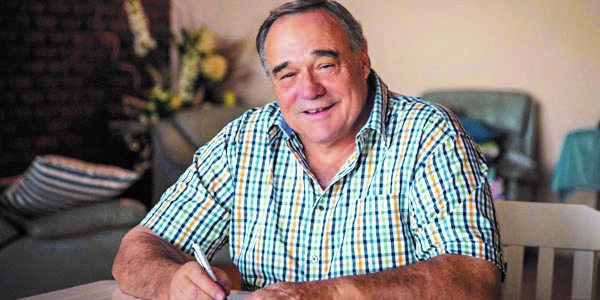 ONE of the true pioneers of the Australian Wagyu beef industry passed away suddenly on Friday.
Over three decades, Simon Coates saw the Wagyu industry grow from its infancy to become a powerhouse of the Australian beef industry.
As one of the early pioneers, his efforts were pivotal in the import of the earliest Wagyu genetics to Australia in the early 1990s. Using 250 purebred embryos from the herd developed by Texas A&M, his Sumo Cattle Co was in business by 1991.
Originally based at Roma, and more recently near Ipswich, Sumo was one of the first five Wagyu studs registered in Australia, with herd recording starting in 1993.
A veterinarian by profession, Dr Coates had a somewhat different perspective than some other early Wagyu breeders, especially in grasping the value of using innovative artificial breeding techniques such as embryo splitting and frozen embryos to expand the Wagyu footprint.
This work enabled establishment of the fledgling F1 trade for live cattle exports to Japan and the subsequent development of the Fullblood breeding industry.
The subsequent importation of 50 heifers and six bulls through Takeda Farms enabled Dr Coates to fully upgrade the Sumo operation to Fullblood and purebred genetics, utilising his vet skills to conduct embryo transfer for clients and established three ET centre sites – Euroa, Griffith and Roma – to service the burgeoning Wagyu industry.
Dr Coates held Australia's first Wagyu seedstock sale in either 1995 or 1996, attracting headlines for a string of eye-catching sales of bulls and heifers – some of which formed the foundations of other seedstock herds which have gone on to become foundations of the industry.
He was appointed as a councillor to the Australian Wagyu Association in 1993, and was the association's second president from 1994 to 1997.
What defined his contribution to the Australian Wagyu industry more than any other, his associates told Beef Central, was his generosity in sharing knowledge and education about the opportunities that lay ahead for the industry. He held numerous workshops and information days at his Roma property and elsewhere across eastern Australia, challenging cattlemen and women who had spent decades breeding 'good looking, well-structured cattle' to 'look beyond the surface' for the market qualities that lay beneath.
One of his key techniques during workshops was to 'let the barbecue do the talking.' Once a dubious beef producer experienced the 'lightbulb moment' taste and tenderness of their first F1 Wagyu burger, suddenly their attention became much more focussed.
Innovative, generous man
Hughenden, North QLD Wagyu breeder Peter Robertson, from Orielton, who has bred Wagyu based on Sumo genetics for 25 years, remembers Dr Coates as an innovator, and a generous man with a vast knowledge of Wagyu genetics and breeding who was prepared to share his knowledge with others.
"His approach was never about making money out of Wagyu, simply for himself. He wanted to bring the industry along," Mr Robertson said. "He was just so driven about establishing the Wagyu industry here in Australia, and to do that he needed other to join him. It was never about 'him'. "
"He was so generous in his gifts to Australian producers of his time and expertise, to the extent that Simon's impact and contribution should not just be measured by the success of Sumo Pastoral, but the success of Wagyu in Australia as a whole," Mr Robertson said.
Dr Coates was a frequent visitor to Japan over many years, including working with a group of collaborators in some of the earliest exports of Australian Wagyu beef. They formed the Certified Wagyu Corporation, which although now superseded, was instrumental in developing the product chains into Japan and worldwide which are now enjoyed by all breeders and supply chains.
"Simon funded and ran many field days throughout Australia which introduced and explained the concepts of Wagyu production to a large percentage of the current AWA membership," Mr Robertson said.. These comprehensive events demystified Japanese markets and production systems in easily digestible chunks. He devoted a great deal of time to ensure people fully grasped the concepts that underpinned successful Wagyu businesses."
Well known Queensland Wagyu identity Greg Gibbons (then manager at Dugald Cameron's Aronui feedlot near Dalby) had strong connections with Simon Coates from around 1996.
"He was one of our earliest introductions to Wagyu, and he can be credited with getting Aronui feedlot cranked up as a major Wagyu feeding facility," Mr Gibbons said.
"When Simon started, he was 20 years ahead of his time," Mr Gibbons said.
"Right back at the start, he could foresee where the industry would get to today. Along with Dugald Cameron, he had the vision, and was motivated to make it happen."
"I'm really pleased that the Wagyu industry has got to where it has today, before Simon passed away – because that was where he saw it ending up, way back in the 1990s. It gave him great satisfaction. He had the clear vision for where the industry could end up, and saw the need to bring others with him to make it happen," Mr Gibbons said.
"There were others who were active around the same time, but I will always remember Simon Coates as the pioneer of the Australian Wagyu industry – the one who made it all happen."
Dr Simon Coates Scholarship
The Australian Wagyu Association issued a brief statement this afternoon. Here is an abridged version, to avoid duplication with the comments above:
The Australian Wagyu industry says goodbye to a well-respected pioneer. Simon Coates will forever be recognised as a key figure in establishing the global Wagyu industry outside of Japan, and was a market leader in Fullblood genetics in Australia since 1997.
It was Simon's unique blend of character, scientific knowledge and passion for Wagyu that opened up the breed as an opportunity for many Australian and International breeders.
Simon was well-known for his extensive field day activities, workshops and sales to promote Wagyu to Australian breeders. He was a wonderful supporter of Wagyu and a wealth of knowledge to all.
Simon's efforts during the formative years of the Australian Wagyu Association are applauded by his peers. He was a champion of genetic evaluation and performance recording to support breeding decisions. He is world-famous in Wagyu circles for the development of the Sumo herd and for enabling the progress of the breed through his breeding and marketing of outstanding genetics.
As a measure of the scale of Simon's impact on the global Wagyu community, within the AWA's registers, Simon has registered more than 5600 individuals, including 1494 Fullblood dams and 173 Fullblood sires that have been used to breed more than 21,000 progeny in AWA member herds.
Simon was recognised in 2018 as an Honorary Life Member with the Australian Wagyu Association. Simon is noted by past Presidents as a wonderful bloke, a thorough gentleman in business and a great support to the industry worldwide, earning enormous respect personally and through his business.
In honouring Simon's pivotal role in the development of the Australian Wagyu industry, the Australian Wagyu Association has announced, as part of the Wagyu Fellowship Program, the creation of the Dr Simon Coates Scholarship for Veterinary and Reproductive Science.
The ongoing scholarship will be available to students who are studying veterinary science or researching reproduction and breeding related to Wagyu.
Through the Dr Simon Coates Scholarship for Veterinary and Reproductive Science, we can continue to recognise the great contributions of one of our founding members and honour his passion for the advancement of Wagyu.
A funeral service will be live streamed on Friday, 20 November for all to watch. A link will be added to this item when available. COVID restrictions have limited physical attendance at the funeral to 100 invited guests only.