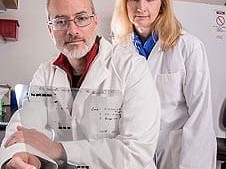 US scientists are claiming a breakthrough in testing for Johne's disease, after discovering an antibody that is 100pc specific in detecting the disease.
However animal health industry sources in Australia have questioned whether the development is likely to provide a significant improvement on current diagnostic processes for Johne's disease here.
Microbiologists at the National Animal Disease Centre in Iowa say their research has led to the detection for the first time of a specific antibody that binds only to Mycobacterium aviumsubspecies paratuberculosis (MAP), the pathogen that causes Johne's disease, has been discovered.
Previous efforts to detect Johne's disease were hindered because all antibodies used to identify MAP strains also reacted to environmental mycobacteria, or the disease pathogen responsible for bovine tuberculosis, and therefore generated false-positive results.
"You may think cattle are infected, based on a positive antibody test result, but they may simply have been exposed to nonpathogenic mycobacteria that's ubiquitously present in the environment," NADC microbiologist John Bannantine explained.
The researchers say the discovery means they can now accurately detect the Johne's disease pathogen and know for certain that it's not a contaminant.
"We finally have a specific antibody to detect live mycobacteria in the tissues or faeces of cattle. This could never have been done before," John Bannantine said.
Scientists have received a patent for the new antibody and are moving forward to develop diagnostic tests that will confirm the presence of the Johne's disease bacterium.
"We can now use this antibody to enrich the bacterium when it is present in low concentrations, such as in unpasteurized milk samples," Bannantine says.
"Improved testing and diagnostics is really the big benefit of this antibody."
Better diagnotistic tests not guaranteed
However, sources within Australia's animal health industry have questioned whether the development will lead to better diagnostic tests.
The test remained a long way from being validated, and it was hard at this point to see how it could be used to deliver a better or different practical outcome to existing tests in use in Australia.
"It will be a monoclonal antibody (mAb), and it needs to be incorporated in some kind of test platform in order to be applied as a diagnostic tool, and herein lies the hurdle," an animal health industry source, who asked not to identified, told Beef Central this week.
"The kinds of tests platforms vary, and each has and their limitations.
"While the tests can be highly specific to the strain of mycobacteria, their sensitivity can be quite low, similar to many of the tests currently in use around the world."
The accuracy of Johne's testing is a big issue in Australia, particularly in states which have adopted eradication focused policies to manage the disease, such as Queensland and Western Australia.
A positive result can spell disaster for operations found to have infected cattle, leading to potentially long-lasting restrictions on cattle movements and the culling of valuable cattle and generations of carefully-bred genetics.
With the potential for false-positives clouding the accuracy of existing tests, and so much to lose if a positive result is returned, affected producers have expressed deep concerns about submitting to testing and eradication programs, particularly in Queensland where no compensation arrangements are yet in place.
News this week that Western Australia will require Queensland cattle studs to be tested clean for Johne's disease before being allowed to supply cattle to the state is also likely to have a heavy impact on the large market that exists for Queensland bulls into pastoral WA.
Hundreds of bulls are sold from Queensland to WA each year, but the significant ramifications should herd tests deliver a positive BJD result could deter some Queensland studs from submitting to testing programs and making their bulls available to the WA market.
Research to prevent cross reactions between Johne's vaccines and Bovine TB
Other NADC research, conducted by microbiologist Judy Stabel, has focused on ensuring that Johne's disease vaccines do not cross-react with tests for bovine tuberculosis (TB).
Vaccines play a critical role in reducing the severity of Johne's disease, but using them can become a balancing act if the vaccine cross-reacts with tests for other cattle diseases like bovine TB.
"Producers are concerned that if they vaccinate against Johne's, they will not be able to discriminate whether their herd has bovine tuberculosis or Johne's," says microbiologist Judy Stabel, in the National Animal Disease Center's Infectious Bacterial Disease Research Unit.
The microbiologist looked at the cross reactivity of an effective US commercial vaccine with TB diagnostic tests. Several calves were vaccinated against Johne's disease, and blood samples were taken over a period of one year.
Immune and serological responses of calves were then measured using novel TB diagnostics that will be available in the future.
"These new serology tests for TB diagnostics are very promising," she says. "They're similar to the stick pregnancy tests for humans, except you use serum."
The tests consist of small sticks coated with bovine TB antigen. The antibody in the serum reacts to the antigen if it is positive.
With vaccinated calves, no reactivity was found using the TB tests, which is good because it means that those tests will not wrongly identify cattle with Johne's disease as being positive for bovine TB, Stabel says.
"We also did skin testing, which is one of the main tests in the field for bovine tuberculosis, and found similar results," she adds.
The results of these studies showed that calves could be vaccinated against Johne's disease without interfering with bovine TB diagnostics.
A major advantage of the new serologic tests is the cost and ease of use, Stabel says. "Animals can be handled one time to obtain a blood sample rather than being handled twice to administer and read a skin test. That reduces veterinary costs." – NADC