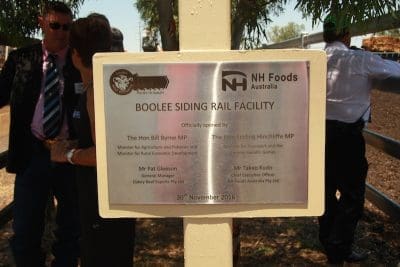 THE long-awaited cattle train from Quilpie to Oakey Beef Exports' arrived today to herald a new era which will allow one of Queensland's major export beef facilities to move towards doubling its production.
Made possible through the Queensland Government's $2.5 million investment in upgrading sidings, and the reopening of a section of the mothballed Oakey-Cecil Plains line, the service is expected to run fortnightly in most months of the year.
Oakey Beef Exports' livestock manager, Kurt Wockner, said summer rainfall in the Channel Country would ensure demand for the rail service.
"If the cattle are there, there's plenty of use for the train," Mr Wockner said.
The extra supply of grassfed cattle will help Oakey double its output by making full use of existing kill-floor and boning capacity through improved efficiencies in its cold chain, with works due to start next year.
"We're going to upgrade our cold chain by introducing more technology and automated carton handling with a view to going to seven days and a double shift."
At the moment, Oakey operates on a single shift over five days, and many of those took time out to join beef producers, business and government representative and dignitaries at the new Boolee siding adjacent to the works to welcome the train.
Dignitaries included Queensland Minister for Agriculture, Bill Byrne, and Minister for Transport, Stirling Hinchliffe, mayors from local government areas from Toowoomba to Quilpie, and Takeo Kudo, CEO of Oakey Beef parent company NH Foods.
Oakey general manager Pat Gleeson told the gathering the talks to resurrect the Quilpie-to-Oakey rail service, which last ran 23 years ago, started 19 months ago, and their success was a credit to all involved.
"Takeo always said 'If you can show me the cattle, I'll get the cheque book'. Now we've got the cattle," Mr Gleeson said.
South-west Queensland's Channel Country is a renowned fattening area for export cattle, and 880 head were on the train which arrived today.
Quilpie is the Channel Country's main railhead, and other sidings which can now load cattle on to the rail service to Oakey are Charleville, Morven, Mitchell and Roma.
Tony Schutt is operations manager at Arrabury Pastoral Co's Mt Leonard Station at Betoota, which contributed 239 steers to the rail consignment which arrived today.
Mr Schutt said the new rail service will supplement the existing weekly rail service which hauls cattle from Quilpie to processors below the range.
"We are turning off cattle each year from about April to October, and later this year because of the wet, so the more services for us, the better," Mr Schutt said.
AgForce has helped Oakey Beef lobby for the reintroduction of the rail service from Quilpie, and AgForce cattle president, Bim Struss, said today was a great day for Queensland beef producers which would also bring economic benefits to the region.
Mr Struss said the Queensland Government's $32.4 million investment in the Toowoomba Range Clearance Upgrade would help to boost regional freight capacity between the Darling Downs and the Port of Brisbane, and boost the outlook for other agricultural commodities.
"The combination of these two new rail links could take up to 80 per cent of Oakey Beef's freight off the road, unlocking economic development opportunities and making it easier to transport cattle to markets," he said.