Australia's greatest ever marathoner Rob de Castella sums it up with homespun wisdom: "Running is a simple sport. It's just people, who sometimes overcomplicate it."
He's in esteemed company with that philosophy. Australia's first sub-four minute miler John Landy agreed – which seems curious, considering that breaking the four minute mile in his era of the 1950s, was seen as the running equivalent of climbing Mt Everest! That doesn't sound simple. But Landy once wrote, about aspiring athletes:
"Your aims should be high yet they must be realistic. Training should be aimed at overcoming weaknesses in your performance rather than concentrating on your strengths and this requires an analytical approach, most likely coming from your coach."
That inspirational advice was contained in a personal letter I received from John Landy in 2005 when he was Victorian Governor. I had worked for a brief time with him, and I subsequently wrote to him and asked if he would pen some brief reflections of his approach to running. Landy was at the vanguard of the golden age of world middle distance running, blending world records and Olympic medals with genuine sportsmanship from a bygone era.
Landy was an inspiration to generations, including mine – his endurance and physical and mental toughness forged from gruelling running sessions in the sand hills of Portsea, Victoria. There was nothing too complicated about Landy's training – putting one foot in front of the other and let it find its natural place as it lands among the golden grains.
When I was a young athlete (track and field in my early days, graduating to marathons in my late 20s) with a coach with rural roots, he encouraged our elite squad to travel to country towns periodically to conduct school athletics training camps. We would look for the hunger in the eyes and the boundless energy on the faces and in the bodies of aspiring young athletes.
Is there another John Landy or Cathy Freeman in this group, we'd wonder? The Olympic dream can be anybody's. We were all young dreamers once – Landy and Freeman included – with no idea where destiny and years of passion, dedication and grind could take us.
I saw it too in my travels over 17 years working for ABC TV News throughout regional Australia. Any chance I had, I'd throw on the shoes and head for local dirt ovals or patchy grass tracks – they were all the same when it came to the simple pursuit of running. While pounding the roads and tracks you would marvel when you encountered school PE classes – the athletic potential as kids would run, jump and throw – sweating or shivering through activities, dependent on the season and the region.
While rural Australia seems to be producing less sporting wonders than it did in the past (partly due to shifts in demographics and inferior facilities) the talent is still out there. The philosophy is simple: Aim high, overcome weaknesses. One foot in front of the other. Destiny just might choose you.
See our earlier article: Vale John Landy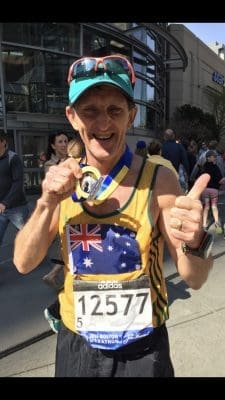 **Ian Eckersley is a former ABC-TV News sports presenter/reporter and an elite athlete who represented Australia in the marathon. He has run 10 marathons, including two Boston Marathons, as recently as 2018. He is the author of "Running on a Dream: The Pat Farmer Story."**