"The Business of Beef " is a regular series produced by the Bush Agribusiness team for Beef Central readers. 
The Reserve Bank of Australia has today lifted official interest rates to 0.35pc, in the first rise since 2010.
The RBA rate rise today follows the news from the ABS last week that inflation had hit 5.1% in the 12 months to March.
This raises the question of what rising inflation and interest rates mean for the Australian Beef Industry. The obvious implication for beef producers is rising operating and financing costs, but there is more to it than that, there are also implications for real beef prices and debt values.
The industry has seen significant gains in beef prices in recent years, the graph below shows the monthly average saleyard prices of yearling steers in Queensland over the last 36 years.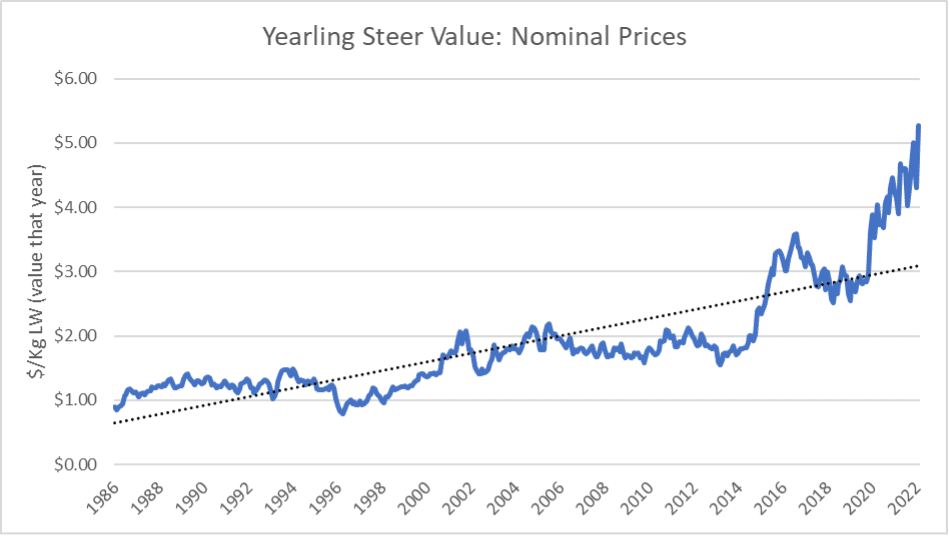 The above graph shows that prices are somewhat stepped over time, being largely flat for the 90's, increasing in the early 2000's before being flat again until the mid-2010's before increasing again. These data are in nominal terms though, with inflation eroding the purchasing power of money over time. To adjust for inflation, data need to be expressed in real terms, which is done in the below graph with prices expressed in 2022 dollars.
Both graphs show exactly the same data, just with and without inflation, but tell a different story, with the second being more correct. For this reason, we now report all long-term business data back to clients in real terms so the effect of inflation is removed.
This second graph shows that for the periods where nominal prices are relatively flat, they are actually declining in real terms as inflation erodes purchasing power. The result is that while nominal prices appear stepped, the real prices are actually cyclical, albeit with a slight upward trend. This trend is an increase of a bit over 20 cents a decade, in 2022 dollars.
If this trend continues, the current high prices continue will continue in nominal terms, perhaps with a small correction from the current extreme highs, and inflation will slowly erode the purchasing power over time until the next step up.
The increase in input costs in an inflationary environment is a concern, and we are seeing this already. Some cost increases are due to covid related supply issues and others due to the situation in Ukraine, but general inflation will be felt across the board. Fuel and fertiliser are inputs that have seen big increases, and are of concern to many. This is of particular concern to farmers, but what implications does it have for beef producers?
The below pie graph shows the average cost structure of a beef business in northern Australia (from The Australian Beef Report: 2020 Vision):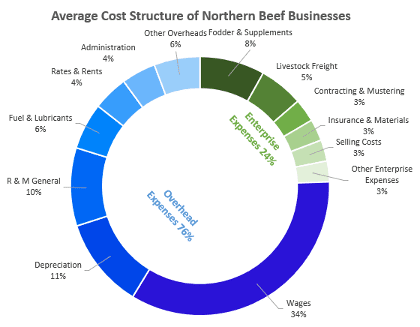 Those costs affected by increases in the prices of fuel and fertilisers (Fuel & Lubricants, Fodder & Supplements and Livestock Freight) are not a significant portion of the cost structure of beef businesses. The most significant item in the cost structure of beef businesses is wages, at 34% of operating expenses. An increase in wages therefore represents more of a threat to the running costs of beef businesses than fuel and fertiliser. Businesses are already reporting having to pay more to get and keep good quality staff. The next highest cost items relate to the cost of owning plant and equipment (depreciation). The increase is the cost of plant and equipment seen in recent times will have more of an impact than fuel prices, despite the seductivity of the tax deductibility.
Your cost of production is arguably a better measure than total costs, as this reflects the effectiveness of the expenditure and the efficiency of your business. If your cost of production is competitive, at less than $1.50/kg LW, and does not increase faster than inflation, then you have a strong business that will reap the benefits of the high points of the beef price cycle, and be profitable through the low. The most effective ways to improve cost of production are;
Increase herd productivity, resulting in more beef per unit of grass eaten
Ensure all discretionary herd expenditure is well targeted and pays off
Have good labour efficiency, which is the best way to reduce operating costs
Another consideration is the impact of inflation on the real value of debt as well as the cost of servicing that debt. Periods of inflation can have an upside for borrowers, as your loan balance does not increase with inflation. This means that you can pay off debt down the track with dollars that are worth less than the dollars you borrowed and put to work. Caution is required here, as if the level of debt being carried is not safe and prudent, then the benefits of this may not be realised.
Countering the devaluation of debt (in real terms) is an increase in interest rates in an attempt to slow down inflation. Many producers are borrowing money at less than 2% at the moment, which is great, but at 2% interest rates, a 1% rate increase over time means a 50% increase in the interest bill. For many this won't be an issue, but it will leave some businesses with a pain in the gut.
The below graph shows the impact on operating profit after interest of an increase in cost of debt from 2% to 3% on a business with a return on assets of 3% (average of industry top 25% from The Australian Beef Report).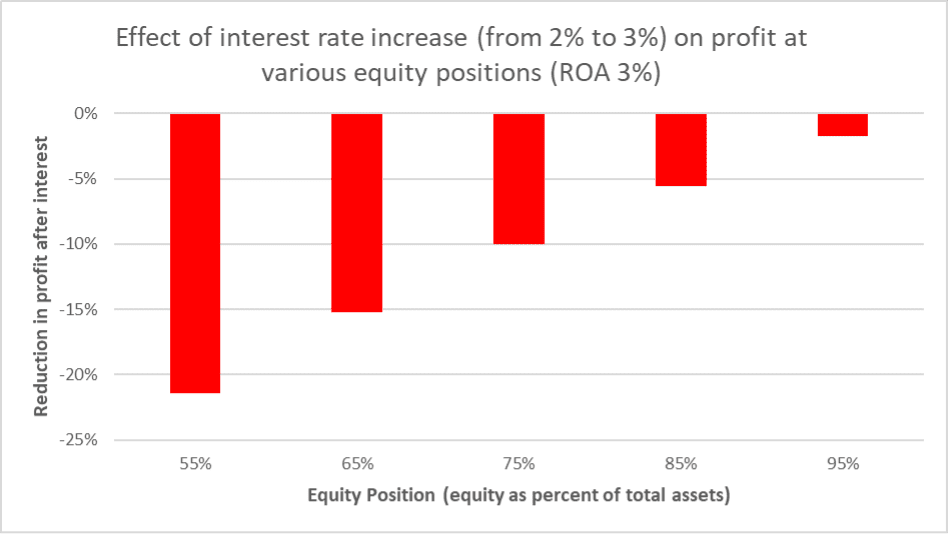 This demonstrates how much more highly leveraged businesses are exposed to interest rate increases, and other external shocks. It may be hard to justify paying down debt at low interest rates, but it is easier to do it now than when interest rates are higher. Many businesses we work with are allocating capital to strengthen their balance sheets and improve their existing businesses, to best position themselves for future opportunities.
High inflation and rising interest rates are risks for beef businesses; however good management can reduce the impact it has on their businesses.
Those businesses that have a safe level of debt, a competitive cost of production, and operating costs that don't increase faster than inflation, will be best positioned to prosper, whatever the economy, seasons or cattle market throws at them.
Previous article in The Business of Beef series: Capital allocation and yield compression