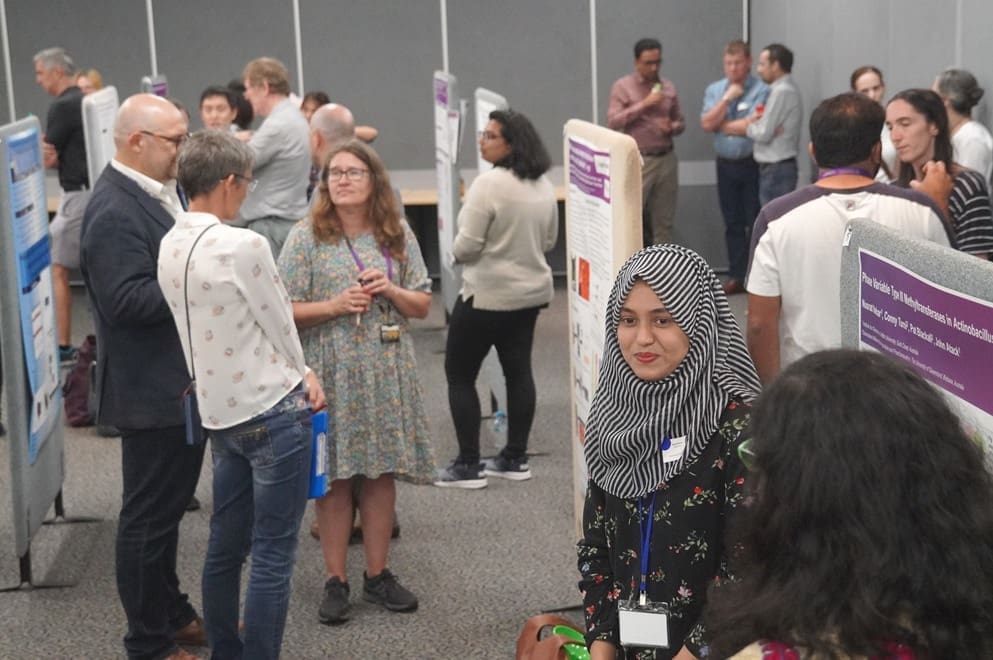 THE future of Australia's meat and livestock research is in safe hands, if Beef Central's observations from last Friday's Animal Science Poster Olympics event held at the University of Queensland are any indication.
About 55 post-graduate Honours, Masters, higher degree and early career researchers (ECRs) took part on the research poster event, showcasing projects across a wide area of research. Some of the larger divisions this year had up to 16 entries.
Genetic selection for parasite resistance was a popular topic among the posters presented this year, while others extended into animal welfare, nutrition, rumen microbiology, bovine genetics and other fields.
In a sign of the times, a common theme running through many projects was the advanced use of technology. Projects employing DNA analysis were common, as were other technologies such as machine learning, under-the-skin thermo-sensing micro-chips for sensing body temperature, and camera-based image analysis (see references below). One project showed a glimpse of the future, with the prospect of instant crush-side DNA genotyping of cattle using Nanopore analysis technology drawing ever-closer. Stand by for a separate story on that topic.
Beef Central was one of the event sponsors, and publisher Jon Condon took part as one of the lay-judges, operating in teams with a judge from a science background.
During the judging and presentation phase, all the students showed passion and infectious enthusiasm for their projects.
The Animal Science Poster Olympics have been run each year since 2012 by the Queensland Alliance for Agriculture and Food Innovation (QAAFI).
Entries this year came from different UQ Schools and Institutes, Queensland University of Technology, CSIRO and the Qld Department of Agriculture & Fisheries.
Judging was based on overall design, clarity of message, design features, including visuals, layout, and use of text; and relevance to the award.
Here's a quick snapshot of some of the winning entries:
Mohammad Kamran from QAAFI won the Innovation for the Red Meat Industry category sponsored by MLA, for his work looking into developing practical methods of phenotyping cattle for buffalo fly susceptibility.
"Buffalo fly control relies largely on chemical treatment, but effectiveness is compromised by the development of resistance," his poster said. "But heritability of resistance to buffalo fly appears to be moderate to high, if animals can be accurately phenotyped (classified) for fly resistance."
Breeding more resistant cattle could reduce reliance on chemicals, but the challenge is that accurately phenotyping cattle is difficult, in practise.
Mr Kamran's solution was to utilise different photographic techniques to automate the counting process for buffalo fly, allowing each individual animal to be classified for resistance.
This included the use of both standard and thermographic images. Individual flies were 'visualised' from photographic using ImageJ software allowing easy and accurate fly counts. Coordinates of flies was recorded for machine learning purposes.
In a second component of the trial, buffalo fly 'avoidance behaviours' in cattle were recorded visually, by video, and using six-axis accelerometers attached to ear tags. Algorithims to measure buffalo fly related behaviour in cattle, and its commercial impact, are being developed.
Potential outcomes from the work include simple, accurate and reliable classification of individual cattle for fly resistance, and potential selection for superior performance, using camera-based analysis.
"I would need 50 people to do the same visual fly counts that the cameras can do on cattle in a few hours," Mr Kamran told Beef Central.
Search for genes associated with tick resistance
Winner of the best livestock genetics poster category sponsored by Beef Central was Emily Mantilla Valdivieso (QAAFI), whose project is focused on exploring gene expression in cattle exhibiting different levels of resistance to cattle tick.
The ultimate aim is to develop DNA bio-markers to assist selection of more resistant cattle, as a promising alternative to achieve long-term control of ticks.
A herd of Brangus cattle was divided into tick resistant and susceptible groups, and exposed to tick challenge.
DNA analysis was used to look for differently-expressed genes between the groups, at both pre-infestation and various post-infestation stages. Three promising differently-expressed genes (DEGs) were found.
"These three DEGs are particularly relevant for potential validation as biomarkers for host resistance in tick exposed and non-exposed cattle populations," the research found.
Temperament  relationship with fertility
The Animal Production Research award supported by the Australian Association of Animal Sciences went to James Copley from QAAFI, whose project looked at the genetics of temperament and fertility in northern Australian beef cattle.
The project's aims were to estimate the heritability of fertility and temperament traits, and investigate the genetic correlation between the two. Data was used from former CRC work and the Smart Futures Fund, using flight time as a measurement of temperament, plus three fertility trait indicators.
Genetic correlation between flight-time and all three fertility traits was effectively zero, indicating that selection for improved temperament would produce neither a beneficial, nor antagonistic response to selection for fertility traits.
Other category winners at the Poster Olympics included:
Future Farming – New science that will benefit Animal Health award ($1800 prize) supported by Virbac Animal Health: Dr Ali Raza (QAAFI); runner-up Hyungusuk Kang (SAFS).
General Animal Science Research award ($1,000 prize) supported by the Centre for Animal Science, QAAFI the University of Queensland: Yue Yuan (Chem Eng-UQ); runner up: Kirsty Mols (SAFS).
Animal Science Innovation award ($1500 prize) supported by Boehringer Ingleheim: Dr Natasha Hungerford (QAAFI); runner-up: Dr Mukund Madhav (QAAFI).
Best poster presentation award (supported by Beef Central): Agnes de la Cruz (SVS); runner up: Gloeta Massie (SVS).
Innovation for the poultry industries award ($1500 prize, supported by Agrifutures, Australian Eggs, Poultry Hub Australia): HDR division – Annaleise Wilson (CSIRO); ECR division –  Dr Lida Omaleki (QAAFI).