PRELIMINERY results from a soil carbon program in Central Queensland have suggested for every 1kg of beef produced on the property, 50kg of carbon has been sequestered.
Carbon Link, which was derived from grazing extension company RCS, earlier this year took the second round of soil samples from projects across 20,000 ha in New South Wales and Qld, which the company said exceeded expectations.
Dr Terry McCosker, who is the director of both companies, told the RCS conference at the weekend a project on Bonnie Doon station, near Monto, has shown impressive results. (see more from the conference here)
"The numbers off Bonnie Doon show close to 50kg of CO2 is sequestered per kg of meat sold off that property – averaged over the last five years," Dr McCosker said.
"This is a number you can start to use to overcome this debate about methane, because that is after subtracting methane emissions."
The results from Bonnie Doon and other properties doing projects with Carbon Link are currently receiving an independent audit by the Federal Government's Clean Energy Regulator (CER) – which is responsible for issuing Australian Carbon Credit Units (ACCUs). One ACCU, which is currently worth $29.90, is awarded for each tonne of CO2 sequestered.
Carbon Link originally predicted the CER audit to be complete by the end of June, but that deadline has been pushed back to later this year.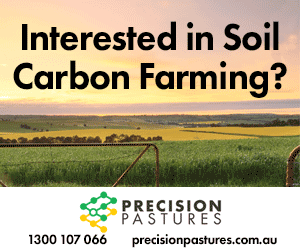 The idea with soil carbon is to take a baseline carbon measurement with a series core samples, then change management techniques to increase sequestration – like introducing cell grazing or perennial pastures. A second round of soil samples are then taken with ACCUs awarded for any increases.
According to the Emissions Reduction Fund register, the Bonnie Doon soil carbon project was started in January 2017. Bonnie Doone Enterprises managing director Carly Burnham told the conference she was keen to see the results of the CER audit.
"The interim results indicate we are exceeding expectation and we await the final results and the issue of the ACCUs very patiently," she said.
"All the while the price of carbon increases, the global appetite for green finance and emission reductions is constantly growing.
"I would love to share some data, some graphs and some hardcore facts and figures, but it is too early to do that. But it won't be long and this will be an incredible leap for agriculture."
Beef Central will have more on this story