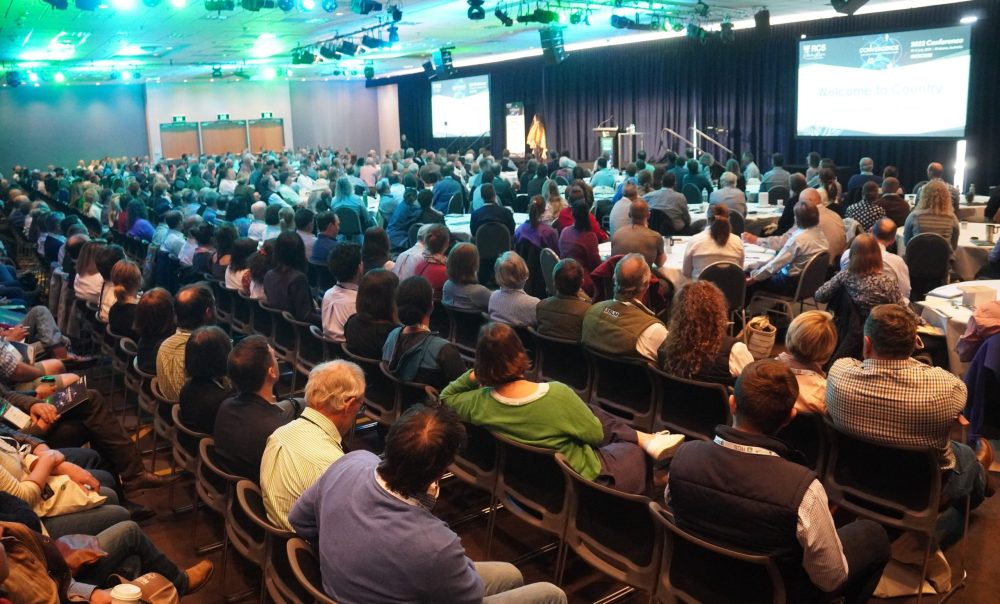 STAKEHOLDERS from across Australia gathered in Brisbane over the weekend to celebrate 30 years of achievement of the RCS network's integrated education, training and advisory work with cattle and land managers.
About 570 beef producers and others took part in the two-day conference, in what was easily one of the largest single-focus beef industry gatherings since the onset of COVID.
The organisation holds a milestone conference every ten years. This year's theme was 'Convergence – Agriculture, Human and Planetary Health.'
"While there is a convergence of crises, at present, our focus is on the convergence of solutions," RCS co-founder Terry McCosker said.
"As human consciousness grows, we begin to grasp that we are part of mother nature, not apart from it. This year we bring together the convergence themes of human, soil, animal, plant and climate health, and new economics, all with an underlying theme of connection to source and back to basics," he said.
The RCS network can trace its origins back 37 years to 1985, when Mr McCosker and co-founder David Hanlon operated a consultancy company in the Northern Territory. Mr Hanlon passed away last year after battling a rare blood disease (click here to access earlier tribute).
The first ever RCS Grazing for Profit School was held in 1990, under the late Stan Parsons.
Since then, RCS has partnered with thousands of producers to help them regenerate their land, empower their families and achieve greater and more consistent profit. A total of 338 Grazing for Profit Schools have been run in the past 30 years, right across the continent, involving some 7000 beef producer clients. Already the RCS program has been delivered to second and even third-generation clients in the same family enterprise.
Working with nature, rather than trying to control it, continued to be a core theme in the two days of presentations delivered over the weekend. Regenerative agriculture and tools to achieve it was a focus through many presentations.
"Regenerative agriculture is a very mis-used term," RCS chairman David Mclean said.
"We see it as being about achieving outcomes – the outcomes are the really important focus point, not the inputs, in the form of what you are, or are not doing," he said.
"Improving soil health is the first outcome to focus on, because achieving that is in turn going to improve plant health, and from there, animal health. Improving animal health is going to improve our business health, and from that, our human health – which will result in an improvement in community resilience."
"If you focus on those outcomes, and not the inputs, then I believe we are regenerative, and profitably leaving our country in better condition."
So what lies ahead for the RCS movement?
First and foremost, we remain committed to providing world class education, professional development and advisory services to the industry," Mr Mclean said.
Other new directions included:
Technology advancements had had an influence, with the launch of fully online courses in conjunction with face-to-face course gatherings.
RCS has also invested heavily in decision support tools for clients' use, in the form of on-line software. Most important of these is the redevelopment of the RCS benchmarking businesses analysis program, ProfitProbe, which will be officially released in coming months.
ESG (Environmental, Social & Governance) is the next evolution of where RCS is heading with its decision support tools. "If you are implementing the RCS principles, you're really well positioned in this whole ESG space," Mr Mclean said. "You have an amazing opportunity with what's coming up."
An enormous amount had been learned about soil health in the past five years, and on the back of that, RCS has developed a set of soil health principles, which Mr McLean described as being as "solid as the RCS grazing principles that have been in place for many years". This is the basis for the RCS farming and Grazing for Profit School.
The principles applied in soil health are also allowing RCS to support those people involved in the carbon industry. "You cannot be involved in a carbon project without good basic soil management," Mr Mclean said.
On the back of the hard work done over the past six years, RCS is now involved in a lot more collaborations and bigger projects with government and industry. Just one of these was Project Pioneer, involving some 1.2 million hectares of land in the Great Barrier Reef Catchment region, producing some 'amazing outcomes.'
"One of the reasons we meet evert ten years is to bring together who we believe to be the thought leaders in the world, expose our clients to them, and have a conversation around that, so they can educate and challenge us," David Mclean said.
"In this way, they can help focus our thinking for the next ten years, and where we are heading."
Beef Central attended the weekend's ten-year conference, and will file reports in coming days.
Captured below are some of the faces from the high-spirited gathering….