As agricultural superheroes go, it's hard to go past the humble beetle.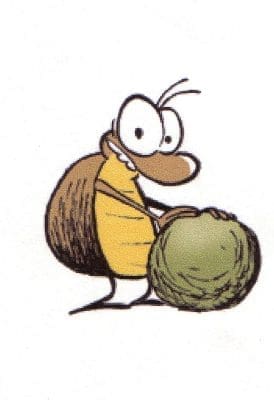 They can bury dung 250 times their own bodyweight in a single night, aerating soil in leaps and bounds, boosting the nutrient cycle, increasing soil carbon, improving water absorption and controlling bush fly and buffalo fly populations as they go.
Most of Australia's native dung beetle species evolved on marsupial dung from kangaroos and wallabies and are not able to process the moist dung of larger domestic farm animals.
The average cow drops between 10 and 12 dung pads per day and just one of those can produce up to 3000 flies in a fortnight – which over 26 million cattle can build up to a lot of flies. And that is not counting the dung dropped by Australia's sheep and goat population as well.
This is where the importance of dung beetle research comes in.
For more than 50 years scientists from the CSIRO and other research institutions have worked on various projects to identify foreign dung beetle species that can survive in Australian conditions and break down livestock manure and reduce fly populations.
More recently research has also recognised the benefits dung beetles provide for the health of the soil and the environment.
As explained in this recent Conversation article, the goal is to have an Australia-wide "network" of dung beetles, working all seasons and in all regions to keep Australia's pastures clean and well-fertilised.
Efforts by researchers over the past half century have resulted in the introduction of about 50 foreign species of dung beetle to Australia, of which some 25 have become established.
However, a 2007 study showed there are still big gaps in the network. The study indicated Australia's tropical and sub-tropical cattle grazing areas were served by 7-13 species of dung burying beetles, but temperate pastures had fewer than four or five species.
Dung fight
The value new dung beetles can provide perhaps explains why the direction of future dung beetle research can attract heated debate.
A major new five-year, $23 million dung beetle research project has been recently announced for southern Australia, and has generated some debate over how it should be conducted where it should be focus.
The project "Dung beetle ecosystem engineers (DBEE) – enduring benefits for sheep and beef producers via science and community action in a new partnership model" is currently in its establishment phase and will run until 2022.
The project was made possible through the Commonwealth Government's Rural R&D for Profit (RRDfP) Program.
It is funded from a $9,174,174 million grant from the RRDfP Program, $2,147,147 from the MLA Donor Company (non-levies), $2,439,940 from numerous project partners and $8,932,275 of in-kind contributions.
The project partners include three universities (Charles Sturt, Western Australia, New England), the Western Australian Department of Primary Industries and Regional Development, CSIRO, Landcare Research NZ, Dung Beetle Solutions International, Councils (Warren Catchments, Leschenault catchment) and the Mingenew-Irwin Farmer Group.
The aim of the project is to improve soil quality in grazing systems, reduce the spread of pests and diseases, increase pasture health and reduce nutrient run-off through the introduction of three new dung beetle species/strains, to be determined as part of the project.
It will also focus on increased rearing and release of recently introduced dung beetles, Bubas bubalus and Onthophagus Vacca, and provide improved beetle management information to producers.
It will also build on previous survey work in Queensland to provide a nation-wide survey of seasonal activity, which is an essential component of determining what species are missing and therefore what species should be introduced as part of the project.
In a letter circulated to a range of industry email addresses ahead of MLA's  annual general meeting in Canberra this week, a group of industry stakeholders with previous experience in dung beetle research have criticised the project.
The letter's signatories – Mark McClintock of Cootamundra, John and Carol Richard of Cassilis and Mick and Noela Alexander of Rockhampton – accuse MLA of not consulting properly with all industry stakeholders during the project's development; of providing only vague information on the project's implementation; of favouring new research and ignoring extensive research already conducted, such as that of CSIRO researchers Dr George Boremissza and John Feehan since the 1960s; and does not utilising existing scientific networks.
The letter suggested the project is not an effective use of grower levy funding and questions its focus on Southern Australia, suggesting the priority of dung beetle research and implementation should be in Queensland to tackle the buffalo fly infestation (view a copy of the letter here)
In response MLA says the claims are not true. No grower levy funding is used in the project, with MLA's contribution coming entirely from leveraged Commonwealth Funds through the MLA Donor Company, with matching voluntary cash contributions from project partners.
And in response to the consultation process, MLA said the project was brought to MLA by the funding partners who identified the need for further work in Southern Australia and had cash and in-kind contributions to offer.
Expaling the the project's focus on Southern Australia MLA said that within the confines of the investment mandate within MLA's Strategic Plan, it is up to the various funding partners that co-invest in the project (via the MLA Donor Company) to determine its direction and scope.
While a lot of past dung beetle research had focused on Queensland, comparatively little has been done in the summer dry/winter wet and cooler winter conditions of southern Australia where a completely different suite of species of dung beetle had adapted.
MLA said the seasonal and geographic distributions of these species has not been previously assessed, except in some localised studies, and the nation-wide survey of seasonal activity is an essential component to determine which species are missing (See MLA's updated statement on the project here)
The letter said the authors will be "seeking clarity around the scope of this project and accountability for all levy payers" at the MLA AGM, to be held in Canberra tomorrow.
With the project still in its establishment phase MLA says new partners are still welcome into the project, such as additional producer groups or research organisations.
Interested parties can contact MLA's Sean Starling (sstarling@mla.com.au), Doug McNicholl (dmcnicholl@mla.com.au) and/or the project management team at Charles Sturt University headed by Leslie Weston (dungbeetle@csu.edu.au).
The project proponents will also be running a forum at Charles Sturt University at Wagga from 1-5pm on November 26 for industry stakeholders who want to know more about the project and who would like to contribute to its growth.