Queensland farm group AgForce has reacted with incredulity to the Queensland Government's announcement that new fines of $672.75 amount to a 'crackdown' on farm invaders.
The new fines announced this week for terrifying home invasions could only be considered "manifestly inadequate" by community and industry standards, AgForce CEO Michael Guerin said.
AgForce, a member of the State Government's Animal Industry Security Taskforce, commended the Minister on moving quickly to protect farming families from militant activists.
However Mr Guerin said the level of the fine was virtually a slap on the wrist for zealots who wouldn't pay the fines anyway.
"We thank the Queensland Government for their quick action, but much more needs to be done to stop these radical activists overrunning farms and frightening families.
"Animal rights extremists who illegally invade farms are putting the lives of farmers, their families and their employees at risk.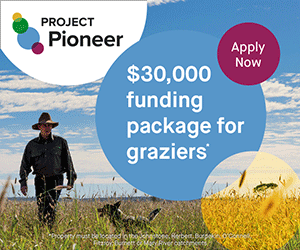 "They also pose a serious threat to biosecurity, and actually cause a great amount distress to the very animals they say they're trying to protect.
"Farmers take the issue of animal welfare very seriously. They just want to be allowed to go about their absolutely ethical and legal business."
Mr Guerin said the penalties for farm invasions needed to better reflect the crimes being committed.
He also called for calm and caution among farmers and their employees.
"Everyone needs to remember that what these activists want more than anything is for a hard-working farmer to react to their needless provocation. That's the type of publicity they're really after.
"We understand that being subjected to the kind of terror being perpetrated by these attention seekers is frightening. It does make people want to defend themselves.
"But that's why it's as important now as it's ever been to remain calm and let the Queensland Police Service handle it."
RSPCA backs tougher penalties for activists who target farmers
Meanwhile, in a statement provided to Beef Central this week, RSPCA Queensland said it backs tougher penalties for activists who target farmers

RSPCA Queensland CEO Mark Townend said the organisation welcomed the Australian government's commitment to tougher penalties for activists who target farmers' homes and lawful businesses, in the wake of recent coordinated vegan activist attacks on farms across the state.
"This type of activism put our whole bio security at risk which could have resulted in both human and animal deaths," said Mr Townsend.
"We have nothing but the utmost respect and support for law abiding farmers and are appalled that they are being terrorised in their homes, where they are trying to raise their families and run businesses," he said.
"We are working closely with many of them as part of the Humane Food program which is constantly improving the lives of production animals.
"RSPCA would obviously still like some improvements in animals welfare for production animals but breaking the law and terrorising hard working farmers and their families isn't the way."
"If these activists really want to bring about change they should come and work alongside us and volunteer their time to actually helping animals rather than impeding the work of Aussie farmers."
"As Australia's oldest and most trusted animal welfare charity, the RSPCA wholeheartedly condemns law-breaking behaviour.
"The charity works directly with farmers through RSPCA's Approved Farming Scheme and the Beef Cattle Welfare Challenge. We encourage consumers to look for RSPCA approved products".
Source: AgForce Queensland, RSPCA Queensland