LEGENDARY Queensland stud stock auctioneer, Dave Watkins, passed away yesterday at Yeppoon, aged 88.
Over a 45 year agency career with Elders, Mr Watkins became universally known and much loved across the Queensland cattle industry.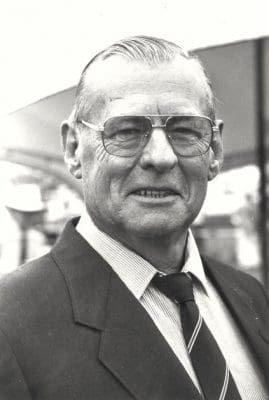 Gifted with a natural, easy-going auctioneer's banter and a love of people, he left an indelible impression on the agency and broader cattle industry, stretching from far north Queensland to the NSW border.
Born in Blackall in 1928, Mr Watkins spent his entire working career as a stock agent, joining the old Australian Estates company in Roma in 1948 after leaving Brisbane's Anglican Church Grammar School, where he boarded, and Gatton Ag College.
He transferred to Rockhampton in 1950, where he rode the wave of expansion following the arrival of Brahman cattle, and the establishment of the tropically-adapted bull breeding industry. He did a lot of work over the years with both the Brahman and Santa Gertrudis breeds – where he sold at Yarrawonga and Cumberland sales over many years – but treated all beef breeds with equal respect.
Through the agency company mergers that followed, Australian Estates became AML-Estates, Elders AML and ultimately Elders, but Dave remained a one-company man for his entire working life. He retired in the early 1990s, but returned in guest auctioneering roles for some considerable time after that.
He sold as far north as Charters Towers, and pushed south as far as Victoria selling for long established bull-breeding clients, but Gracemere Saleyards outsdie Rockhampton was his true 'office.' In the early days of his career, he sold at numerous King Ranch Santa sales for the Baillieu family, and in association with Scott Hallam, also kicked-off the Rockhampton Quarter Horse sales.
In earlier times in the 1950s to 70s, he travelled widely selling at feature store sales through Eidsvold, Moura, Rolleston, Taroom and other large cattle centres.
Close friend and fellow stud stock agent, Eddie Chambers, said Dave was one of the best stud stock auctioneers the industry has ever seen.
"He was dedicated to what he was selling, and the work and effort that went in behind the scenes to get the detail right before a sale was often not widely appreciated," Mr Chambers said.
"He had a nice, natural banter when selling, and he just loved the job of selling cattle."
As an extrovert and larger-than-life character, Dave Watkins gathered many close acquaintances across the cattle industry over the years, and wherever he travelled with work, he was always amongst friends.
One of his great passions was John Wayne movies, and an occasional line or two from a well-known western would sneak into his selling banter.
Mr Watkins was pre-deceased by his wife, Joyce. He had no children.
Dave Watkins funeral will be held at Rockhampton Crematorium on Wednesday, 22 March at 11am