THE combination of high cattle prices and drastically short supply is again being reflected in domestic consumption patterns for beef.
Meat & Livestock Australia will later today release its Beef Industry Fast Facts for 2016, containing key statistics on the industry.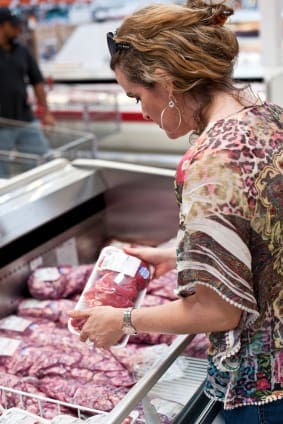 The document includes latest domestic consumption figures compiled by ABS, which suggest that beef consumption has gone from 28.3kg per person in 2014-15 to 25.4kg last financial year – a decline of almost 3kg in 12 months.
But significantly, the value of domestic beef consumption remained stable at $7.8 billion – more or less unchanged on the previous year – which shows a willingness by consumers to continue to purchase beef in the face of the dramatic rise in price.
Despite the downwards trend in volume, Australia remains the sixth largest beef consumer in the world, according to Food & Agriculture Organisation data.
The results show that despite the prices being paid for Australian beef having been at record levels, consumers are still making beef an essential part of their diet, MLA suggests.
"Consumers consistently rate price as the most important factor when buying beef. Clearly, the rising price of beef has presented a challenge to the household budget," MLA managing director Richard Norton told Beef Central.
"Recent per capita consumption results show that while consumers might be buying less beef right now, they are prepared to pay more to keep it on their dinner plates," he said.
Australia was not alone in the trend towards declining volume, he said. Given the relative cost of other popular proteins, similar trends were being seen in beef consumption in other western countries.
"Outside the three South American countries – Brazil, Argentina and Uruguay – Australians still eat nearly as much beef as US citizens, on a per capita basis. But throw in Australia's considerably lamb consumption, and we are the third-highest consumers worldwide of red meat, on a per capita basis," he said.
Mr Norton said MLA had a clear strategy to address the decline in volume, with its domestic marketing program driven by sophisticated consumer research and data that identifies key trends and demographics, including purchase drivers, such as nutrition, and barriers to purchase.
"The reason consumers actively seek beef out is because of its consistently high quality and because it is the best natural source of the essential nutrients protein, iron, and zinc," he said.
While opponents to the Meat Standards Australia system might use the recent decline in domestic volume as evidence in some way that MSA lacked consistency, Mr Norton pointed to Millard Browne research data in 2015 which showed beef in fact rated above lamb chicken and pork for consistency of eating quality.
"We submitted to the domestic task force last year that domestic beef consumption was going to be under enormous pressure in 2016, because of the cattle price rises that have occurred," he said.
"We knew that consumption could substantially decline due to price pressure. But through a lot more consumer sensory testing work, we now know what the triggers are to build consumption, in areas other than price, where we can have an impact," he said.
"For example there has actually been an increase in the domestic consumption of rumps in the past 12 months, perhaps as a default out of more expensive steak cuts. But it means consumers want to know how to use a rump better, to deliver a satisfactory eating outcome every time."
Mr Norton said while they had risen significantly, retail beef prices in Australia, compared with the rest of the world, were still relatively inexpensive.
"But the challenge for any marketing organisation in a climate of high price is to keep selling the benefits of nutrition and the higher protein 'hit' that consumers get from red meat," he said.
"It's about focusing on those intrinsic qualities to motivate consumers to continue to buy beef, in a market climate of higher prices."
Targeting young adult males
MLA was now spending more of its marketing budget on consumer insights, as opposed to straight marketing of products, Mr Norton said. Some of this work had identified an issue with young adult males, who had been traditionally strong beef consumers.
"Because of some of the information they are now being fed, some of these young men are not evolving into the typical male consumer, who has grown up with a constant stream of beef on the table. They are not eating as much beef as previous generations, so they are now a real target for our marketing work."
The recent Trinity Project (click here to view earlier social media item) was clearly targeted at the young Australian male demographic. To date, that program had attracted 400,000 shares on social media.
"We know there was some criticism from stakeholders of the Trinity Project concept – but it was not aimed at beef's traditional 'loyalists'," Mr Norton said. "It was targeted specifically at young men, encouraging them to follow the dietary guidelines by including red meat regularly in a balanced diet."
Asked whether MLA was now content simply to stem current volume losses for beef in the domestic market, Mr Norton said the objective was in fact to re-gain lost ground – not simply to 'stop the bleeding.'
"I think we have the ability now, through measures like direct marketing campaigns to specific customer segments like the Trinity Project aimed at young males, to claw back some lost ground," he said.
"There's no doubt at the moment that the decline in volume is price-driven, and we will have the ability to win back some of that ground, restoring lost volume."
"There's been three big factors that have also been in play – the massive rise in price, the World Health Organisation's earlier negative report to beef, and the focus on live export. As much as we'd like to say that live export does not impact domestic beef consumption, it does."
"We must understand that our consumer base is very much aware of animal welfare and related issues. It is top of mind in perceptions among some consumers in what they eat," he said.
Looking ahead
Looking ahead, MLA said the global economic environment would continue to change, and global economic growth was actually forecast to slow over the next 12 months.
"Low global grain prices mean we're also likely to see cattle kept on feed for longer, producing more kilograms per animal.  What happens globally will always have an impact on our industry and the domestic market," it said.
"MLA will continue to demonstrate Australian beef's quality and nutritional credentials through our consumer marketing to ensure we deliver the best possible returns to levy paying producers and the wider red meat industry."
Click here to view a copy of MLA's Fast Facts for 2016
Editor's note: Given the volume of comment traffic received from readers since this item was first posted (see below), we approached MLA's Richard Norton for a response to some of the points raised. Here's what he said:
Healthy debate around the state of our industry and its future is important, and so is the need for that debate to be fully informed.
In regard to the queries of Meat Standards Australia, it's important to first acknowledge that MSA is a voluntary eating quality program that underpins beef quality.  It is not a brand.  The outcomes of MSA have always been, and remain, MSA three, four and five star. The choice of which beef to retail and how it is retailed is up to individual beef brand owners.  It is not for MLA to tell retailers how to market beef, but MLA has made the star rating logos available to retailers and encourages retailers to use the logos.  Through MSA, MLA is always working with the supply chain to keep improving quality – including growing the volume of four and five star rated product which currently makes up approximately 23% and 3% respectively from MSA graded production.  MLA provides regular industry briefings on the MSA program and its application, including at a series of 'Future of Eating Quality' forums held in every state over March and April this year which also included the inaugural 'Excellence in Eating Quality' producer awards.
Contrary to Mr Byard's assertion, consumers are not saying Australian beef is inconsistent and it is a folly  to be running our product down.  Early this year, MLA took the time to explain the MSA system to Mr Byard at a meeting in Launceston.  For what it's worth, in a subsequent blind taste test of a range of samples – which included a sample selected by Mr Byard – the eating quality of the MSA graded product exceeded his own expectations, proving that the system works.
In a more rigorous consumer survey of 1,000 respondents by market research agency Millward Brown this year, beef was rated highest for consistent quality of all the meat proteins.  The fact that the value of domestic consumption has been maintained despite the drop in domestic consumption in the last year is further testament.  I ask Mr Byard to stop making negative comments about the quality of Australian beef, when the consumer data indicates beef is actually rated above the other proteins for consistency.
Further evidence still is that despite being a voluntary industry system, MSA adoption has experienced considerable growth over the last five years.  Producer registrations in the MSA program increased 8 percent year on year in 2015/16 to over 45,000. Over 3.1 million cattle were MSA graded which represented 38% of the national adult cattle slaughter (up from 35% in 2014/15).  All major retailers have adopted MSA to underpin their beef purchasing and their own retail brands.  In 2015, MSA delivered an additional $185 million in farm gate revenue thanks to the price premiums paid for MSA accredited and compliant cattle, which for young MSA cattle averaged $0.24/kg above non-MSA young cattle. From 2010 to 2015, investment into eating quality returned industry a net return of $12.50 for every dollar invested as determined through the recent independent impact assessment of MLA.
As MLA, Beef Central and other correspondents have noted, price and supply remain the primary drivers of consumption patterns.  However, beef's consistent quality is also a purchase driver, as is beef's superior nutritional benefits.  We have also seen demographic change in Australia, with more people from diverse backgrounds who are not traditionally consumers of beef and who tend to seek a wider variety of proteins. 
As I noted in my interview with Beef Central, the challenge for any marketing organisation in a climate of higher prices is to motivate consumers to continue to buy beef.  Given that we know nutrition and quality are significant factors, MLA is using sophisticated research and data in our domestic marketing to target these areas and the demographics that have concerns.
This new approach is generating encouraging signs, with the results of "You're better on Beef" campaign to date a perfect example.  This campaign, which was launched just 18 months ago, aims to drive home beef's key nutrition credentials by demonstrating to women that you're quite literally better on beef.  Post-campaign survey results from the first 12 months have shown an increase in claimed per week consumption of beef amongst the target audience (mums) to 1.75 serves, up 0.2.  54 percent of the target audience said they were 'more likely to eat beef' versus the benchmark of 42 percent and mothers limiting red meat consumption due to health concerns had been reduced by 20 per cent to only 23 per cent.
Rather than leave industry completely exposed to the vagaries of global supply and demand which we cannot control, MLA's marketing programs will continue to encourage consumers to actively seek beef out because of its consistently high quality and because it is the best natural source of the essential nutrients protein, iron, and zinc.