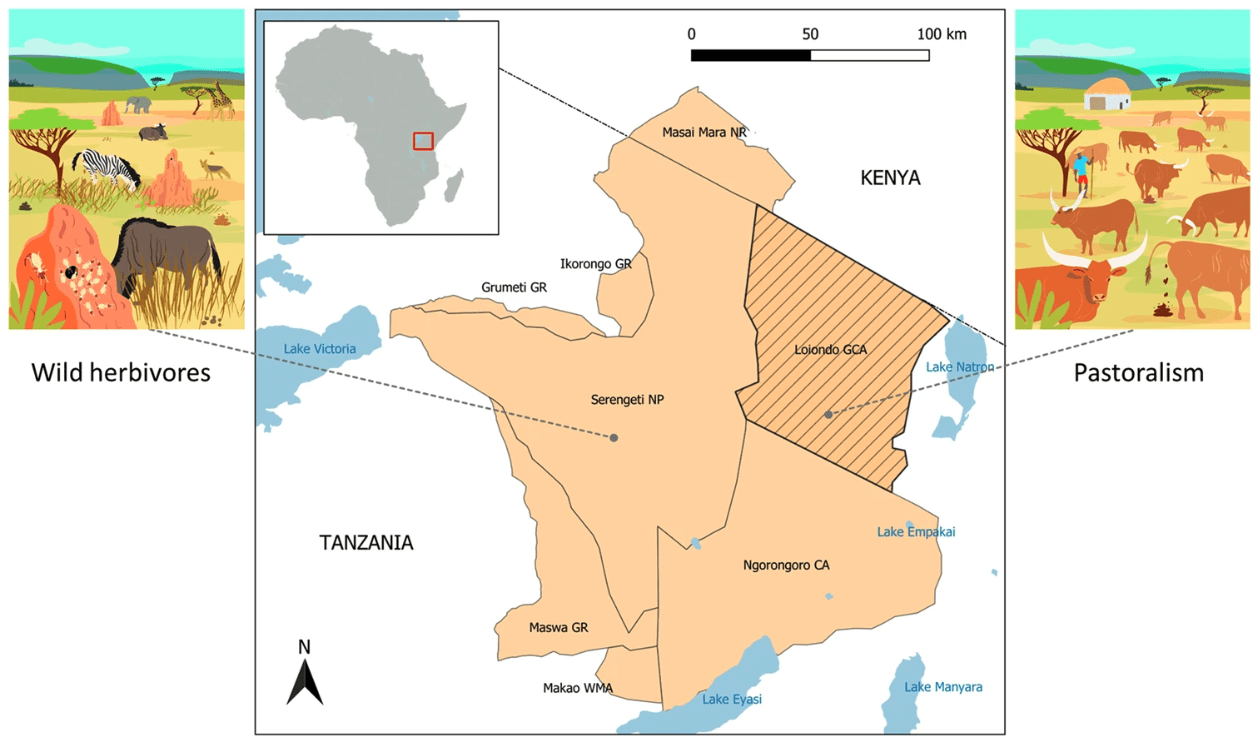 How do emissions from cattle compare to emissions from wild herbivores in a similar landscape and environment?
A team of researchers recently studied two sets of animals in the Serengeti region of Tanzania to find out.
The project compared calculated emissions from animals in a wildlife-dominated savannah to those in an adjacent land with similar ecological characteristics but under pastoralism.
The results, published in a just-released paper, showed strong similarities in the greenhouse gas emissions from both sets of animals.
On average the wildlife area showed similar GHG emissions (76.2 ± 14.7 Mg CO2-eq km−2 year−1) compared to pastoralism (76.5 ± 15.3 Mg CO2-eq km−2 year−1).
The outcome reinforces previous research showing that grazing livestock and wild herbivores occupy similar ecological niches.
The research raises the question of whether abandonment of pastoralism – as some have called for as a strategy to reduce global greenhouse gas emissions – would in fact lead to a significant reduction of emissions.
Lead researcher Pablo Manzano, in a twitter thread explaining the research, said the work focused on the Serengeti region because of the availability of data providing sound information on both wildlife and livestock abundances.
It is home to one of Earth's last wild migrations, which was important to understand the system's natural carrying capacity.
The research showed that well-managed livestock served as an effective substitute of wild herbivores in the world's ecosystems.
It also raised questions about the relevance of attributing livestock emissions as "anthropogenic" – given that wild herbivore emissions would overtake livestock emissions if livestock were removed.
"It implies that, in very low input systems as the ones present in Sub-Saharan Africa or South Asia, livestock could be occupying the ecological niche of wild herbivores (link)  & most of its GHG emissions belong to the ecosphere – they are not anthropogenic."
"Both regions have well-conserved wild herbivore guilds, able to overtake livestock emissions in abandonment scenarios, yet are attributed with 38% of the global livestock emissions.
More than 100 countries have signed up to join a United Nations pledge to drastically reduce emissions, which is leading to recommendations that livestock grazing in vast rangeland areas be abandoned, and subjected to "rewilding".
The research indicates that strategies aimed at abandoning grazing lands would not achieve a significant reduction in the total amount of direct GHG emissions from animals.
Prominent English farmer and author James Rebanks was among several people who shared the published paper on social media:
When they write the history of climate change I'll buy everyone a beer if grazed livestock are still considered a major cause

Comparable GHG emissions from animals in wildlife and livestock-dominated savannas | npj Climate and Atmospheric Science https://t.co/olyUOK3URi

— James Rebanks (@herdyshepherd1) April 4, 2023
The research paper can be read in full here