At 2:46pm last Sunday, people across Japan stopped in silence to observe the seventh anniversary of the March 2011 earthquake and tsunami that left 18,000 people dead or unaccounted for, and caused one of the world's worst nuclear disasters.
Seven years after the catastrophe 2539 people have still not been found.
One of the worst hit places was Kamaishi, a small sea side fishing, steel and rugby town of 35,000 people.
73,000 evacuees remain unable to return to their homes, still living in temporary Government-funded housing or with relatives or acquaintances across the country. 271 victims of the disaster have yet to leave hospital.
The devastation unleashed by an 8.9 magnitude undersea earthquake – one of the most powerful in recorded history – followed by a 4.3 metre high wall of water which ripped through the valley-floor town, left 1250 residents dead or missing.
Among the residents of Kamaishi at the time was Australian rugby player and future Wallaby star, Scott Fardy, then into his third year playing for second-division Japanese rugby side the Kamaishi Seawaves.
Scott was in the lounge room of his high-rise apartment at the far end of the village, which, despite having been shaken violently, kept him safe from the destruction below.
He later told media he saw things in the arduous hours and days that followed that were 'pretty nasty': "It changes the way you think about things."
Scott and his team mates spent seven days living in their rugby club house in freezing conditions without power or phones to contact the outside world, and with just handfuls of rice to eat.
A week after the event Australian Embassy officials were able to make it to the town and offered Scott a car ride out.
But while many local residents both Japanese and foreign chose to evacuate as quickly as possible, Scott refused to go.
Instead he stayed on and with his teammates, including former All Black Pita Alatini, worked to help the village recover, cleaning up, unloading supply trucks and offering whatever comfort they could to shell-shocked locals.
The Kamaishi rugby team's efforts and the commitment of its foreign players to stay and help won deep admiration around Japan.
After returning to Australia at the end of that year's emotional season with the Kamaishi Seawaves, the then 28 year old threw everything at working to achieve his dream of becoming a Wallaby. His hard work in Sydney club rugby led to a spot in Jake White's Brumbies Super Rugby squad in 2012, and after an impressive breakthrough season, the ironbark-tough backrower won his first Wallabies Test call up in 2013, debuting as a late bloomer at the age of 29. He went on to win 39 test caps for Australia, and is now playing professional rugby for Leinster in Ireland.
Scott has since attributed his experience in Japan, not just during the tsunami but as a leader of a small club as well, as a life-changing experience that helped to shape him as a person and to drive him to greater heights as player.
This quote from a 2015 media interview captures some of what he experienced in the aftermath of the tsunami: "I don't know whether it's changed me … It's tough, but the thing I got out of it is you see the good in people," he said. "Some people had nothing, but they were coming and asking me whether I had enough food.
"They were struggling and were worse off than I was … people lost their homes and restaurants, but they were checking on me.
"After everything that happened, I've got lifelong friends there and I definitely want to go back at some stage."
On Monday Scott returned to Kamaishi for the first time to mark the seventh anniversary of the earthquake and tsunami.
'Together with Japan'
Japan is a country closely connected to Australia's beef industry. It is Australia's largest export beef market, but also a place where strong relationships have been forged in recent decades between cattle producers from both countries.
Following the March 11 earthquake and the subsequent Fukushima nuclear crisis and evacuation directive, many local farmers were forced to abandon their farms and livestock.
In May 2011 Meat & Livestock Australia coordinated a massive "together with Japan" earthquake relief effort, raising over $250,000 for the Japanese beef industry.
That helped to fund the delivery of container-loads of Australian hay to cattle producers in devastated areas.
In his final address as MLA chair later that year, Don Heatley spoke of sitting at a kitchen table in Japan with a farmer and his wife who ran a feedlot in a devastated area.
"They lost eight family members, and still have family unaccounted for. Their new home, and all the feed for livestock, was completely decimated by the tsunami.
"But sitting there in the kitchen, (the Japanese farmer) was in tears as he expressed his gratitude to the Australian cattle industry for its support to the Japanese industry."
"Almost every component of this assistance has been funded by the commercial sector. I'm deeply proud of the Australian cattle and beef industry for providing this kind of support to this very, very loyal market."
Since that time MLA has also sent Japanese agricultural students to Australia to learn more about our beef production.
Last year MLA helped to organise kids rugby clinics in the region as part of its "Genki (vitality/full of life) Kids" program, in which participants get to meet current and former rugby internationals and enjoy an Aussie beef barbecue. Rugby as a sport is growing rapidly in the country – Japan is hosting the four-yearly Rugby World Cup next year – while the Genki Kids program will also be expanded to include other sports such as surfing and surf lifesaving this year.
MLA's Japan regional manager Andrew Cox returned to Kamaishi again on Monday along with Scott Fardy for events at the Kamaishi Seawaves Rugby Club and the Kamaishi Town Hill to remember the March 11, 2011 earthquake and its aftermath.
Rugby will again take centre stage in Kamaishi again next year, with the town's Kamaishi Recovery Memorial Stadium already having been named as one of a dozen host venues for the 2019 Rugby World Cup.
Leaders of the World Rugby organising body said in naming Kamaishi as one of the venues that, even though it is a town of only 35,000 people, its experience through the tsunami meant it commended particular attention.
"If the Rugby World Cup can be a part of the recovery of that area, that will be a fantastic story," Rugby World Cup chairman Bernard Lapasset said.
Pictures from Monday's seventh anniversary commemorations in Kamaishi are below: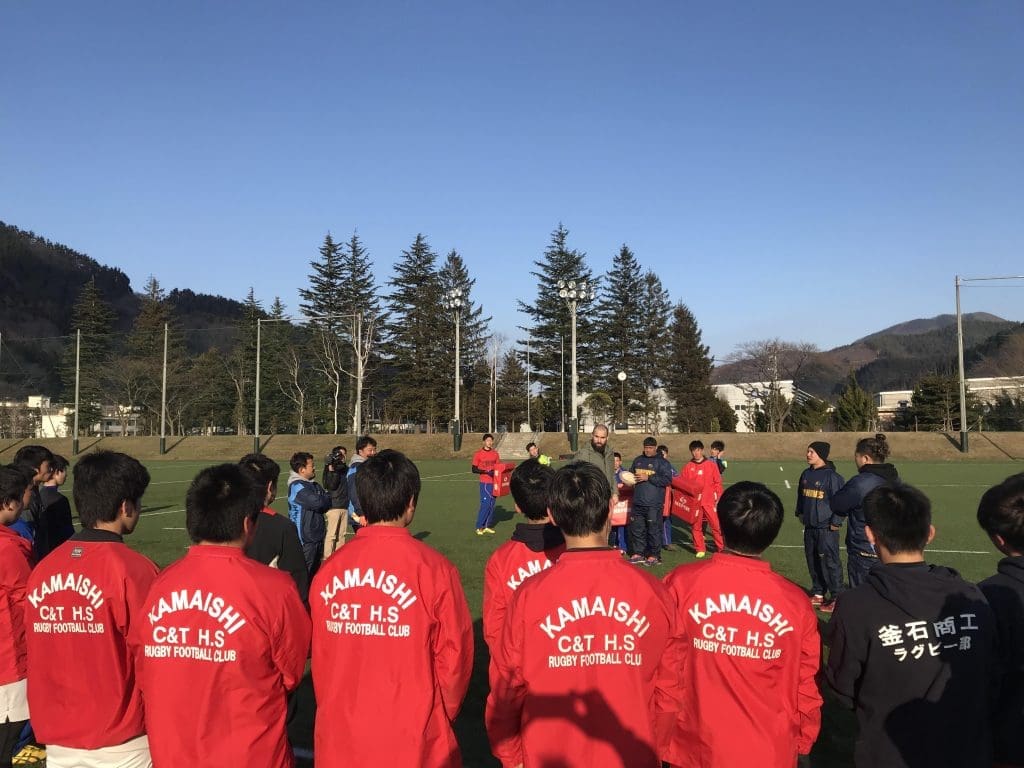 Wallaby Scott Fardy returns to his old club, the Kamaishi Seawaves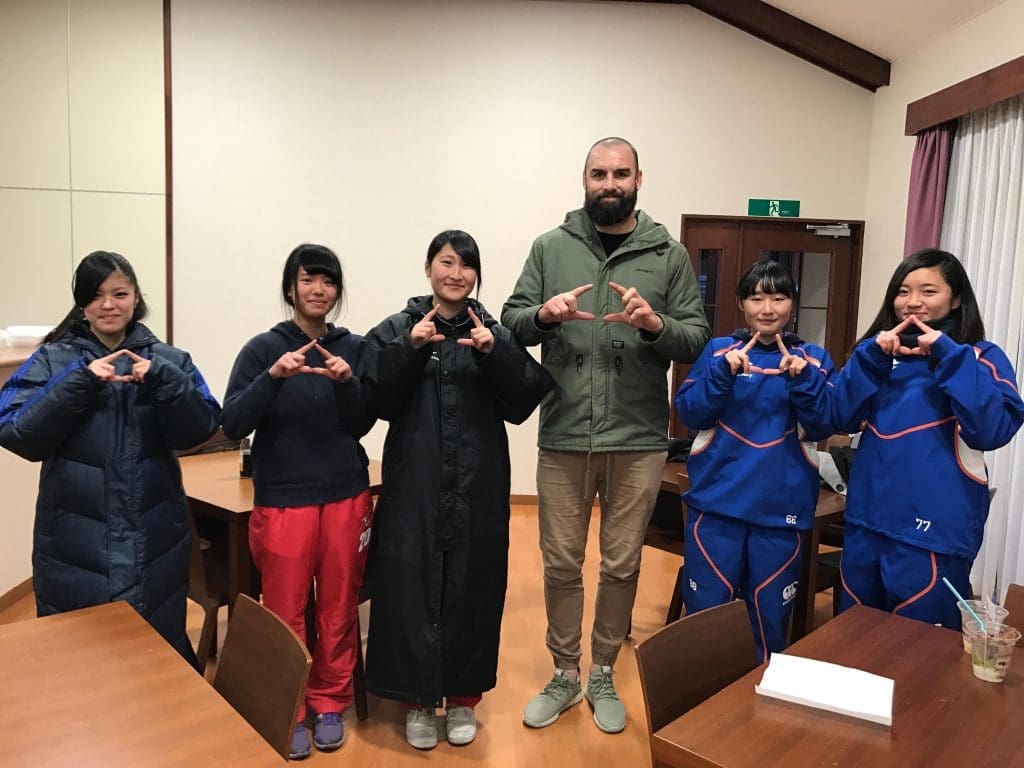 The 'Aussie Beef' triangle symbol introduced in Japan via substantial television campaigns in the 1980s and 1990s is still well known in the country today.