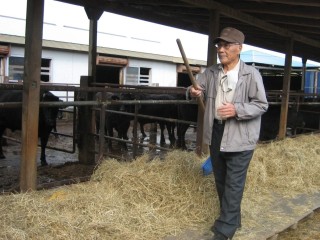 All sectors of the Australian meat and livestock industry will gather to extend a compassionate hand of friendship to their colleagues in Japan through a new disaster relief appeal being launched on Saturday.
Meat and Livestock Australia chairman Don Heatley said the 'Together with Japan' fundraising initiative would provide targeted support to the Japanese beef industry as it recovers from the destruction caused by the recent earthquake and tsunami events.
Following the disasters on March 11 and the subsequent Fukushima nuclear crisis and evacuation directive, local famers were left with no alternative than to abandon their farms and livestock. Many will take months, if not years to re-establish their businesses.
"Once thriving Japanese farming communities have been devastated," Mr Heatley said. "The Australian beef industry has enjoyed a strong, long-term trading relationship with Japan and we want to support our fellow producers as they begin the enormous task of rebuilding their businesses and communities."
Meetings with beef producers in the affected regions were used to determine how the Australian industry might best offer its support. As the first step, three representatives of the Japanese beef industry have been invited to join Australian industry stakeholders at the launch of the support initiative on Saturday.
Three producers from the Fukushima and Iwate prefectures will spend time with members of the Australian beef industry to share their experiences in managing the challenges of dealing with devastation and change.
A BBQ brunch will be held to launch the Australian beef industry's 'Together with Japan' project on Saturday from 10am at Dawes Point Park, near The Rocks beside Sydney Harbour.
Funds raised from this event and the ongoing initiative will go toward specific reconstruction projects in the communities of the Japanese beef industry as well as scholarship support to students in affected areas.
"We want as many beef industry members as possible to join us at the BBQ to meet our guests representing Japanese beef producers and show their support for our friends in Japan," Mr Heatley said.
The initiative is supported by peak council bodies representing Australia's lotfeeders, beef producers, processors and exporters.