RECENT significant corrections in both the Australian and US cattle and beef markets were not to be 'overly worried about,' MLA senior analyst Ben Thomas told a producer audience on Queensland's Darling Downs on Friday.
Speaking at a Teys Australia livestock supplier day at Condamine feedlot, Mr Thomas offered some metaphor-riddled, but nevertheless reassuring words to producers.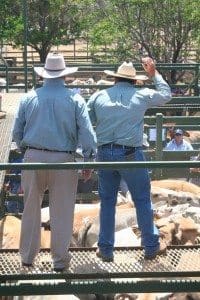 "We ran into what could best be described as a perfect storm over the past week or so," he said.
"The cattle market certainly did sneeze, losing quite a bit of ground at just about every single saleyards selling centre across the country over the past week. But we're not overly worried about that."
"There was some exceptionally hot weather right across the Eastern seaboard last week. Add to that the very dry three-month rainfall outlook that was recently issued by BOM. And simmering away in the background has been the US beef market, which is now rapidly declining – losing virtually all of the gains it had made over the past nine months or so. The US cattle and beef market is now back to where it was in 2013," Mr Thomas said.
"So there is a bit of a cocktail of things happening, with hot weather, poor rainfall outlook, and the decline in the US cattle market. That's really what's caused last week's sharp decline in cattle prices – but we're quite confident that the market hasn't caught a cold," he said.
"Yes, it may continue to decline through to the end of the year – that's just a normal season decline – but going forward, there remains a lot of very positive fundamentals for the Australian cattle industry."
While cattle slaughter continues well above the long-term average of 137,000 head per week, putting quite a lot of pressure on the cattle market over the past 18 months, that rate of kill had started to decline rapidly over the past couple of months.
"What was around 180,000 head of cattle being killed each week during April is now down around 150,000 head or less – quite a dramatic decline – and we are expecting the numbers to continue to edge back towards the long term average, probably by early next year," Mr Thomas said.
"When we start thinking about how many (or more to the point, how few) cattle are going to be available for processing next year and the year after, we would not be surprised to see the rate of kill sit well below the long-term average, as it did during the wet years of 2012."
Supply and availability of cattle would be extremely tight, and there had been a huge number of females knocked out of the system over the past two years.
"Add to that the low branding rates that are being reported across western Queensland, parts of the NT and western NSW, and it means the number of calves coming through the system will be dramatically lower next year," Mr Thomas said.
"It also means it's going to be a very slow rebuilding process, when this drought breaks."
The national beef herd had gone from its highest level in 30 years in 2013-14, at close to 30 million head, to is lowest herd in 20 years next year.
But fewer cattle available meant a quite positive factor on the demand side of the equation.
"While the market has only faltered in the past week, overall, it's remarkable to see just how high the cattle market has come this year– and that's incredibly positive news for anyone with cattle to sell," Mr Thomas said.
He suggested it was quite normal to see a 5-10pc decline in cattle prices during the final quarter of the year, as more cattle came onto the market.
"With the way the rainfall outlook looks, we are expecting a relatively high number to come onto the market again in this year's final quarter," he said.
"But because we are coming off such large cattle price highs, that 5-10pc might this year represent cattle price falls of 50c-100c/kg."
"If we follow a normal seasonal trend, it may be that the Eastern Young Cattle Indicator comes back to around the 520-550c/kg mark. That might sound quite dramatic from where it sat until last week, but it is coming off some very high numbers," he said.
Another big factor working in the Australian cattle market's favour this year had been currency value.
"The last time we saw a record EYCI figure was back in 2012, when the A$ was worth close to US100c. What really drove the strong cattle prices back them was tight supply. This year, we're seeing record turnoff and record prices at the same time – which we normally never see together.
"What's happened simultaneously is that the A$ has got weaker, and really buffered the Australian industry from the declines experienced in the US beef market.
Mr Thomas said at the moment, the A$ was sitting around US70c, its lowest point since 2009, and forecast by many banks to descend further to US 60-65c by 2016 – it's lowest level since 2003.
Final quarter industry projections
Much of Mr Thomas's presentation at Condamine provided a sneak preview of MLA's final quarterly industry projections update for the year, released this morning.
The report suggests that despite slowing down more recently, the 2015 cattle slaughter by year's end will still reach another record high.
"This will be the third consecutive year of cattle slaughter exceeding eight million head, something that's never happened before," Mr Thomas said.
As a result, beef production is estimated to reach 2.46 million tonnes this year, the second highest volume ever. Exports this year are forecast to reach 1.25 million tonnes, before declining to 1.05mt next year, and a little over 900,000t the year after that.
The female slaughter rate so far this year was 28pc above the five-year average, which will ultimately lead to fewer calves and lower beef production, the report says. Yet over the next five years Australia would still continue to produce more than two million tonnes of beef annually.
"Australian beef exports after the first nine months of 2015 are 4pc ahead of the same time last year (which turned out to be a record), but in the fourth quarter we will see a continuous slowdown in monthly export volumes," Mr Thomas said.
The value of the A$ against the US currency would help maintain the value of exports for exporters and Australia's competitive position globally.
He said this would be particularly important for exports with most of Australia's major competitors expecting higher production, including Brazil and India, although the US is expected to dip between now and 2017.
"This will continue to pressure our market share in regions where there is common access, yet Australian beef's high food safety profile will support its ongoing position in the market.
"The total turn-off rate illustrates how extraordinary the past couple of years have been," Mr Thomas said.
With processors and feedlots the main buyers during the third quarter, this trend would continue until pasture and water conditions improved giving re-stockers confidence in the market.
"Australian producers with cattle to sell should have confidence in longer term prices, given the value of our shrinking pool of cattle and ongoing high demand for our high quality product both here and overseas."
Click here to view the 2015 cattle industry projections Q4 update.
Watch the video outlining the October 2015 projections, hosted by MLA's Ben Thomas by clicking the link below.