THE flow of cattle across a large part of the eastern seaboard has been disrupted by heavy rain, with roads closed and dozens of trucks stopped or re-routed.
Some parts of Southern Queensland had more than 100mm yesterday, which cut some of the main arterial roads in the area – including the Warrego Highway which reopened today. Rain has eased in New South Wales where rivers have been cutting roads for the past two weeks.
The RACQ's website yesterday had more than 350 road closures listed across a large swathe of Central and Southern Queensland – including a number of major regional arterial routes.
It has created a logistical nightmare for the procurement of cattle, with some processors earlier this week telling Beef Central they planned to skip some days because of road closures. (read more in the Weekly Kill)
New South Wales has also seen widespread flooding in the past two weeks, but water is starting to subside and access is becoming easier.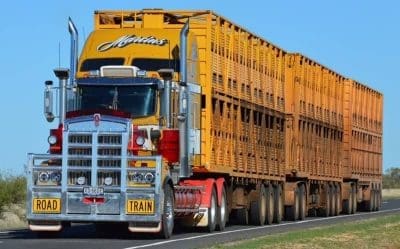 Martins Stock Haulage national operations manager Adam Ross said the past 24 hours have been a logistical nightmare, with floodwaters cutting roads and stopping loaded trucks.
"We've had some trucks taking finished cattle, from feedlots to abattoirs, stopped because roads are cut," Mr Ross said.
"There's been a lot of cancellations and anything that is moving is very stop/start with creeks rising so quickly. Our staff are constantly driving roads to see if we can bring trucks through safely, because we won't go through much water.
"Most of our trucks are still working but we seem to be going halfway round the world to get our drivers and cattle to places safely."
Yesterday's rain was widespread, with the largest totals on the Darling Downs and South-East Queensland and considerable falls as far west as Longreach and Windorah.
Mr Ross said he was concerned more roads could be cut, with storms forecast across Southern Queensland.
"The Warrego Highway is our main concern, especially around Dalby, Chinchilla, Miles and Roma – there is a lot of water around there,– he said.
"If we have anymore bad storms we will be in a lot of trouble with water."
Rain impacting saleyard numbers
For the past month, rain has been impacting numbers at saleyards across Qld and NSW – with that limited supply partly credited for record prices.
Today's Dalby Cattle Sale was down more than 2000 head on last week and NSW yards have hosted low numbers for the past fortnight. Gunnedah has been cancelled for the past two weeks, with the yards inundated by the Namoi River – the agents well meet on Monday decide on the next sale.

Inverell-based livestock agent Scott Fitzgerald, from Bob Jamieson Agencies, said yesterday's rain in Southern Queensland was a logistical problem for Northern NSW.
"We had a two trucks carrying cattle to a feedlot in Qld that were turned around when the roads were cut," Mr Fitzgerald said.
"Most of our feedlots are in Qld, so we have had to hold onto quite a few cattle and wait for weather to clear up."
Mr Fitzgerald said more than 200mm had fallen across most of the New England, with many hoping for some clear days to help pastures.
"It's been an amazing season here, but it would be good to have some days of sunshine because a lot of the soil is becoming saturated," he said.
"Our local Copeton Dam, which is massive, lifted 11 to 12pc in three days and all of the rivers and streams are full."
NSW taking stock of floods
While the rain is still around in parts of NSW, floodwaters have started to subside on the major river systems. The water has damaged a lot of winter crops and some recently sown summer crops.
The NSW Government has offered disaster assistance to 19 shires, which will be facilitated by its Rural Assistance Authority.
Beef Central genetics editor and Raynor Ag principal Alistair Rayner said in a newsletter for his clients that producers should look at their options.
"I suggest to not overlook the assistance on offer. You can always discuss the implications of assistance loans and grants with your financial advisor," Mr Rayner said.
"The NSW DPI is also seeking information from producers who may have been impacted by recent floods.
"The information is important to assist develop a better picture of the event and shape additional responses.
"If you can take the time to complete the survey, this would be an important contribution to the NSW DPI response."