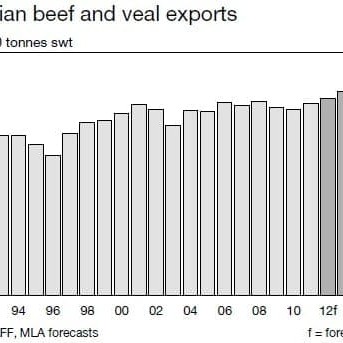 Despite ongoing currency challenges and international economic uncertainty, Australia is well positioned to benefit from the global contraction in beef supply, according to Meat & Livestock Australia's 2012 Industry Projections forecast document released this morning.
Driven by the recent strong sequence of good seasons and subsequent beef herd rebuilding, MLA forecasts that Australian beef and veal production for 2012 will reach a record 2.197 million tonnes carcase weight, up 2.3pc from last year.
On the back of that higher production and reduced global supplies, beef and veal exports are tipped to reach a record 975,000t this year. That 2.8pc growth is anticipated to be underpinned partly by a recovery in exports to the US, which faces a year of lower production and higher beef prices – helping to attract additional Australian product.
Overall, the 2012 Projections report remains upbeat, with suggestions that livestock prices will remain at least as high as those seen last year, despite impacts from a high A$ and likely encroachment from the US beef exporters in key Japanese and Korean markets as market access changes occur.
Putting the current year's prospects in context, the Projections report points out that in 2011, cattle prices rose significantly (6-12pc above 2010) for the second successive year, despite a record A$, demand downturn in Japan, global economic turmoil, increased competition from US beef in export markets and disruptions to live exports.
Those significant negative demand shifts were more than offset by supply-side factors including a global contraction in beef supplies, a second successive favourable season for Australian cattle producers, and growing demand for our beef from a coalition of smaller customer countries.
The fall in global supplies led to a 20pc rise in both US and South American cattle prices (in US$ terms) in 2011 – which goes a long way towards explaining the jump in Australian prices.
For 2012, all of the above factors will continue to influence the market, MLA's report suggests.
The overall balance is anticipated to favour the Australian industry and producers (with US prices tipped to rise again), but with several cautionary sign-posts along the way.
With the run of favourable seasons across key cattle producing regions forecast to continue into a third consecutive year, there remains significant momentum behind a rebuilding of the national herd. Joined by southern WA during the second half of 2011, the retention of breeding stock and demand for young cattle has been pronounced.
The national cattle herd enters 2012 at its highest level in over 30 years, driven by higher branding rates since 2010. This will be reflected in cattle turnoff and beef production in coming years.
Supply is expected to increase in 2012, but still remain relatively tight compared to drought years throughout the past decade, with total adult cattle slaughter forecast to increase 3.1pc, to 7.55 million head. Another favourable year (assumed) for feed is expected to see herd rebuilding continue to constrain female turnoff, while producers compete keenly for young cattle for finishing.
Assisting the growth in Australian beef production will be continued heavier average carcase weights, driven by the run of better seasons in many key production areas.
While the forecast for additional Australian cattle and beef to be produced in 2012 may start to ring warning bells with regard to cattle prices, demand for beef is expected to be maintained, if not strengthen over the short to medium term.
Indeed, Australia is among only a handful of major beef producing countries forecast to expand its beef production in 2012. This comes at a time when global demand for beef is expected to grow (principally in Asia, South America and the Middle East), with global beef prices tracking at historically high levels.
On top of revitalised exports to the US this year, exports are also forecast to expand to Russia, the Middle East and most southern Asian markets – continuing the diversion of Australian beef exports away from the larger traditional markets.
However, any year in which beef exports decline to the first, third and fifth largest beef exports markets (Japan, Korea and Indonesia respectively) should also be highlighted and watched very closely, MLA warns.
Australian beef exports to Japan and Korea are expected to ease in 2012, largely due to an increased US presence, as the US takes advantage of improved market access conditions in both markets. For Indonesia, Australia's fifth largest beef export market in 2011, shipments in 2012 will be constrained by the reduced allocation of import permits for boxed beef.
A$ persists as a 'headwind'
Weighing negatively on these forecasts to export markets in 2012 is the influence of the A$. Assumed to remain at historically high levels during 2012 and possibly beyond, it will continue to act as a major headwind for Australian exporters. This is accentuated by the flip-side of the currency equation, with the US expected to continue to make the most of their weak currency when trading into Japan and Korea.
However, 2011 did demonstrate that provided competition for Australian beef in the global market is healthy, the influence of the higher A$ for Australian exporters can be offset. That said, even with the improvement in global beef prices, exchange rate continues to be one of the major impediments to improved financial viability for the entire industry.
The ongoing economic and financial uncertainty across key advanced economies will continue to influence beef demand, both through consumer reactions in individual markets and its impact on currency markets, the Projections report says. While the main concerns are focussed on the EU and the US, it is possible that those markets may drag other economies down.
After a tumultuous 2011, the prospects for Australia's live cattle industry will continue to be framed by the trading environment with Indonesia (see separate live export sector report in today's news).
Cattle prices 'stable to a little higher'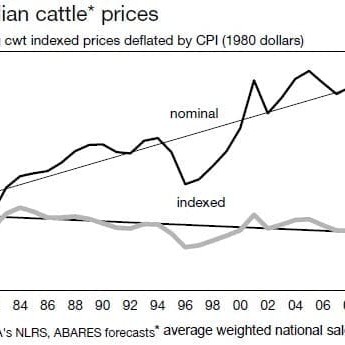 Given all of the factors, both positive and negative, expected to influence Australian and global beef and cattle markets in 2012, cattle prices for the year ahead are expected to consolidate the gains of the past two years, averaging stable to a little higher, provided seasonal conditions remain favourable.
Average saleyard cattle prices increased 13-20pc over the past two years, and to average higher again in 2012 could be seen as optimistic. However, it reflects the expectation of further contraction in global beef supplies, price rises in the US (USDA predicts 4-7pc) and South America, a further rise in demand from smaller markets and some improvement in Australian beef demand.
These factors will be at least partially offset by a continued high A$, increased US presence in Japan and Korea and a 2.3pc rise in Australian beef production.
The consolidation of prices is expected to translate to another improvement in farm incomes in 2012, with high prices, additional cattle sales and lower operating costs all contributing.
However, this equation is much more clouded for northern Australian producers dependent on the live cattle trade.
MLA's Projections report is based on a series of key assumptions, which can obviously have a major bearing on how the year ahead unfolds. These include seasonal conditions remain favourable across the majority of Australia's cattle producing regions; an A$ trading US95-110¢; and trade restrictions facing US beef into both Japan and Korea easing in 2012.
This preliminary Projections summary will be supplemented with more detailed sector-based analysis on Beef Central later in the day. The full MLA report can be viewed here.