THE impact of recent drought will echo through the Australian beef industry for years to come, with significant declines forecast in overall beef production, exports and herd size in Meat & Livestock Australia's 2015 industry projections released this morning.
After experiencing unprecedented cattle turnoff (comprising slaughter and live exports) in 2014, the cattle industry will see inevitable adjustments over the next few years, MLA chief analyst Ben Thomas suggests.
The high turn-off has had a dramatic impact on the national herd, estimated to have declined from a 35-year high to a two-decade low, in the space of just 24 months. The flow-on effects from this are likely to last for the duration of the current projection period, out to 2020, impacting available supplies. At the same time, it will test market willingness to compete for limited product.
While the decline in 2015 is dramatic, putting the volumes into context, production levels are anticipated to be in line with the ten-year average, the Projections report suggests.
"Regardless, having come from such supply highs, an adjustment across the supply chain is inevitable, having a range of consequences, including how cattle and boxed beef will be balanced between new and existing customers," it says.
This will be the case again in 2016 when further supply shortages are expected.
Indicative beef export prices during 2014 were at record highs, and are forecast to remain strong over the coming 12 months – given current low US beef production and strong global demand, assisted by a devaluing A$. This suggests that as Australian supplies are likely to decline over the coming 24 months, there will be potential for farm gate prices to lift. This has been exemplified by the recent sudden jump in prices, following widespread rainfall over the Christmas period.
Given the strength of the US market in particular, and under the assumption of tighter Australian beef production, MLA anticipates an 'export market realignment', with a greater proportion of exports trending back toward the larger, traditional markets of the US, Japan and Korea. The domestic market looks likely to remain under pressure, it warns.
Key assumptions
The 2015 projections report is based on a series of assumptions, including:
Australia phasing out of drought over the coming 12 months. While the pace of the seasonal improvements will vary, overall, 'average' conditions have been assumed for the majority of Australia's cattle producing regions.
The A$ to average lower against the US$ in 2015, trading between US80-82c, after averaging US90¢ in 2014 (down 7pc year-on-year).
Overall, economic conditions are expected to improve in 2015 as the global recovery continues.
The strongest rebound is expected in the US and South East Asia, while growth in the EU and Japan will be moderate. China will continue on its upward trajectory, albeit at a slower rate as it moves towards a more sustainable growth path.
Cattle herd:
After two years of widespread drought across the largest cattle producing regions in Australia, cattle turn-off (slaughter and live exports) in 2014 was at an all-time high – at an estimated 10.5 million head.
After what were three years of herd build up, from 2011 to 2013, the larger supply base fuelled the sustained high slaughter, while strong international demand assisted live cattle exports.
The national cattle herd is expected to decline to 26.8 million head by June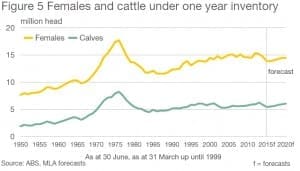 2015 – going from what was a 35-year high to what will be a two-decade low, in the space of 24 months.
Another year-on-year decline is expected in 2016, to 26.5 million head, due to the smaller breeding herds with fewer calves coming through the system. Three consecutive years of national herd decline is unusual. In fact, the only previous time it has happened was the eight years commencing 1977, during the Beef Slump, when the herd dropped 11.3m, to 22.1m head by 1984.
However, that was a different time, with a southern-dominated beef herd competing for land with the 135 million head sheep flock and cropping enterprises, and Australia did not have the same global beef opportunities available today. Hence the incentive to rebuild was minimal.
Looking beyond 2016, MLA says the beef herd is likely to slowly start rebuilding, assuming average pasture conditions, and by 2020 be back to 27.9m head – but still almost 1.4m head below 2013.
It is anticipated the southern herd will replenish slightly quicker than in the north, largely due to greater fertility, before the national herd becomes more northern dominant again by 2020.
Cattle slaughter:
Australian adult cattle slaughter during 2015 is expected to decline 15pc year-on-year, to 7.8 million head.
Last year, the figure was around 9.174m, according to MLA's Projections.  In December last year, Beef Central did it's own estimate, suggesting a full year adult kill last year of 9.2 million head (read earlier article here).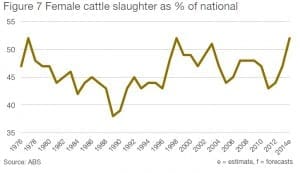 Before 2013 and 2014, where adult slaughter was 8.34m head and 9.17m head respectively, the average for the ten years prior was 7.7m head. Thus, while 2015 adult cattle slaughter will be a significant contraction from the previous year, it remains slightly above the long-term average.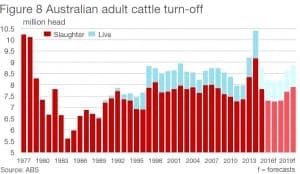 It's anticipated, however, that while annual slaughter will be relatively high, the first half of the year will account for a greater portion than the latter.
Looking further forward, due to an expected strong intention from producers to focus on herd rebuilding from 2016 onwards, MLA anticipates further slaughter reductions out to 2017, when slaughter is expected to bottom out at 7.25m head – the lowest level since 1996.
Largely contributing to adult cattle slaughter during 2014 were females. It is estimated that 52pc of the national kill in 2014 was accounted for by cows and heifers, up significantly from the long-term average of 47pc.
The significant surpluses in the past are likely to have been dry females, which is again expected to have been the case in 2014, however, there are indications that the high foetal blood prices during 2014 may have seen a slightly higher number of pregnant females killed – resulting in what will be an eventual slower herd rebuild.
As the herd commences increasing, adult slaughter will eventually lift to 7.9m head by 2020 – slightly greater than the long-term average, after, however, a relatively tight three years commencing 2016.
Beef production and carcase weights:
Average adult carcase weights slipped 4kg in 2014, averaging 274 kg, largely as a result of the number of store condition and female cattle killed.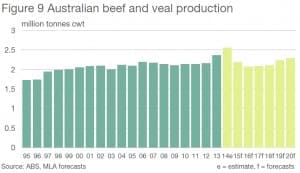 Assuming that during 2015 the country phases out of drought, a slight increase in average carcase weights is expected, to 276kg. The slightly higher proportion of the national kill being made up of steers will also lead to heavier carcases, on average.
Thereafter, gradual increases are anticipated through to 2020, assisted by genetic gains, and assuming average pasture conditions. While genetic gains do contribute to productivity gains, the largely grassfed production system in Australia results in seasonal conditions potentially creating significant volatility from year to year.
The result of the highest adult cattle slaughter since 1978, combined with significantly heavier carcase weights saw estimated beef and veal production during 2014 comfortably reach a record level, at 2.55 million tonnes carcase weight– 10pc greater than the previous record set in 2013.
Beef production is expected to decline in 2015, largely the result of a dramatic reduction in slaughter, to 2.91m tonnes – 14pc lower year-on-year, which is actually a relatively normal annual volume.
As is the case with adult cattle slaughter, and despite slowly increasing carcase weights, beef and veal production during 2016–2018 is anticipated to be relatively tight, before increasing to 2.28m tonnes by 2020.
Tighter supplies over the coming years are going to result in strong competition between both international and domestic consumers, after what were two very high production years, MLA said.
Beef and veal exports:
After breaking the Australian beef export record for the third consecutive year in 2014, at 1.29m tonnes, a significant decline is projected for 2015 – dropping 20pc year-on-year, to 1.03mt.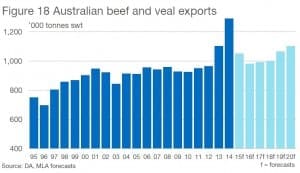 The projected fall, however, must be put into context, with 2015 likely to be only the third year in history where over one million tonnes will be registered.
There are a number of noteworthy positives for the demand outlook, including improved market access, namely the Korean, Japanese and Chinese FTAs, as well as the easing A$ and likely continued tight US beef supply. The only significant constraint will be the significant year-on-year contraction in Australian beef supplies, resulting in expected market realignment. This will test the strength of price-sensitive markets, MLA says.
In 2014, 74pc of Australian beef production was exported. The proportion exported has been gradually creeping higher over the past decade, from 62pc in 2003, to 69pc in 2013. Given the strong international fundamentals, however, it is anticipated this trend will at least hover around 70pc for the coming years.
Looking further forward, after dipping to 980,000t in 2016, beef exports are expected to increase steadily, in line with the momentum from increasing production, to again exceed one million tonnes from 2018 onwards.