The Australian beef producer's share of domestic retail expenditure on beef has slipped substantially this year, but the result is overwhelmingly driven by just one factor: excessive supply of livestock caused by drought.
The evaluation of producer share of retail price was introduced by Meat & Livestock Australia last year for the first time, as an annual measurement.
It was established largely at the behest of industry lobby group, the Australian Beef Association, which for years had lobbied for the development of such a report on a regular basis as a means of gauging the state of the industry, and indeed, MLA's own performance in areas like marketing and MSA. It argued that similar reports are compiled regularly in other large beef producing countries overseas.
Meat & Livestock Australia launched the new metric during last year's AGM in Perth, but it warned from the outset that it should not be used in isolation from other industry data.
The retail share value calculation is based on the NLRS trade steer price, transferred into a saleable meat yield, and then divided by the retail beef price, based on Australian Bureau of Statistics data.
As can be seen in the latest MLA-generated table published here, the production sector's share of retail dollar has fallen quite dramatically from 37 percent in 2011-12 to just 32pc last financial year, ending June 30.
Those figures are based on the 57pc carcase yield category published in the table. Note that based on industry feedback, MLA has this year added two other carcase yield variants for the assessment, based on for 68.7pc and 72pc carcase yield. The key point, though, is that the decline, in percentage terms, is virtually identical at around 13pc since last year, regardless of which yield column is scrutinised.
This year's decline in retail share needs to be put in some context, however. Both 2010-11 and 2011-12 were years of reduced kill, as herd rebuilding took place after two very good seasonal cycles. This inevitably pushed back more of the 'share' of retail dollar to producers, as processors had to pay more to secure the stock. That pattern can be clearly seen in the domestic trade steer price on the table's right hand column.
This year has been exactly the opposite.
Equally important is the huge volatility evident in the table, year-to-year. It reached a high point of 39.4pc (rounded up to 39pc) in 2000-01, before plunging to just 29.5pc (rounded up to 30pc) two years later, and again in drought years 2007-9.
The positive signs in the table include the fact that domestic expenditure on beef has climbed, reaching $6.6 billion last financial year, up another 6pc from the previous year. Measured over a decade-long perspective, domestic retail expenditure has grown from $5.37 in 2002-03 to $6.6b last year – a 23pc increase, worth around $1.25b.
While the volume of beef sold on the domestic market has not changed dramatically over the past ten years, that growth in value legitimately raises the question of how much of this retail consumer dollar the producer sector gets.
MLA managing director Scott Hansen told Beef Central this week that while producer share of retail expenditure last financial year had gone down, it had been offset somewhat by lower retail prices due to supply pressure and a deliberate strategy by major retailers to reduce retail prices for beef.
While domestic retail price for the most recent 2012-13 financial year, at $15.57/kg, has risen a little on the previous financial year ($15.46/kg), it remained well below where it sat in 2010-11 and 2009-10 ($15.74 and $16.07, respectively) before the start of the retail price wars between major supermarket retailers, Coles and Woolworths.
Working against that, to some extent, has been competition for product from export markets.
"It is clear that the impact of seasonal cattle supply is the dominant feature on share of retail expenditure this past fiscal year – just as it is with export volumes or retail prices," Mr Hansen said.
"Everything has been influenced by that surge and saturation in the marketplace. It has even washed-out a lot of the impact of dollar movements."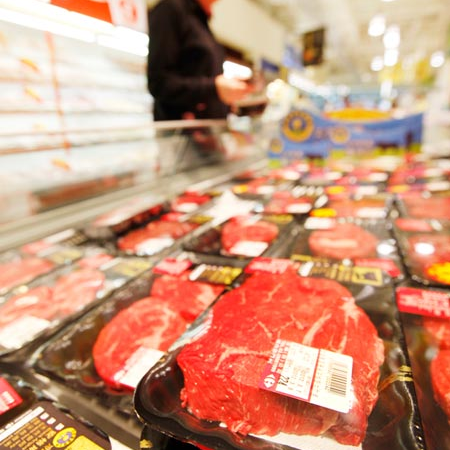 MLA chief analyst Tim McRae said with about 8.2 million head of cattle processed this year – up about 900,000 head on last year, and the biggest kill in 30 years – it was always going to put pressure on producer share of retail dollar.
"Given that retail beef prices are so sticky (less prone to movement), if there is any significant decline in livestock price across the industry, that's where any fall in producer share of retail dollar is going to be registered," Mr McRae said.
Cattle price, as a contributor, could easily jump 15-25pc over a yearly cycle, whereas retail beef price was much less volatile –often shifting only 0-2pc within a year.
"What the assessment does allow the Australian industry to do is to ask the questions: why are there differences in certain areas, and changes year-on-year, and how might we improve them?" MLA's Scott Hansen said last year, during the assessment's launch.
"We need to concentrate on what can be done to ensure that as much of that consumer dollar as possible passes back to the farm-gate, allowing producers to re-invest in their production systems to keep feeding the Australian and global population."
"But obviously anything that reduces the cost between farmgate and the consumer's point of expenditure is potentially going to allow for greater flow of that share back to the producer," he said.
Opinion: Is this assessment worthwhile?
There is nothing inherently wrong in trying to define what's happening in the relationship between farmgate prices and the prices domestic consumers are paying for their beef.
But Beef Central continues to question the value of this particular share of retail dollar calculation as any sort of valid measure of industry, or MLA performance.
While the measurement is, indeed, taken in a number of large beef producing countries overseas, they are inevitably heavily-driven by supply into just one market: their own.
The US industry calculates its retail share figure monthly, but it does this with the luxury of mandatory price reporting laws, making the process convenient, accessible, relatively cheap and transparent.
By way of comparison, the US beef industry's share of the consumer dollar typically fluctuates between 47pc to 53pc share, but post-farmgate processing and distribution costs in the US industry are widely known to be significantly lower than those in Australia – sometimes half.
But any comparisons with producer share of retail dollar between Australia and the US are pointless, because the US exports only 8-10pc of its annual beef production, heavily influenced by only a few specialised items, while Australia exports close to 70pc of its production.
That leaves Australia heavily exposed to currency movements, production fluctuations in customer countries and countless other factors that do not impact on domestic US supply that make such comparisons worthless.
It makes little sense to hitch our wagon to an indicator that reflects trends in only 30pc of our market, especially when that market clearly so heavily impacted by circumstances overseas.
While it would be impossible to construct because of commercial sensitivities, it would make more sense, from Australia's perspective, to come up with a producer share of export dollar assessment.
As it stands, the domestic share measurement has been little more than a defacto for cattle supply over the past three years: in years of tight cattle supply, the percentage rises; in years like this one, of heavy over-supply, it declines.
It's always good to benchmark our industry's performance against others around the world, but this measurement is certainly not one of the better ways to do it.
Given the relative stability of retail beef pricing in Australia, cattle price and supply, alone, will basically provide the same information.