Beef Central publishes an occasional summary of appointments, departures and achievements occurring across the red meat and livestock supply chain.
Send details for entries to admin@beefcentral.com
'Mingles' tackles new role at Thomas Foods International
Processor John Dee's CEO departs
AA Co feedlot manager heads west
New president, faces on CCA board
Cattle Council thanks outgoing president, Markus Rathsmann
New Innovation management role for soil carbon developer
'Mingles' tackles new role at Thomas Foods International
JBS Southern's high-profile supply chain manager Mark Inglis will leave the company to take up a similar, but more expansive position with Thomas Foods International later this month.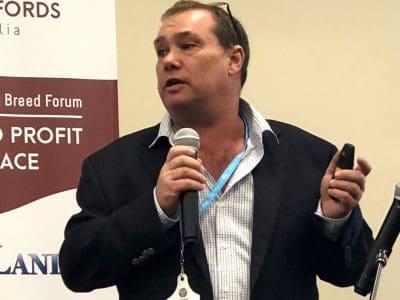 TFI is currently developing its management and operations team in advance of completion of the company's new Murray Bridge abattoir in eastern South Australia. The original factory was destroyed by fire in 2018.
Mr Inglis's new position will support the growing beef operations at TFI, while also working closely with the existing large lamb business and further processing teams in Australia, North America Europe and the UK.
Affectionately known in the industry as Mingles, Mr Inglis has spent the past 20 years in prominent livestock producer-facing roles.
For the past 11 years he has worked as JBS Southern's Farm Assurance & Supply Chain manager, building supply relationships with producers, helping them lift performance and providing a cornerstone behind the success of JBS's Great Southern beef and lamb brand programs.
Prior to that, he spent seven years as Meat Standards Australia's supply chain manager – again closely engaging with livestock producer, stock agent, saleyard, lotfeeder and processor stakeholders.
His early commercial experience was in animal husbandry and animal production working on and managing a broad range of livestock orientated properties including cattle properties in Western Australia's Kimberley, sheep properties both wool and meat in Victoria, and establishing a 900 sow outdoor free-range pig breeding operation.
Mr Inglis's most recent role with JBS involved managing both the company's lamb and beef farm assurance programs, overseeing the MSA component of the JBS Southern business, coordinating and implementing R&D programs specific to JBS lamb and beef, and running producer educational programs across both the beef and lamb supply chains.
His new working title with TFI will be Farm Assurance & Supply Chain Manager, providing a conduit between the buy-side and the sell-side of TFI's business. He will operate from a base in Victoria's Western Districts, but will circulate widely across TFI's catchment area.
The new role is primarily responsible for developing and expanding specialty supply chain programs for TFI, covering both beef and lamb. He will liaise with key TFI staff from both the livestock procurement and meat sales teams to ensure programs are demand-driven and fit for purpose. It is expected that new brands and programs programs will be part of the mix.
Using his knowledge, skills and experience, he will also play roles in the development and implementation of the TFI group's sustainability strategies, as well as thought leadership and industry representation.
Construction on TFI Murray Bridge is due for completion by the end of this year.
Processor John Dee's CEO departs
Southern Queensland beef processor John Dee has announced that the company's long-standing chief executive officer, Warren Stiff, has left the business, effective yesterday.
Mr Stiff has worked at John Dee, based near Warwick in Southern Queensland, for the past 30 years.
Over that time he held several key positions within the group, including human resources manager, feedlot manager at the company's Yarranbrook feedlot near Inglewood, general manager and for the past five years, chief executive officer.
"During his time with John Dee, Warren has been instrumental in the growth and expansion of the business," a company statement issued today said. "Most notably he oversaw the single largest investment in John Dee's 80-year history – the construction of the Regional Cold Store incorporating sophisticated material handling technology and automation. Warren has been an unwavering supporter of the Australian beef industry, John Dee and the local Warwick community where the plant is located," the statement said.
The John Dee board & the Hart family expressed their thanks to Mr Stiff for his significant contribution to the success of the company over the past 30 years, wishing him all the best for his future endeavours.
John Dee remains Australia's oldest, single-family-owned beef processing company, with four generations of experience in supplying high-quality beef to the world. Since 1939 the Hart family has established a reputation for quality and service and is proud to continue this tradition working closely with key stakeholders, processing partners and staff.
An executive recruitment process will be activated, but in the meantime the CEO's responsibilities will be shared by John Hart and his son, Henry.
AA Co feedlot manager heads west
Western Australian integrated beef producer Harvest Road has appointed experienced feedlot operations manager Amanda Moohen as the company's new general manager of feeding facilities. She will report to Harvest Road chief operating officer for agribusiness, Ben Dwyer.
Ms Moohen has spent the past three years as the Australian Agricultural Co's regional manager for intensive, with responsibility for the company's Aronui and Goonoo feedlots in Queensland. Prior to that she spent nine years as operations manager and feedlot manager at Camm Agricultural Group's Wonga Plains feedlot on the Darling Downs.
In her new role with Harvest Road, Ms Moohen will lead the team responsible for incorporating Harvest's Road's new Koojan Downs feeding facility into the company's fully-integrated beef supply chain.
She has also served for some time on the council of the Australian Lot Feeders Association (currently Treasurer), and was one of the instigators behind the popular Women in Lotfeeding movement.
Stand by for reports on two more senior lotfeeding management appointments in Beef Central's next People on the Move.
New president, faces on CCA board
Cattle Council of Australia has welcomed Angela Hutchinson to its Board, with her appointment as AgForce Queensland director effective from today, 1 July.
Ms Hutchinson replaces Lloyd Hick, who taked on the CCA president's role from today, following the decision of current President Markus Rathsmann to step down (see references below).
Mr Hick said Ms Hutchinson takes on the position after serving on the AgForce Queensland Cattle Board.
"Ange is an outstanding pick to represent the interests of Queensland cattle producers at a federal level," Mr Hick said. "Having worked with Ange, I have always appreciated her professional approach and drive to get results for producers."
"Ange was selected because of her specialist knowledge in finance and governance and brings significant experience from her career at Suncorp. She will be a great asset at this crucial time for Cattle Council as we transition to a more democratic, sustainable and effective Peak Industry Council in Cattle Australia."
Gender equity closing in on CCA board
Ms Hutchinson's appointment brings the number of women on Cattle Council's board up to five out of eleven members in total, and half of the ten directors.
"This milestone had been reached without intervention such as quotas," Mr Hick said. "The cattle industry strives to find the best person for the job and is constantly looking to increase the range of skills and experience within the Cattle Council board. Every board member is there because they are the best person to represent their state or region.
Every state representative is selected through a local, independent process and then must be endorsed at the next Annual General Meeting.
"Women have always made a crucial contribution to the success of our industry, which is increasingly being reflected in leadership roles," Mr Hick said.
Here are the CCA Board members, from July 1
Lloyd Hick (President), Ange Hutchinson (AgForce), Bill Stacey (NSW Farmers), Gillian Fennell (Livestock SA), Anne Stanes (NTCA), Digby Corker (PGA of WA), Paul Saward (TFGA), Peter Starr (VFF), Geoff Pearson (WA Farmers), Alice Greenup (Northern Independent), Olivia Lawson (Southern Independent).
Cattle Council thanks Markus Rathsmann
Meanwhile Cattle Council has paid tribute to outgoing President, Markus Rathsmann, who stepped down from the position yesterday.
New CCA President, Lloyd Hick (see references above) said Markus Rathsmann had been committed to advancing the interests of grassfed cattle producers for his entire career.
"Markus' tenure as President came at a challenging time for the organisation, as we work through the transition to a new peak industry council," Mr Hick said.
"He has overseen significant improvements in the management of the red meat industry's financial assets and has been a strong voice for improved national biosecurity arrangements.
"Markus has been a key figure in securing further biosecurity funding and taking steps to develop an mRNA vaccine for lumpy skin disease.
"His work has put us in a stronger position to protect our industry from the threats of animal diseases. He was also the first CCA President from the Northern Territory, providing overdue recognition of the NT's important beef-producing regions. His success will also be reflected in the seamless transition to a better, more democratic and sustainably funded, peak industry council.
"Cattle Council values his work and thanks Markus for his tireless work and leadership."
New Innovation management role for soil carbon developer
Soil carbon project developer AgriProve has appointed its first national innovation manager, demonstrating its commitment to harnessing and driving innovation, technology and research in the rapidly expanding field of soil carbon farming.
The company's appointment of Andrew Bremner reflected AgriProve's vision to grow value for partnering farmers through sustained and strategic investments in developing scalable, smart farming solutions, the company said.
Unlocking the transformative potential embedded in soil carbon farming is personal for Mr Bremner, having grown up on a fourth generation Victorian livestock farm with his family. Beginning his career with a degree in mechanical engineering from Monash, he worked with John Deere for 14 years in agricultural equipment and technology development, before making a move into precision agriculture with PCT Agcloud.
In addition to Andrew's appointment, in May AgriProve appointed Ferhod Sarmed as inaugural chief technology officer as the company's footprint continues to grow, with soil carbon experts now on the ground supporting farmers across every state in Australia.
AgriProve is actively recruiting for six more team members to service both existing and forecast demand before the end of 2022.
Company managing director Matthew Warnken said innovation was crucial to the company's success, and Andrew's appointment would help build on that.
"Soil carbon is a rapidly evolving area and we need to ensure Australia continues to lead the way in delivering for our farmers, our biodiversity, our economy and our environment. Now more than ever we need research that is informed by current technology and biological pathways to productivity."
"My work experience informs my approach to powering even more innovation at AgriProve," Mr Bremner said. "We're developing tools that digitise landscape management, enabling our partnering farmers to leverage new technology and transform raw data into measurable actions that enhance farm productivity and resilience through soil carbon sequestration."