Beef Central publishes an occasional summary of appointments, departures and achievements occurring across the red meat and livestock supply chain.
Send details for entries to admin@beefcentral.com
Oversight changes for JBS Australia
Senior management appointments in readiness for TFI Murray Bridge re-launch
New CEO for Port of Brisbane
Nutrien appoints western region cattle manager
New president for Angus Australia
Angus members notch up 100 years
NTCA life memberships to Steve Ellison, Rohan Sullivan
12 women selected for NFF's 2022 Diversity in Ag Leadership Program
Oversight changes for JBS Australia
Following a re-alignment of its global processing operations earlier this year, JBS's Australian business now falls under the oversight of senior management in Latin America.
Since January, JBS has operated under two joint Global Presidents of Operations.
Leading the company's operations in South America and Oceania (effectively, Australia), plus the company's emerging global plant-based business is Wesley Batista Filho, son of Wesley Batista and grandson of JBS founder Jose Batista Sobrinho.
Previously JBS Australia came under the direction of the company's US beef division, headed by Andre Nogueira. Mr Nogueira at one point earlier in his career was CEO of operations in Australia.
Mr Nogueira will continue to act as JBS's Global Presidents of Operations for North America.
On the ground, JBS's Australian and NZ operations are managed by chief executive Brent Eastwood with oversight by a local Australian board of directors in addition to the global governance structure which has been enhanced under Global CEO, Gilberto Tomazoni's leadership.
The company said the change in its global management structure reflected its growth, expansion into new businesses and geographical regions and ambitious sustainability commitments. Readers may be aware that as of last quarter, JBS started reporting Australian operations separately, having previously reported results as part of the broader US beef division.
Up to January, Mr Batista, 31, was CEO of JBS in South America and Seara, the company's value-added division. He led the beef division of JBS US until 2017. Prior to this, he oversaw the company's operations in Uruguay, Paraguay and Canada.
In their new GPO positions, Messrs Batista and Nogueira will report to Global CEO, Gilberto Tomazoni.
"We have reinstated this structure to ensure our focus on operational excellence, people and our culture, and better prepare our company to pursue our sustainability and growth strategy, while preserving independence and speed in decision making across our global businesses," Mr Tomazoni said.
Described in Brazilian trade press circles as 'heir apparent' in the Batista clan, Mr Batista completed high school and university in the US, studying economics at the University of Colorado. In keeping with family tradition, he started out working in processing lines, learning every part of the carcase.
At the age of 21, he was tasked with taking care of the group's business in Uruguay.
Senior management appointments in advance of TFI Murray Bridge re-launch
Some early senior management appointments are starting to occur, in preparation for Thomas Foods International's Murray Bridge processing plant re-launch.
Destroyed by fire in 2019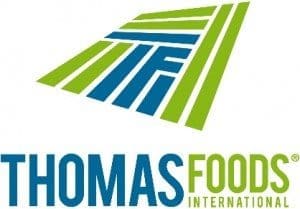 , TFI is hoping to complete its rebuild and expansion at its flagship Murray Bridge in South Australia's eastern corner by the end of the year.
Appointed earlier as plant manager for the re-launch was Sam Jones, in a promotion from within TFI's ranks. Also recently appointed as head of Quality Assurance at Murray Bridge, after an internal promotion, was Meagan Abbott, who previously worked at TFI's Lobethal plant.
TFI is currently advertising for an HR manager to inform strategy, provide advice, support and assistance across the full range of HRM functions, and a maintenance planner, to be instrumental in the development of the maintenance system for the Murray Bridge facility.
In other recent appointments beyond the Murray Bridge facility, TFI has appointed Sarah Curran as group general manager for HR – Talent; an internal promotion of Rhubin Reti as plant manager at Bourke; Scott Adcock as maintenance manager at Bourke; and David Joubert as maintenance mechanical supervisor at Tamworth.
New CEO for Port of Brisbane
Port of Brisbane, easily Australia's largest departure point for export beef, has appointed Neil Stephens as its chief executive officer.
UK-born Mr Stephens has led the port over the last eight months as interim CEO while continuing in his capacity as chief financial officer.
Port of Brisbane Chairman, Guy Cowan, said the port's board had worked with a leading executive search firm to conduct an extensive international search, reaching high-calibre leaders from a broad range of backgrounds and industries.
"As a Board, we have been impressed with Neil's leadership as Interim CEO during what has been a challenging period for our industry and the Australian and global economy as a whole," Mr Cowan said.
"We believe that Neil is the right person to lead the organisation moving forward and we are excited to see PBPL deliver on its long-term vision to be Australia's premier port and logistics hub.
"We've seen the port community respond magnificently to both COVID challenges and the recent flooding crisis. As we continue to recover and as Queensland continues to grow as we head towards the 2032 Olympics, we have a lot to look forward to," Mr Stephens said.
Nutrien appoints western region cattle manager
National agency network Nutrien Ag Solutions has appointed Kim McDougall  as its new Western Region Cattle Manager, based in Perth.
The role will see Mr McDougall take responsibility for enhancing and supporting Nutrien's cattle team in the region, with the marketing of both commercial and stud cattle, for the benefit of producers in Western Australia.
With a career spanning more than 30 years in the WA livestock industry, Mr McDougall has extensive experience across the livestock supply chain.
Nutrien Ag Solutions Region Livestock Manager Leon Giglia said Mr McDougall was a natural fit for the business.
"Our best asset is our people, and Kim's broad industry knowledge and experience compliments the suite of services we offer in our livestock business," he said.
Earlier, Mr McDougall was general manager of agriculture with Harvest Road Group, responsible for the overall supply chain strategy of livestock for Harvey Beef, Western Australia's largest export beef processor. In addition he took responsibility for the agricultural activities within the Forrest family's Minderoo Station aggregation of six properties in WA's Pilbara, Gascoyne and Kimberley regions. This also includes the extensive Farming activities in the Central Midlands of WA.
He is a member of the RMAC Beef Sustainability Group and he has been reappointed by the WA Minister of Agriculture to the role of board member of the Western Australian Meat Industry Authority and a management committee member of Livestock Logistics WA.
He has a strong commitment to an ethical sustainable red meat industry combined with a passion for beef supply chain development for both domestic and export markets.
New president for Angus Australia
Erica Halliday has been elected the forty seventh president of Angus Australia by the Board of Directors at the society's annual general meeting held in Armidale last week.
Mrs Halliday will be supported by newly appointed incoming vice-president James Laurie from Knowla Livestock, Moppy, NSW.
Hailing from New South Wales, Ms Halliday is a fourth-generation producer and partner of Ben Nevis Angus, Walcha and comes into the position following out-going president and board chair Sam White, Bald Blair Angus, Guyra.
With her husband, Ms Halliday runs Ben Nevis Angus, a seedstock operation established in 1947 by Mrs Halliday's father Bruce Steel. She has a long history intertwined with Angus Australia, dating back to 1986 when she competed in the inaugural Angus Youth Roundup. She was heavily involved with the society at a youth level and in 1994 was selected for the Angus Youth University of Illinois Scholarship following her win of the National Judging Competition.
From 1995 to 2000 Ms Halliday served on the staff of Angus Australia as Youth Coordinator, where she worked in the development of the youth members of the organisation. She has served on the Angus Australia board since 2018.
A strong advocate for the Australian beef industry, Ms Halliday has previously served on a number of board committees including the Australian Beef Industry Foundation and is a member of the BreedPlan advisory committee.
Angus members notch up 100 years
Also during last month's annual general meeting, three prominent Angus breeders from northern NSW were acknowledged for notching up 100 years and 75 years of membership of Angus Australia.
Bald Blair Angus based out of Guyra and Forster & Sons, Abington achieved their century of membership, while Ben Nevis Grazing, Walcha clocked over 75 years.
Accepting the presentations were Sam White from Bald Blair, James Harris of Forster & Sons and Erica Halliday of Ben Nevis Grazing.
While the Society was officially formed in 1919, the first recorded list of members was recorded in July 1922 and included FJ White and Sons of Bald Blair and Norman Forster, Abington, both considered prominent pioneers of the Angus breed, among the 14 members (or families) on the record. The Bald Blair legacy dates back to 1898 when the Whites purchased Bald Blair, with the Angus stud running since 1908, making it one of the oldest Angus studs in Australia.
While the Abington stud was dispersed in 1950, Angus cattle have remained a large part of Abington station and the membership of Forster & Sons with the Society continued, with James Richard Forster Harris at the helm.
For Ben Nevis Angus, while Angus have been part of the family since 1902 it wasn't until Bruce Steel (Ben Nevis Founder) went underage at 16 to World War II where his commanding officer, HG Munro of Booroomooka inspired him to start an Angus Stud – something he did with his father in 1947 based on Abington bloodlines.  Today Ben Nevis is a fourth-generation family business.
"It's a testament to the strength, leadership and dedication of these families and the legacy that they have left behind that sees their descendants serving as breed leaders in the Angus leaders in breed today," Angus Australia CEO Scott Wright said.
NTCA life memberships to Steve Ellison, Rohan Sullivan
Life memberships were bestowed on two respected contributors to the northern Australian cattle industry at the NT Cattlemens Association annual conference in April.
NTCA Life Memberships are awarded to long-standing members of the association who have contributed at branch and or executive level for an extended period. Life members have often contributed in a range of positions or interest areas and have made a significant contribution to advancing and protecting the interests of members at a regional, Territory, national or international level.
Steve Ellison
Steve Ellison was saluted this year for his deep and sustained commitment to the live export industry over the past 45 years.
After managing properties around Winton in Queensland he was recruited by Rick Trivett from GRM International in 1980 to work with the Sabah Department of Veterinary Services to manage its Cattle and Buffalo Breeding Project on the Sook plains in Sabah.
In 1983 Steve was sent from Sabah to Johor in southern Malaysia where he was responsible for the establishment of an importing and distribution depot for Sahiwal cross dairy heifers. Once word got out that Steve was an outstanding horseman, he was invited to join the Sultan of Johore's polo team where he played with a two-goal handicap.
GRM next sent Steve to manage a very large sheep, goat, and camel station for the Nawab of Kalabagh, a feudal lord in the Punjab, Northwest Pakistan. The property was located on the western banks of the Indus River not far from the Afghan border.
In 1984 GRM sent Steve back to Sabah as manager of the Desa Cattle project on the Sook plains. The project had developed 3500ha of improved pastures for the fattening of imported feeder steers from the Australian properties. Desa ran one of the first purpose-built livestock carriers, the "MV Desa", launched in 1980, commencing a bi-monthly service loading cattle from the Desa properties of Camfield, Montejinni and Legune out of Wyndham to discharge ports in Tawau, Sandakan and Kota Kinabalu in Sabah, Muara in Brunei and Bintulu in Sarawak.
Desa Cattle developed and managed the receival depots in each port as well as the abattoirs, processing and retailing outlets. This was the first and the most successful totally integrated foreign investment in the Northern Territory, and the business model was subsequently copied by the governments of Brunei and Sarawak.
In 1988 Steve and family moved to Singapore as Southeast Asian marketing manager for Austrex. This role involved travelling throughout Asia to meet potential live export customers and develop live export contracts which would then be fulfilled by the Austrex operations across Australia and New Zealand.
Steve's next posting was to Thailand in 1990 where he headed up the Austrex project to import and distribute grey Brahman heifers to Thailand and neighbouring countries. When asked how good his Thai language was, he replied "good enough to negotiate a million-dollar contact." Other languages picked up along the way include fluent Bahasa Malaysia and Bahasa Indonesia, Urdu (another Pakistani/Indian language) as well as useful conversational capacity in Mandarin, Tagalog (Filipino) Lao, Khmer (Cambodia), Burmese and others.
In 1993 Steve and family moved to Darwin to manage the Austrex office during one of the busiest periods in the Australian live export trade with a full range of species and types of livestock sent to all corners of Asia. In 2004 Steve resigned from Austrex and established his own live export company called Wyndham International.
Steve's professional qualities, integrity and exceptional breadth of knowledge of all aspects of the livestock trade were recognised when he was employed as the Australian representative and personal advisor to the billionaire owner of Great Giant Pineapple and Livestock company in Sumatra, one of Indonesia's largest agribusinesses and livestock importers. Steve advised this company for five years until his retirement.
Rohan Sullivan
Former NTCA president and cattle producer Rohan Sullivan also received life membership this year.
After graduating from UNE in animals science, Mr Sullivan became the station manager and researcher at NTDPI Kidman Springs.
Rohan was a good manager and a better researcher, having the rare knack for interpreting data and putting it in a practical context.
Between 1985 and 1990 he should be credited with the development of the Kidman Springs "Best-Bet Breeder Management" system, pulling together all the good outcomes of previous research and experience into a grazing system based on stocking rate, supplementation, vaccination for botulism, and weaning (all of which seems hum-drum now but was quite game-changing in an industry that had recovered from the 1970s beef slump to spend the next 20 years managing for the BTEC).
The Best-Bet System reduced breeder mortality from the industry norms of 12-14pc down to 2pc, and lifted weaning rates from 50pc to 80pc. It was a system which was ripe for adoption as the BTEC wound down and the Live Export market started to grow.
Also in the mid-80s the Sullivan family, still up for a challenge, purchased another bare block near Mataranka, Cave Creek, where the clan still resides, later purchasing Birdum Creek near Larrimah in 2003.
"Rohan has been a historically significant contributor to the NTCA over 20 years, and to our Territory industry more generally over a much longer period," Tracey Hayes said in her salute prefacing his award.
He became an active NTCA member in the Katherine branch after finishing with DPI and became branch chair for the years up to 2008, before tackling the NTCA presidency from 2009 -2012.
"Rohan was president in 2011 when the Live Export Crisis unfolded," Ms Hayes said.
"Other Presidents had overseen some tough times, but surely there had been no tougher gig than being the person in charge of our response to, and recovery from, this crisis."
It is typical of his modesty and self-deprecating nature that following his Presidency he went back to being branch secretary for a number of years, and subsequently served for an extended period as NTCA's NFF representative from 2015.
"With the knowledge, experience and principles learnt from the times that he was in the stylo on the Adelaide River levees in nappies, through his parents formidable battles with the Canberra bureaucracy, volatile seasons and cattle markets, his networks across industry, local and interstate education, and his logical and scientific thinking, Rohan took it on successfully in his normal "salt-of–the-earth", approach," Ms Hayes said.
Importantly, his wife "Super Sally" was always at his side.
12 women selected for NFF's 2022 Diversity in Ag Leadership Program
TWELVE women with diverse skills and experience and all with a passion for leadership, have been announced as the 2022 cohort of the National Farmers' Federation's Diversity in Agriculture Leadership Program.
The mentoring and networking program in its fifth year, is the NFF's flagship initiative to fix the under representation of women in agriculture's leadership ranks.
It is made possible by 33 industry partners, who are making transformational inroads towards more gender-equal workplaces and leadership teams. Partners are also leading a conversation about other areas of diversity, including how agriculture can be more inclusive of diversity of culture and background; Australians with disability and those who identify as members of the LGBTIQ community.
NFF President Fiona Simson said once again interest in the Program was high.
"This year's applicants confirm agriculture and rural Australia are spoilt for choice when it comes to female leadership talent. Importantly, the Diversity in Agriculture Leadership Program is providing a pathway for these women to rise to the top of our industry, a pathway that until recently had not been clear."
Fixing agriculture's gender inequities is a key target within the plan for agriculture to be a $100 billion industry by 2030.
"We set a goal to double the number of women in agriculture's leadership positions by 2030. The target was set against stark statistics from the Workplace Gender Equality Agency: In 2018, just 2.3pc of CEOs in agriculture were women and women made up only 18% of senior managers," Ms Simson said.
"Logically, the equal input from women in the leadership ranks of agriculture, is at the heart of the sector's continued growth and vibrancy."
The 2022 cohort join a Program alumnus of 41 and the NFF's Women in Agriculture Facebook Community, which established in January now boasts more than 500 members.
The group will come together in Canberra for an introductory retreat during June and then embark on a four-month mentoring program, before graduating at NFF's 2030 Leaders' Summit in October.
Here's the 2022 Diversity in Agriculture Leadership cohort:
Rachel Palumbo – West Melbourne, VIC
Olivia Lawson – Clarkes Hill, VIC
Simone Cameron – Katherine, NT
Mary Raynes – Perth, WA
Nicole Byrnes – Pooncarie, NSW
Skye Ward – Bungendore, NSW
Michelle Lench – Wingfield, SA
Anna Playfair-Hannay – Forbes, NSW
Sarah Woolford – York, WA
Sophie Lountain – Orange, NSW
Leanne Rudd – Bundaberg, QLD
Elke Cleverdon – Young, NSW.