Beef Central publishes an occasional summary of appointments, departures and achievements occurring across the red meat and livestock supply chain. Send details for entries to admin@beefcentral.com
Key Beef Central staff call time
Beef Australia names CEO for Beef 2024
JBS announces global management changes
New Aussie Swaps risk management product appoints manager
New sales lead for agtech innovator, Farmbot
Stock transporter appointed to IA board
CBRE adds property firepower
Beefbank charity adds industry experience to board
Elanco expands northern sales team
Emerald agent calls time, after 40 year career
Top innovators honoured by Australian Academy of Technology and Engineering
Key Beef Central, Grain Central staff call time
On Friday, Beef Central (together with sister publications Grain Central and Sheep Central) bid farewell to two key staffmembers and work colleagues who move into retirement, after long and distinguished agricultural publishing careers.
Both our business development manager Rod Hibberd and Grain Central editor Neil Lyon have been critical to the success of our business, and its great relationship with readers and advertisers.
Rod has led the revenue side of the 'Centrals' platforms for the past seven and a half years.
A consummate professional, he has worked with everybody from key corporate accounts right through to small one-off stud advertisers, and treated all with utmost professionalism and skill.
Before joining the Centrals in 2013, Rod had a varied and widespread career across agriculture, working initially in the fertiliser and crop protection industries in agronomic research and sales, silage and haymaking industries and agricultural media.
He leaves the Centrals in the best possible shape for the years ahead, having built up a loyal and heavily-committed advertiser following.
Retirement brigs the opportunity for Rod to pursue his passion for restoring old vehicles and gardening with greater focus.
Taking up the reins as Beef, Sheep and Grain Centrals' business development manager in January will be Hannah Bourke, an experienced agribusiness professional based near Gunnedah in NSW. We will introduce Hannah to readers and advertisers more formally early next year.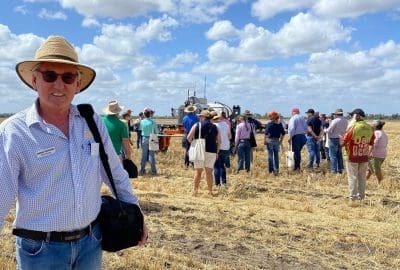 In a career in agriculture spanning nearly 50 years, including 33 as an agricultural journalist, Grain Central editor Neil Lyon also retires on Friday.
Mr Lyon leaves a legacy of thousands of stories and millions of words about the people, issues, triumphs and failures of rural Australia.
His career spanned a time from when farming involved multiple cultivations, cab-less tractors and monoculture cropping systems through to the modern-day practices of no-till farming, crop rotations, autosteer tractors, controlled traffic layouts and space-age monitoring and management technologies. Click here to view Grain Central's profile.
A testimonial dinner marking both careers was held in Toowoomba last Thursday. We wish both Rod and Neil all the best in their retirement and extend our sincere thanks for the incredible contribution they have made over the years.
Beef Australia names CEO for Beef 2024
Beef Australia has appointed former media executive Simon Irwin to become the event's new chief executive officer, as the Beef Australia team begins preparations and planning for the next national expo event in 2024. He replaces outgoing CEO Ian Mill.
Beef Australia chairman Bryce Camm welcomed Mr Irwin to the role, saying his diverse commercial business experience, having worked for three decades in leading roles across media operations and management, would provide a solid foundation.
Mr Camm said the board had engaged a specialist recruiter to conduct a thorough and far-reaching recruitment program, attracting more than 180 applicants from across Australia.
"We were delighted with the high calibre of applicants and the commitment to work through a comprehensive recruitment process," he said.
Most recently Mr Irwin was regional manager with newspaper publisher NewsCorp Australia, responsible for leading teams throughout Queensland transitioning from print into a digital focus.
The new role will see Mr Irwin getting back to his beef industry roots, having started his career as a stock and station agent and auctioneer in the 1980s. He has been a Rockhampton resident for almost 20 years.
"My focus will be to ensure that, through growth and innovation, this event continues to lead the world and help to secure beef producers a bright and sustainable future," he said.
Beef 2024 will next be held in Rockhampton from Sunday to Saturday, May 5-11, 2024.
JBS announces global management changes
Global meat protein giant JBS has announced a series of changes to its senior management team, effective from January.
The role of global president of operations will be reinstated, and jointly held by André Nogueira, who will lead the operations in North America, and Wesley Batista, responsible for Latin America and Oceania, as well as the company's global plant-based business.
Mr Nogueira will be well-known to some Beef Central readers, having led the company's Australian operations through an important period up to Brent Eastwood's appointment. He is currently CEO of JBS USA, which includes operations in Australia.
Tim Schellpeper, currently CEO of JBS USA's Fed Beef operations, will become CEO of JBS USA. Steve Cohron, current head of Pricing and Sales at JBS USA Fed Beef, will lead JBS USA Fed Beef. Current CEO of JBS in South America and Seara, Wesley Batista, led the beef division of JBS USA until 2017. Prior to this, he oversaw the company's operations in Uruguay, Paraguay and Canada.
In their new positions, all will continue to report to Global CEO, Gilberto Tomazoni.
"We have reinstated this structure to ensure our focus on operational excellence, people and our culture, and better prepare our company to pursue our sustainability and growth strategy, while preserving independence and speed in decision making across our global businesses," Mr Tomazoni said.
New Aussie Swaps risk management product appoints manager
Global financial service provider StoneX has appointed former commodity trader Tim Jude to lead the company's new Livestock Desk and build-out the company's risk management offering in Australia.
StoneX (formerly known as INTL FCStone) plans to launch a Swaps-based risk manage tool based on a feeder steer index in early 2022. As part of the project's development, a trial index has been created, based on feeders 380-480kg, milk and two-tooth, 50pc or less tropical breed content, delivered Darling Downs. The project has received enthusiastic early support from across the Australian beef supply chain.
Mr Jude joins StoneX from Fulton Market Group, where he was responsible for beef procurement for McDonald's and others across Australian and New Zealand Domestic markets, as well as exports to Korea, Taiwan, Malaysia, UAE, Philippines, and the US. Prior to FMG, he worked at GrainCorp and Allied Pinnacle in the grain and flour industries. He has ten years of experience in commodity procurement, hedging and risk management, including providing advice to multinational food processors and manufacturers.
Stand by for a story on progress in StoneX's development of the feeder steer index and the new Swaps risk management product.
New sales lead for agtech innovator, Farmbot
Australian agtech company Farmbot has added to its leadership team appointing Nigel Gosse to lead sales and customer engagement across South Australia, Victoria and Tasmania.
The newly-appointed business development manager brings extensive experience spanning Europe, and Australia, having held key roles at Australian Wool Innovation and Meat & Livestock Australia. Most recently he was chief executive of online cattle trading platform, Farmgate.
Farmbot has developed a range of remote water monitoring and management solutions which have gained serious traction across the cattle and sheep industries (see earlier report).
Farmbot's managing director Andrew Coppin said customers in Australia's southern regions were set to benefit from Mr Gosse's rich agribusiness experience.
"Demand for water management continues to grow and Nigel's appointment will ensure our customers in the southern regions are looked after," he said. "With experience spanning pure agriculture, as well as stakeholder engagement and communications roles, Nigel has a deep understanding of the realities of being a producer as well as the broader macro trends that are shaping the industry."
Mr Gosse is currently a member of the newly-formed Policy Council for the Sheep Producers Australia. Additionally, he is SPA's representative on MLA's marketing and market access taskforce.
"Water and time are precious resources, and so if a product can increase efficiency assisting farmers and graziers to complete many other jobs on their list, then that is a real and sustainable contribution," he said.
Stock transporter appointed to IA board
Former Australian Livestock and Rural Transporters Association national president Liz Schmidt has been appointed to the board of Infrastructure Australia. Ms Smith, a former Mayor of Charters Towers in North Queensland where her transport business is based, is an ATA National Transport Woman of the Year and currently sits on the board of the Dalrymple Community Cultural Centre Trust.
Former Mayor of Tamworth Regional Council, Colin Murray, was appointed as Infrastructure Australia chair, with five other new board members also appointed. Infrastructure Australia is the nation's independent infrastructure advisor, providing research and advice to governments, industry and the community on the infrastructure investments and reforms that will benefit all Australians.
CBRE adds property firepower
Specialist property agency CBRE has added further firepower to its agribusiness valuation and advisory services team with the appointment of Angus Shaw to lead its activities in Australia's south eastern states.
Mr Shaw departs Herron Todd White after 14 years where he managed a team of 16 valuers across regional Victoria, South Australia, Tasmania and parts of southern New South Wales. Mr Shaw will commence his role as CBRE director on January 17, based in Victoria.
National director Simon Altschwager said Angus brought extensive valuations, leadership and mentoring experience that would further enhance CBRE's client service offering and agribusiness platform capabilities.
"Angus has significant experience across a broad range of assets. He has provided valuation advice on some of Australia's largest rural assets to leading banks, institutions, international investors and local property owners."
In other recent appointments, Matt Childs and Adrienne Harvey joined CBRE's sales team back in September. Mr Childs is an award winning and established property agent throughout Victoria and New South Wales. He brings extensive negotiation and leadership experience to his new role as agribusiness capital markets director, after 16 years at Pat, Rice & Hawkins.
CBRE agribusiness managing director David Goodfellow said his skills in communicating with principals of both family-owned and community farms as well as large corporate-owned businesses were highly valued in the industry today.
Adrienne Harvey joined CBRE as an associate director in mid-August, having worked in rural banking and agricultural real estate sales with Inglis Rural Property and then Nutrien Harcourts.
As an experienced agricultural realtor and farmland owner with a strong network throughout southern NSW, she brings considerable experience in originating, executing and closing deals of all sizes across the rural industry.
In January this year, David Goodfellow, one of Australia's leading agribusiness professionals joined CBRE's Melbourne-based Shane McIntyre (servicing Victoria and southern New South Wales), to head its agribusiness team following the departure of Danny Thomas.
Mr Goodfellow has held leadership roles with some of the country's biggest agribusiness investors, including CEO positions with Rifa Salutary, Paraway Pastoral Co and AustOn Corporation, the Australian-based operating arm of Ontario Teachers' Pension Plan.
Beefbank adds industry experience to board
Queensland beef producer and Agforce Queensland Cattle chair Bim Struss has joined the board of Beefbank, a unique community charity which aims to connect the beef industry with people in need.
Mr Struss brings to the board an immense amount of experience in the beef industry, having spent the past 11 years representing the cattle industry at both state and federal levels. Bim has chaired both Marketing and Animal Welfare committees nationally, and presently sits on the policy council advising the Cattle Council board.
"Bim has a long and well respect career in the beef industry and will be a great benefit to those who are in need and are supported by Beefbank," chairman Andrew Rogers said. "With his assistance, we will be making announcements next year around a national campaign for more beef and to bring relief to many of thousands of people who are in desperate need of food assistance."
Click here to view an earlier article on Beefbank's great work. More than 120,000 people each week receive food support from charities around Queensland alone.
Elanco expands northern sales team
Animal health manufacturer Elanco, has announced the appointment of Lachlan McLeish as its new Territory Manager for Southern Queensland, completing the company's northern sale team. He replaces our former Toowoomba-based Territory Manager and Key Account Manager, Doug Carmichael, who has elected to return to the UK for family reasons.
Elanco's beef and intensive industries national sales manager Brett Hall said Lachlan brought solid experience in animal health, nutrition and livestock production to his new role, backed by a genuine passion for livestock production.
Mr McLeish joins Elanco's Northern Queensland and Northern Territory Sales Manager, Bruce Smith, and Central and Western Queensland Territory Sales Manager, Siobhan Smith.
He grew up on a sheep and cattle property at Karara in south-east Queensland and spent every spare minute either working on the farm or with local shearing, mustering and fencing contractors. Upon leaving school, he opted to take a gap year as a feedmill operator with DA Hall & Co, Millmerran, one of the largest privately-owned poultry farms in Australia.
He later joined livestock supplement manufacturer, Beachport Liquid Minerals, as regional manager for NSW and Southern/Central Queensland.
Emerald agent calls time, after 40 year career
Emerald, Central Queensland stock and property agent Andrew Lewis recently called time, after a career spanning more than 40 years.
Taking over the Andrew Lewis Livestock & Property business is Matt Beard, who has operated as a commission agent to Nutrien for the past 15 years.
The business will continue to operate from its premises on Egerton St, Emerald.
Top innovators honoured by Australian Academy of Technology and Engineering
One of Australia leading net zero emissions innovators and a bush-fire predictor were among the trail-blazing group of Fellows elected this year to the Academy of Technology and Engineering.
The new Fellows are at the top of their fields, encompassing sustainable agriculture and construction, renewable energy, robotics and artificial intelligence.
New Fellows for 2021 from the agriculture sector included:
Victorian Professor Richard Eckard FTSE from the University of Melbourne has developed the first greenhouse gas accounting tools for agriculture. His research has provided the scientific basis for carbon offset methods, including sequestering carbon in soil. See earlier Beef Central story.
Professor Jason Sharples FTSE from the University of NSW: A Bundjalung man, he uses predictive mathematical models to prevent catastrophic bushfires fires. His research framed the recommendations of the NSW Bushfire Inquiry (2019-2020).
Dr Michael Robertson FTSE, Deputy Director, CSIRO Agriculture and Food, is an outstanding agricultural scientist playing a crucial role in research addressing the existential challenges facing Australian farmers in a changing climate.
Dr Sue Keay FTSE, one of Australia's most influential leaders in artificial intelligence and robotics, led Australia's first robotics roadmap.
ATSE President Hugh Bradlow said the new Fellows are front-runners in growing Australia's standing as a top technologically driven nation.
"ATSE Fellows are elected by their peers for outstanding contributions to advancing engineering, technology and applied science: they are shaping Australia's future," Professor Bradlow said.