WHILE there was a bewildering array of promising technologies on show at the EvokeAg tech event in Melbourne last week, many remain in start-up, development or pre-commercial stage.
Harder to find were products or services that could be described as being in full-blown commercial use.
An exception was the Farmbot water monitoring solutions technology, which as this image of units operating across Australia published here shows, is now well-entrenched in cattle and sheep production systems right across the continent.
A little over 2500 solar-powered Farmbot units are now in use by graziers across Australia, remotely monitoring and reporting on water levels, flow levels, water pressure, or combinations of all three, on tanks, troughs, turkeys nests and dams.
"We've now installed the units on properties from Hobart to Kununurra, and Fremantle to Cairns," Farmbot's business development manager Nick Bradley told Beef Central during EvokeAg.
"The rate of uptake is in fact still increasing, and we're now closing in on 100 installations a month. Part of that, we think, is the 'over the fence' effect, where a producer who is less receptive to new technology like this sees a neighbour's paddock being monitored reliably in this way, and convinces himself or herself that the technology is 'ready'."
Each potential customer in the grazing industry had to reach their own certain level of 'confidence' that a new ag technology was up to the task, before making the decision to invest, Mr Bradley said.
"Word of mouth is a big factor in that. The more installations we complete, the more people are talking to their neighbours," he said.
"A second factor is that some of our early customers, who have been using the system for some time, are now investing in more units, confident that they work up to expectations, and are reliable and easy to use. We have customers in extensive grazing areas who now have more than 100 Farmbot units in place, and plans to add more."
"Last year one customer had 58 units in place, and has recently bought another 75."
Mr Bradley said while the 'value proposition' for extensive northern producers might look 'more obvious,' the technology applied equally in more closely-settled southern grazing areas.
"They might need fewer units, having fewer watering points, but it's all about reducing labour in having to physically monitor each watering site, saving on vehicle wear and tear and running costs, and equally importantly, delivering peace of mind – in being confident that a distant trough or tank is working as it should."
Producers attending EvokeAg spoken to by Beef Central last week (see yesterday's separate story) clearly indicated a wariness about investing in new ag technologies before they are well-proven.
New roles being found for the technology
While remotely monitoring water levels was the primary purpose for the development of Farmbot, other applications are now being added, including water flow monitoring and pressure monitoring – all from the one unit.
"It's just a matter of adding additional sensors to the system," Mr Bradley said.
Sometime this financial year, users will also be able to add new features allowing them to remotely turn water pumps on and off.
"We think that feature will be a game-changer," he said.
"Some Farmbot customers also want to use remote cameras, to see if a beast had got stuck into a trough, for example, and also want pump control, which we will be launching soon."
These features (remote water sensors, cameras and pump controls) will all talk wirelessly, using the inbuilt LoRa point-to-point system in the existing Farmbot unit.
"For people who have bought the latest model Farmbot water monitoring unit in the past six or eight months, all they will need to do is a software update, to add new sensors to their existing Farmbot unit," Mr Bradley said.
Remote self-reporting rain gauges and electric fencing monitors are also available, and can be either plugged straight into the bottom of each Farmbot unit, or automatically pick up on the LoRa point-to-point signal.
Simplicity of installation is another strong feature to some customers, who might not be particularly tech savvy. Installation typically takes 8-10 minutes from when the carton is opened to when the system is operating, and sending its first signal.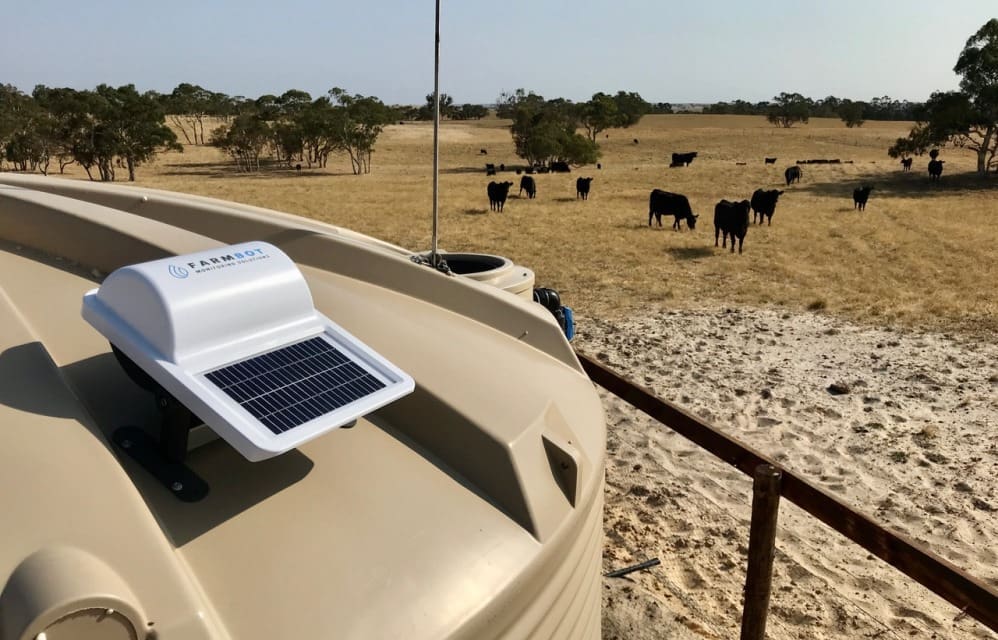 Satellite or cellular versions
The Farmbot system is available in two versions – a satellite-linked option, which most of the extensive northern customers use – and a mobile cellular version using 3G and 4G, for those areas where reception is adequate.
"Even if you only have a single bar of reception, users can use a mobile phone signal. That's because it's not a question of making a call, it's just pushing small packages of data around," Mr Bradley said.
Using the satellite-linked version, remoteness is no obstacle – the system can be used literally anywhere in the world. The difference between the two data transfer options was minimal – $114 per unit.
Mr Bradley said because northern pastoralists – both corporate and private operators – were adopting the technology at such a rapid rate, the biggest proportion of installations at the moment were satellite-based.
"But by the same token, we're now getting much more interest in the southern grazing areas of Australia, so that may change somewhat. Sheep operators and mixed farmers in the south are starting to get interested – especially those applications where a producer has two or more separate blocks of land, that he has to drive between – so we are selling more and more of the cellular version."
"Carnarvon and Geraldton regions are hot spots at the moment, but we're also pushing more units into the wheatbelt of WA, and western districts of Victoria."
The difference was, where it might take 15 customers in the south to buy 60 units, in the north, the same number of units might go to only three or four customers. "It balances out," Mr Bradley said.
He said one customer in the northern pastoral zone of South Australia was running a million hectares of country, with 122 Farmbot monitoring units already in place.
"Being a web-based application, all the user needs is a user name and password to access the monitoring data from any device, anywhere in the world," he said.
The reporting interface (see image below) offers information site by site, telling the user how full each watering point or storage is; an indication of the activity at each storage at any moment in time (rising or falling water level), and whether water levels have reached a critical 'trigger point' (pre-determined and set by the user) to set off an alert, sent by email and text message.
Additional information will provide daily data on water consumption through each water storage. From this livestock managers can calculate per head consumption rates if they want.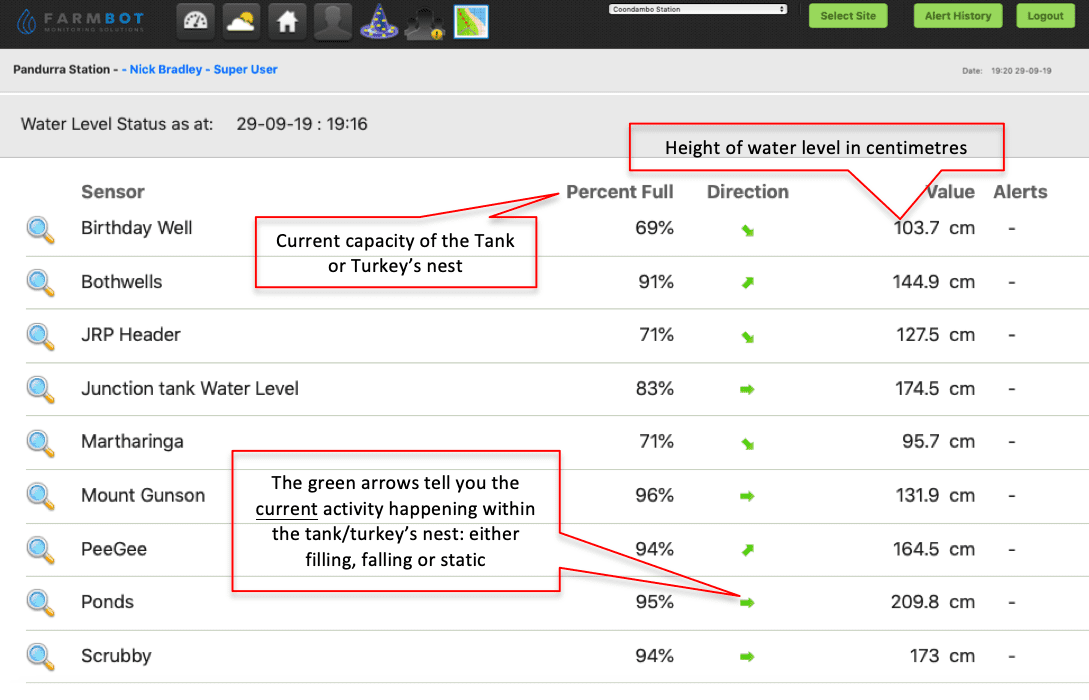 Fewer water runs
Beef Central asked how confident users now were in the Farmbot technology, and how much they were dropping-off regular physical water runs.
"For many, where they might have done three or four water runs each week, they are now doing one. But we're not doing away with the need for water runs altogether. Everyone knows you still have to clean the trough, check to see if something has died in the tough, check the fence or shift the stock."
"But what we are delivering is the ability to implement more productive work routines. Users can do a run when they want to, and can see the issues that they may need to address, before they get there."
"Rather than driving around paddocks, ad hoc, in the off chance of encountering a catastrophe, it can be avoided, and maintenance can be done as and when it suits."
The Farmbot business takes pride in the fact the technology is 100pc Australian owned and manufactured.
"A lot of our customers like the fact that everything is in Sydney. If they want, that can talk to the developers themselves, from their farm, rather than dealing with service people overseas."
Asked what was next for the business, Mr Bradley said Farmbot was talking with other tech providers, with a view to integrating monitoring systems with third-party sensors, and collaborating with management software developers like Maia Grazing and Agriwebb to integrate with their systems.
"Providing the customer is happy to share their data, we could provide the monitoring data to a Maia or Agriwebb and the customer's rainfall or water flow data, for example, can then be a reporting line on the Agriwebb or Maia interface."