Beef Central publishes an occasional summary of appointments, departures and achievements occurring across the red meat and livestock supply chain. Send details for entries to admin@beefcentral.com
Multiple staff movements at CPC
New feedlot manager for Mort & Co Grassdale
New GM hits the ground running at Stockco
MLA appoints Japan/Korea manager
Appointments start for Rocky's Beef 2021
Kimberley's Yeeda beef plant appoints new CEO
Ex banker joins Colliers property team
New partner for specialist property agency
Meat processing technology company appoints MD
Salute to popular and long-serving Elanco staffmember
AgForce coordinator to reduce wild dog impacts
Multiple staff movements at CPC
A number of personnel movements are occurring at Consolidated Pastoral Co, some of them due to changes in management requirements following a series of property sales last year. CPC's overall cattle numbers have declined from 400,000 to 300,000 following sales last year including Manbulloo and Scott Creek, Ucharonidge, Comely/Mapala, Mimong, Auvergne and Newry, and Nockatunga.
As part of the adjustments, the company's general manager for Queensland and commercial, Carl Greaves, is departing the business for a new management role with another large northern pastoral operator. Further details in the next People on the Move column.
He joined CPC in his current role 2016, having previously worked for Mort & Co as manager of the Grassdale feedlot business, including working on the design and development of the feedlot's expansion. Prior to Grassdale, Mr Greaves worked for Teys Australia as general manager of the Teys Condamine feedlot, and earlier as a Teys cattle buyer and data analyst.
CPC's general manager NT, Henry Burke, will assume general management responsibilities for the company's remaining Queensland properties, while in an internal promotion, Jasmine Boxall will become commercial and innovation manager.
New feedlot manager for Mort & Co Grassdale
CPC is also currently advertising for a station manager for its flagship Newcastle Waters station in the NT. Current manager Marcus Doumany is returning to Queensland for family reasons, where he will take up a local appointment as feedlot manager at Mort & Co's Grassdale feedlot near Dalby.
Prior to arriving at Newcastle Waters in early 2019 Mr Doumany held senior management roles across the Northern Territory and Queensland, on both extensive pastoral operations, intensive grazing and breeding and feedlot operations.
CPC expects to make a few additional changes to staffing to match the recent adjustments in the property portfolio in coming months. Earlier this month CPC also finished up its operational management agreement with Vietnamese-owned NT properties, Auvergne, Newry and Argyle, which it sold earlier.
Meanwhile, Mort & Co's new chief executive officer, Stephen O'Brien has started in his new role, as founder and managing director Charlie Mort steps back into a broader board capacity.
Mr O'Brien brings considerable domestic and international experience across a range of industries to the role, with a strong focus in the food arena throughout his career, having held key roles with several listed, privately owned and private equity based organisations.
Having started his career with Defiance Milling where he spent 15 years, he later spent time in regional and senior management positions with Parmalat Coca Cola, Reece and TJM, both within Australia and overseas. Most recently, Mr O'Brien was CEO & Managing Director for Australian specialty wholesale bakery, Wild Breads.
With the appointment of Mr O'Brien, Mort & Co managing director Charlie Mort moves into the executive chairman position, while simultaneously assisting in the transition. Current board chair, Richard Hughes, will step aside, but will remain a director of Mort & Co.
New GM hits the ground running at Stockco
Specialist livestock financier Stockco last month welcomed Greg Noonan as the company's new general manager for products and distribution in Australia. While there has been some redefinition of roles, he more or less replaces former CEO Richard Brimblecombe, who late last year moved to a new pastoral operations role as chief executive officer with the North Australian Pastoral Co.
Mr Noonan arrives in the stock finance space at an exciting time, given the massive turnaround in market fortunes (and the weather) in many areas since the start of the year.
He has had a strong background as a specialist agri-banker, spending the past 11 years with National Australia Bank agribusiness, both within Australia and the US, where he spent two years following NAB's purchase of the Great Western Bank in the US midwest. Mr Noonan spent four years in NAB's regional office in Toowoomba, followed by five in Brisbane. Earlier he had a commodity trading background in cotton, wheat and sugar, running NAB's agri markets business nationally.
Mr Noonan said Stockco had started to see a sharp rise in producer inquiry since January rain, mostly around the establishment of new credit facilities, so that when people want to enter the market, they are ready.
"It's pretty well documented that there is going to be some substantial capital challenges around restocking this year, and people want to be in a position where they can respond, when opportunities arise," he said. More on this in a separate upcoming report.
Following Richard Brimblecombe's departure to NAPCo, there's been a minor restructure of management roles within Stockco, with Tim Prior now focussing on agency-related business, based out of Tamworth. Mr Noonan's focus is on building direct business, and developing new products and distribution, including potentially strengthening relationships with processors, for example.
With two regional lending staff currently based in Bendigo and Rockhampton, further staff appointments are anticipated in coming months, as this year's restocking and herd rebuilding phase gathers momentum. Stockco is now much better resourced from a capital point of view, following last year's re-financing through Goldman Sachs.
Appointments start for Rocky's Beef 2021
With Rockhampton's Beef Australia 2021 event now only 15 months away, operations management appointments are starting to occur.  Joining chief executive officer Ian Mill recently was the event's new marketing and communications manager Jo Fricker.
Ms Fricker has a strong marketing and comms background, running her own consultancy for the past two years. Before that she worked for Brisbane's Ekka, and the Brisbane Racing Club. She comes from a strong grazing industry background, with her family operating a Merino stud enterprise in western Victoria.
She has a passion for ag, and attended her first Beef Expo in Rocky in 2018. Currently based in Brisbane, Ms Fricker will spend more time in Rockhampton as the event gets closer. Further operations staff will be appointed in coming months.
Other event staff already in place are Operations Manager Kristy Kelly and Sponsorship Manager Jacqueline Miles.
Beef Australia 2021 takes place in Rockhampton from 2-8 May next year.
MLA appoints Japan/Korea manager
With the promotion of Andrew Cox as Meat & Livestock Australia's General Manager for International Markets, the industry service delivery company has appointed Scott Walker as Regional Manager – Japan and Korea.
Mr Walker has significant expertise and networks across Asia, having worked for Tourism Australia, Blackmores and Austrade in Korea, Mongolia, Singapore and Indonesia in a marketing and industry representative capacity. He is fluent in Korean, spending over a decade in Seoul including completion of a Master of International Studies degree at Yonsei University. Currently residing in Singapore, Mr Walker will be based in Tokyo.
In other recent MLA personnel moves, Mary Johnson has been appointed Market Access Manager – Europe.
With Josh Anderson ending his assignment in the UK in early 2020 and returning to MLA's Brisbane office, Ms Johnson has been appointed to the role of Europe Market Access Manager. She is well versed in the challenges confronting the Australian red meat sector in Europe via her previous role as Assistant Manager – Trade & Market Access. Ms Johnson will have responsibility of implementing industry's agreed in-market advocacy strategy associated with the Australia-EU Free Trade Agreement (currently being negotiated) as well as positioning the industry for future opportunities in the UK, post-Brexit. She started last month, based in MLA's London office.
In other moves at MLA:
Experienced MLA Company Secretary Clare Stanwix will leave the organisation in March. A recruitment process is underway to find a replacement.

Former Australian Wool Innovation staffer Peta Slack-Smith, who joined MLA in August last year as general manager for strategic communications and corporate affairs, has left the company. No replacement is currently being sought. Ms Slack-Smith was previously GM for corporate affairs & international market access with AWI, and prior to that held management and leadership positions at The Woolmark Company and AWB, worked in the not for profit sector, with ASX listed corporates, industry associations, and state and federal government departments.
Kimberley's Yeeda beef plant appoints new CEO
Kimberly region beef processor Yeeda Pastoral Co recently announced the appointment of Anthony Wilkes as the business's new Chief Executive Officer. Mr Wilkes started in his new role at the start of February, in line with the commencement of this year's northern processing season.
He is a highly regarded corporate leader with more than 20 years' experience in the agribusiness and food-beverage industries. Yeeda co-founder and chairman Mervyn Key said Mr Wilkes was well placed to build on the foundations established by the company's inaugural CEO, Jack Burton, who left the business suddenly late last year.
"Anthony is a highly accomplished and proven leader in agribusiness who has gained significant experience across the full value chain, from growing and manufacturing to domestic and international sales," Mr Key said in statement. "Most importantly, he has a strong track record of developing and leading teams of people. He has exceptional business vision and is a strong and collaborative leader of geographically and culturally diverse teams."
Mr Wilkes grew up on a mixed cropping, sheep and cattle farm in WA's South West. Graduating from Curtin University in 1996 with a Bachelor of Business (Agriculture) he joined Heytesbury Pastoral Co to launch a career in agribusiness and food-beverage that has also included senior executive roles with premium wine companies.
"Yeeda operates its cattle and protein business in the Kimberley, one of the cleanest environments in the world, and is therefore ideally placed to service customer demands from fast-growing neighbouring markets," Mr Wilkes said. "Yeeda's processing facility is uniquely situated in the middle of a large and high-quality cattle producing area, providing a wonderful opportunity to work collaboratively with cattle producers to grow the company's business in a socially responsible manner."
Ex banker joins Colliers property team
Property marketing specialist Colliers International Agribusiness has appointed experienced agribusiness identity Phillip Kelly to the position of Senior Executive – Transaction Services.
For the past seven years Mr Kelly has held a senior role agricultural banker Rabobank. Prior to that he held senior positions across the livestock, commodities and rural property markets as an agent and independent consultant with major national agribusinesses including Elders, Landmark and Ray White Rural.
Mr Kelly has extensive hands-on rural property experience having been involved in his family's mixed-farming property based in Northern NSW. While based on the family farm Mr Kelly worked as a professional wool-classer and grain harvesting contractor.
Having worked extensively across the livestock and rural property sector, beef processing industry and finance sectors for the past 32 years, he has gained experience across all eastern Australian states with exposure to a broad range of industry sectors including beef, sheep, wool, dry-land and irrigated grains or cotton, feedlots, dairy and pork sectors.
As a buy-side consultant, Mr Kelly has been engaged across diverse rural investment projects including development of mid-scale irrigation project in South Australia, conduct of due-diligence process for a UK based private investor in addition to managing change processes for clients within a beef/grain enterprises in northern NSW.
New partner for specialist property agency
Adcock Partners Property and Livestock, the new venture of property identities Andrew Adcock and Michael Spencer, has been growing over the past couple of months, recently welcoming Sam Bartlett as a new partner into the business.
He comes from a corporate agency background as a Livestock and Property salesman and has joined Adcock Partners Property and Livestock for the opportunity of ownership, responsibility and autonomy. Sam will be based in south west Queensland and has opened the company's first office in Quilpie this month, focussing on all aspects of rural activity.
New MD for meat processing technology company
Mick Bird has assumed the Managing Directorship at meat processing technology company MPSC Australia this month, following a distinguished career in the processing sector. Mr Bird is an Australian meat industry veteran who after serving in the Australian military, learned the meat and wool industries from the bottom to the top.
Over the years he has served as director, general manager, plant manager and other roles in a number of prominent Australian lamb and beef processing companies including Gundegai Meat Processors, Woodward Foods, CRF/Australian Lamb Co, and Matisse Foods.  MPSC Australia is a meat science & consulting company that is best known for the development of the Rinse & Chill Technology which promotes ideal modulation of pre-rigor muscle pH and temperature in beef, sheepmeat, goat and pork.
Salute to popular and long-serving Elanco staffmember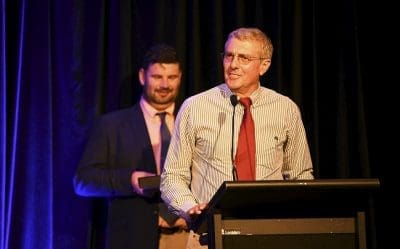 Popular Queensland animal health sales representative Peter Ramsey received Elanco's Salesperson of the Year Award at a ceremony last week.  A 39-year veteran of Elanco, his award underscores the strength of his commitment to customer service on farm and in stores, across Queensland and northern NSW.
Mr Ramsey was also recognised for his tireless dedication to Elanco's Vision of Food and Companionship Enriching Life, both locally and overseas.  Since he co-founded the unique Do Without a Meal Program in 2016, Elanco employees have donated more than $50,000 in forfeited meal allowances to Heifer International – an organisation that supports communities through healthy livestock and women's' empowerment in developing countries. Peter is pictured accepting his award, with Elanco colleague Nathan Surawski.
AgForce coordinator to reduce wild dog impacts
AgForce has appointed a new Central West Queensland Wild Dog Coordinator to help revive Queensland's once thriving wool and sheep meat industries by reducing the threat posed by wild dogs.
AgForce Sheep and Wool President Alan Rae said Ray Aspinall's appointment would greatly assist to reduce predation on livestock from feral animals. His appointment has also returned AgForce's Wild Dog Coordinators Project to full strength, ensuring more of the State is protected.
"This is a great outcome for sheep producers in the central west of the state," Mr Rae said.
"Each year wild dogs kill or maim millions of dollars' worth of livestock. That's why industry needs experienced people like Ray to help landholders, communities, and local councils manage the issue of wild dogs and develop management plans that will leave a legacy for future control as well.
Mr Aspinall will manage an area of Queensland that includes Boulia, Diamantina, Winton and Barcoo Shires, as well as the regions of Longreach, Barcaldine and Blackall Tambo. He grew up on a farming operation near Warwick in the State's south east and is an experienced shearer, fencer, musterer, and wild dog trapper who has lived in Blackall since 1985.