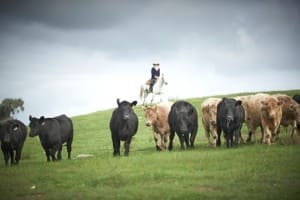 It's hard to imagine they were ever close, but common sense and the environmental sustainability debate appeared to finally part ways last week.
First Sir Richard Branson declared he was giving up beef to save the environment, in one fell swoop reinforcing his image as a global climate champion at the expense of the beef industry while deftly diverting attention from the hundreds of passenger jets he has flying around the planet at any given time.
Then came the release of a new study branding beef as the worst meat of all for the environment, a criticism that was quickly trumped by the release of a new movie proclaiming beef as the single worst industry for the planet.
When we're told that cattle grazing natural pastures are worse for the environment than intensively farmed animals or fossil fuel powered transport or energy production, something just doesn't add up.
Anyone close to Australia's cattle industry knows it has a genuine and powerful sustainability story to tell.
But it is also clear that the free-range, pasture-fed management systems upon which our industry is based are being overshadowed by the "beef is bad" din as anti-meat groups play to the emotions of uninformed consumers.
We know that most consumers today live in cities, have little to no direct experience with agriculture, and therefore draw their knowledge about how meat is produced from what they see or hear on the mainstream news or social media. And that invariably means they are hearing a lot more about animal agriculture from PETA the animal rights/vegan group and than from Peter the farmer.
And while Australia's beef industry has been arguing over how best to demonstrate its sustainability credentials, other sectors with major sustainability issues have been successfully repositioning their industries, perception-wise at least, as environmental champions.
Google the words "Virgin Airlines environmental impact", and you will see pages of results showcasing the airline's commitment to environmental sustainability.
Almost every result on the first few pages links back to the airline's own website, underlining the efforts Virgin has taken via search engine optimisation to ensure that any consumer who questions the company's environmental footprint receives an answer from Virgin itself.
The same strategy also reduces the risk that consumers will find headlines such as this one from the New York Times which describes air travel as "the biggest carbon sin", based on the volume of carbon dioxide outputs it generates per person and the fact that those emissions are delivered straight into the most sensitive part of the atmosphere.
Then Google the words "beef production environmental impact" and, apart from one page from Meat & Livestock Australia explaining why beef production is sustainable, the results are dominated by groups such as PETA, the World Worldlife Fund, and the 'vegetarian times'.
Even the "new" criticisms of beef which emerged last week appear to recycle the same misleading data, flawed assumptions and unfair comparisons that the beef industry has been working hard to correct for several years.
For example Richard Branson's primary 'beef with beef' was based on the claim that farmed cattle generate more than 14.5 percent of all anthropogenic greenhouse gas emissions, more than the entire world transport sector combined.
This often repeated claim draws back to a 2006 United Nations report called Livestock's Long Shadow which has since been largely discredited after the report's authors conceded the methodologies they used to measure and compare cattle emissions and transport emissions were flawed. In calculating emissions from cattle they included every source of emissions they could think of – fertiliser production, land clearing, vehicle use etc – while for transport they counted only the burning of fossil fuels.
By contrast the latest indications from the draft Intergovernmental Panel on Climate Change Working Group III assessment report are that direct livestock emissions amount to less than 5pc of annual anthropogenic emissions. Direct emissions from the fuel used in transport are double that level and growing, according to the report, while emissions from livestock production have decreased in recent years.
But while anti-meat groups recycle outdated figures and incorrect information, the cattle industry cannot afford to simply shake its head and assume that at some point sanity will prevail and the public onslaught against livestock production will suddenly go away.
Cattle still produce methane which is a damaging greenhouse gas and the industry will continue to draw attention as a result. Like Virgin, Australia's cattle industry needs to ensure its message is the one consumers are hearing.
The growing strength of the sustainability reporting trend is underlined by articles such as this which shows that the majority of US companies listed on the S&P 500 and the Fortune 500 indices now publish annual 'sustainability' reports, whereas a few years ago less than 20pc did.
Importantly, "non-reporters" are effectively in the minority for the first time.
"We believe this 'minority universe' will continue to shrink as it has in the past few years as more large-cap companies embrace sustainability reporting," US Governance & Accountability Institute Chairman Hank Boerner explains in the article. "The benefits of sustainability reporting are becoming increasingly obvious over time and the long-term benefits of adopting sustainability strategies and reporting on performance become easier to measure and quantify."
Australia's cattle industry remains in that minority universe with a fantastic story that isn't properly being demonstrated or sold.
A notable exception is the important role MLA is playing by helping hundreds of producers to explain their commitment to sustainable production via the Target 100 program.
But as Richard Branson's comments recently demonstrated, in the race to claim the sustainability high ground, beef's opponents are halfway up the mountain while the cattle industry is still tying up its laces.
After moves to develop an Australian chapter of the Global Roundtable for Sustainable Beef were abandoned this year based on fears that World Wildlife Fund will control the process (a view vehemently rejected by the GRSB's other 50 or so partner groups), Australian beef industry organisations are now working under the National Party-initiated "Squaretable process" to devise a strategy to demonstrate the Australian industry's sustainability credentials to the world.
What that strategy looks like should become clearer in coming weeks.
In the meantime, common sense dictates that cattle producers have not only an ethical responsibility to look after their cattle and their country but a powerful commercial imperative to do so as well – poorly treated livestock and land do not equate to businesses that are financially sustainable in the long term. Looking after land is second nature to farmers – it is a common sense message producers know well but one that needs to be more broadly understood.