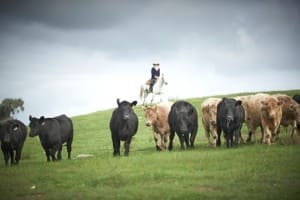 Cattle industry leaders say a new US study which claims beef production does more damage to the environment than pork, poultry, eggs or dairy oversimplifies and overstates the environmental impact of beef production and has little direct relevance to beef cattle production in Australia.
A new study published yesterday in the Proceedings of the National Academy of Sciences (PNAS) used US government figures to calculate air and water emissions and how much water and land were used in the lifetime production of beef, pork, poultry, dairy and eggs.
It concluded that, compared with the other animal proteins, beef produces five times more heat-trapping gases per calorie, puts out six times as much water-polluting nitrogen, takes 11 times more water for irrigation and uses 28 times the land.
Lead author Gidon Eshel, an environmental physics professor at Bard College in New York, said cows were not efficient at converting feed to protein for human consumption.
Prof Eshel said cows ate more food over their lifetime than other animals raised for protein. The digestive system of cattle meant that they emitted considerably more methane than pigs, chickens and turkeys, while the manure they produced and the fertiliser used to grow cattle feed also released methane. Nitrogen from fertiliser runoff could harm rivers, lakes and bays, causing oxygen-depleted "dead zones."
Prof Eshel said that if the average American switched from beef consumption to pork consumption they would reduce their greenhouse gas emissions by the equivalent of 1200 pounds of pounds of carbon dioxide a year, which was about nine days' worth of the nation's per capita greenhouse gas emissions.
In an interview with Associated Press Prof Eshel said the message from the study was "whenever possible try to replace beef with other sources of protein from animal sources."
In the same AP article Professor Eshel said he was a vegetarian, but used to raise cattle on a kibbutz in Israel.
The report has once again triggered a raft of negative mainstream media headlines about beef production, with many articles describing the study as one of the most comprehensive pieces of research conducted to quantify and compare the US environmental costs of different meats and other animal protein.
However cattle industry leaders in both the US and Australia have disputed the "clear" findings of the study.
The National Cattlemen's Beef Association in the US called the study "a gross oversimplification of the complex systems that make up the beef value chain."
NCBA sustainability director Kim Stackhouse said that the industry had improved its environmental sustainability in recent years and that the US produces beef with the lowest greenhouse gas emissions of any country.
Cattle Council of Australia chief executive officer Jed Matz said the study lacked direct relevance to Australia's beef cattle production industry.
"The study exclusively deals with animal protein production in the United States and in particular the grain-fed system in the US, which is quite different to the Australian industry overall and the grain-fed industry here," Mr Matz said.
"Australia is among the world's largest, most successful and efficient producers of cattle, and trades globally on its reputation as a clean and green production system."
Meat & Livestock Australia said it would be incorrect to draw conclusions about other global animal production systems based on one US-focused study.
MLA made the following points in relation to the research:
Given the study was focused on the grain fed industry, MLA said it was worth pointing out how the grain fed industry operates in Australia, where cattle spend most of their lives grazing grass, before spending between 50-120 days (equating to around 10-15pc of their lifespan) on grain.  At any one time there were only around 2pc of Australia's cattle population located in feedlots.
Unlike the US where corn and other crops made up the majority of the grain fed to cattle, in Australia the grains fed to livestock were either a lower quality than that desired for human consumption (ie. 'feed grain' quality) or were grown solely for livestock consumption (eg sorghum). In other words Australian cattle were not consuming grains that humans can eat.
The PNAS study looked at the high level of irrigation used in the industry, whereas in Australia very little water was irrigated for beef production
The authors of the study also suggested that using arid land for grazing cattle ignored ecosystems and biodiversity. However this contrasts with the view recently expressed by leading ecologist Dr Barry Traill that Australia's inland landscape needs to be managed to deliver positive ecosystem outcomes, and the cattle industry has an important role to play.
The study states livestock-based food production accounts for 1/5 (or 20pc) of global gas emissions. MLA said the source of this figure was not clear, but in Australia the livestock industry produces approximately 10 per cent of Australia's total greenhouse gas emissions. Most of these emissions come from methane which is produced by the natural digestion process of cattle and sheep. The Australian cattle and sheep industry invests around $13 million annually in research, development and extension programs to improve environmental performance. Part of this extensive research program includes LCA's (as per the US study) to better understand the impact of the industry across a number of environmental areas.  Many of the research projects, including innovative manure management and energy generation, which are referenced in the US study as issues can be seen at www.Target100.com.au
More key facts about livestock production in Australia provided by MLA:
Emissions
Australia's livestock industry produces approximately 10 per cent of Australia's total greenhouse gas emissions. Most of these emissions come from methane which is produced by the natural digestion process of cattle and sheep.
The impact of improving production efficiencies for climate mitigation, without reducing total production, is evident in Australia where production efficiencies have delivered a 5.3pc reduction in emissions per tonne of beef produced since 1990 (Calculated using 2010 beef production data from MLA and from the 2009 National Greenhouse Gas Inventory).
The first Life Cycle Assessment undertaken on Australian beef and lamb production systems showed that Australia has one of the lowest carbon emission profiles of any major meat producing country.  The research was undertaken by the University of New South Wales in 2009.
A recent paper by Hendrie et al found that if Australians followed the recommended dietary guidelines, they could reduce their greenhouse gas (GHG) emissions and meet their nutrient requirements (Hendrie GA et al. Nutrients 2014).Importantly, the main dietary change would involve reducing intake of 'non-core' foods, which account for 27pc of diet-related GHG emissions.
Water
The environmental impact of water use depends on the source of the water and the limitations of supply.  A meaningful measure is the volume of water used from dams, rivers, bores and town water supplies ('blue water') that would otherwise have been available for human purposes; rather than the 'use' of soil stored moisture from rainfall ('green water') for pasture production, where there is not a competitive use.
Land
Australian cattle and sheep are mainly reared on extensive rangelands and semi-arid areas. Because of geological, topographic and climatic factors, less than 8 per cent of Australia's land is suitable for crop production. Cattle and sheep farming is the most efficient use of non-arable land, enabling this land, which could not be used for any other food production, to be used to produce highly nutritious protein.
As caretakers of nearly half (47 per cent) of Australia's landmass, cattle and sheep farmers aim to continually improve their land management practices to ensure they can continue to produce food sustainably in a changing environment for the world's growing population.