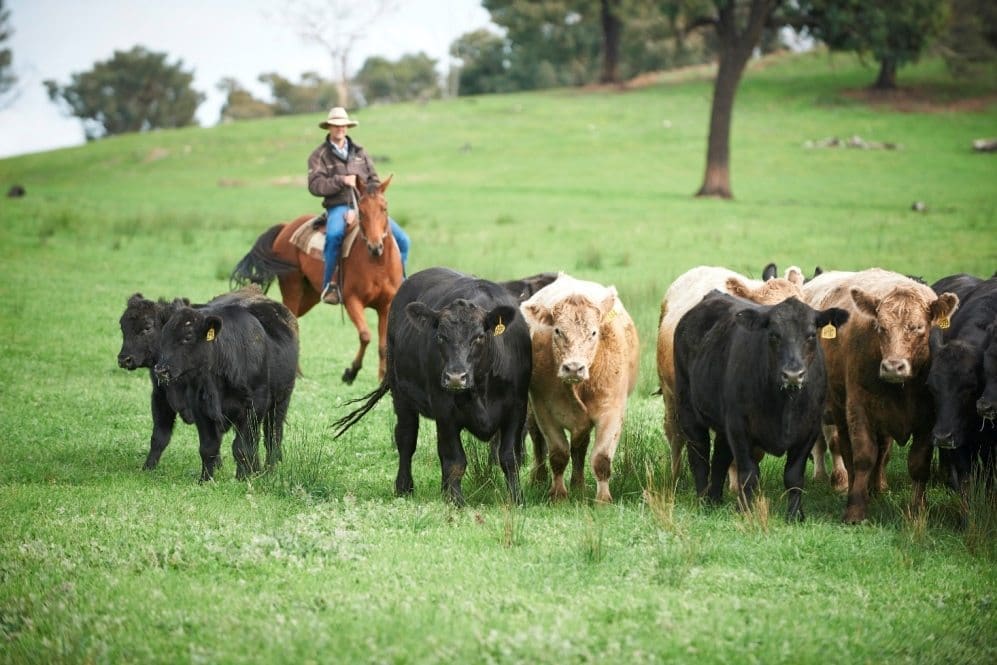 FEW, if any, other bodies in Australian agriculture, and the red meat industry itself, are asked to do as much with as little as the Cattle Council of Australia.
The grassfed cattle industry is a major component of Australia's $72.5 billion per year red meat industry.
However, it is overseen by a representative and policy setting council that runs on the smell of an oily rag, with an operating budget of a just a couple of million dollars annually.
With a staff of just six, CCA as the prescribed peak industry council for grassfed cattle producers is tasked with finding common ground in, and setting policy for, a diverse sector which comprises nearly 46,000 grassfed cattle businesses, ranging from tiny hobby farmers to massive pastoral companies, stretching across every geographic and production zone of Australia.
Added to that are the 21,902 enterprises in the mixed farming category also running cattle, as per the table below from MLA's 2020 State of the Industry Report:

The council's small number of staff and its voluntary directors are required to represent the industry's interests on a multitude of issues and dozens of committees.
To fulfil their roles, directors give up time that would otherwise be devoted to running their own farming enterprise for little recompense.
Limited reimbursements are available for their travel and accommodation costs, but there a number of examples of which Beef Central is aware of board directors funding travel to attend producer events themselves, because it is outside CCA's budget and because they believe it is vital that they attend to keep up to date with producer concerns. Some have also been known to camp in swags at the side of roads while driving through the night to attend meetings to keep costs to Cattle Council down.
Consider how that compares to representative bodies for other large industries.
Would a director of the Minerals Council of Australia for example ever be asked or required to reach into their own pocket to fulfil their duties in representing and advocating for mining industry interests?
Even within Australia's agriculture sector, the CCA's resourcing does not compare well with other peak councils.
Australia's cotton sector comprises just 1500 farms, but is represented by a peak industry council with more than 20 staff.
The sugar industry, with 6000 cane farmers, is overseen by a peak representative organisation with more than 100 staff.
Former Nationals Senator Barry O'Sullivan often commented while chairing the Senate Rural and Regional Affairs Committee a few years ago that the peak industry council for Australia's grassfed cattle industry should be the most powerful and revered body in Australian agriculture, given the size, geographic spread and importance of the sector it represents, and that politicians should tremble when they hear CCA representatives are on their way to see them in Parliament House.
But instead, the industry has been plagued over time by division and fragmentation, and its peak industry council limps along on a tiny budget by comparison with other industry sectors that requires it to stretch meagre funding a long way.
Most of the council's work is unseen, performed behind the scenes and largely hidden from public view. Over time other groups have emerged also claiming to speak for Australian producers. The effect has been to create a perception of a divided industry, one that politicians have taken advantage of to play off one group against the other.
What value do producers place on having a strong representative body?
It seems inevitable that at some point soon Australian cattle producers will have to make a collective decision on what value they place on having a strong and effective leadership body and what they are willing to pay to fund it.
The need for clear and effective industry leadership has arguably never been greater. All the old issues are still there, but now industry leaders face the unprecedented challenge of also increasingly being asked to justify the industry's very existence, as emotive campaigns opposed to meat consumption and animal agriculture agricultural work relentlessly to erode public support for the cattle and beef sector.
The industry has been focusing for more than a decade on structural reform, but ultimately the perpetual problem of how the peak industry leadership body can and should be funded must be solved, to give any new structure the chance of succeeding.
Various suggestions have been thrown up over the past decade including voluntary levies, such as the 50c/head levy proposed by NT Cattlemen's Association president Chris Nott a few years ago, new statutory levies, membership and fee for service models and hybrids of all of the above.
There are no silver bullets, and the ideas of using levies are both fiercely supported and vehemently opposed by different industry stakeholders. The issue has been often debated but continually kicked down the road without resolution.
Over that time, the value of cattle has risen. In 2005 when the national cattle transaction levy was last increased from $3.50 per head to $5 per head, the EYCI indicator price for young cattle stood between 200c and 300c/kg. Today it is above 800c/kg, an historically high point driven by extremely tight cattle supplies and part of a cycle that will undoubtedly eventually swing lower again, but still a long way above where prices sat when the current levy rate was set.
Finding a better way to structure and fund grassfed cattle representation has been a constant focus of industry debate and leadership attention for the past decade and more. What the cost of repeated failed efforts and the energy and resources diverted away from other important issues the industry could otherwise have been dedicating time to is anyone's guess.
Beef Central understands that discussions looking at both structural and funding solutions have been underway again behind the scenes in recent months.
Cattle Council last week issued a media release to announce it will be trialling a new policy council structure in 2021.
A major component of the change is a move from five separate policy committees to a single policy forum comprising a diverse spectrum of expertise, positions on which are currently being advertised.
The initiative is aimed at developing effective policy in a more efficient way, enabling policy on all issues to be considered and debated in a single forum, supported by the establishment of issue-specific taskforces if and as required, while reducing the significant costs that were previously involved in bringing 75 people to Canberra a number of times each year.
In the meantime, at a time when the need for an effectively-resourced industry leadership body would seem paramount, the Council's annual budget, which has never been more than just over $2 million and reducing year-by-year, appears set to come under even more pressure in the next few years.
Its funding currently relies on a mix of sources including membership fees from State Farm Organisations, annual disbursements from the red meat industry fund via RMAC, and service fund agreements negotiated with MLA (an arrangement that has drawn some criticism in the past, based on the view it compromises the 'master/servant relationship' of CCA's role as the body responsible for overseeing and directing MLA on behalf of grassfed levy payers), in addition to service agreements with Animal Health Australia and the National Residue Survey.
Finding an industry leadership funding strategy that will be supported by a majority of producers is shaping as a key issue for the industry, given the challenges it now faces, and one that appears likely to draw far more prominence in 2021.
"We're arguing over a couple of million dollars for a multi-billion dollar industry," is how Victorian cattle producer Leonard Vallance summed up the situation in a recent conversation with  Beef Central.
"If they want a lobby group to lobby on beef industry's behalf, they have to fund it properly.
"Stop chasing bloody mice around and get with it."