AUSTRALIAN beef producers have the chance to validate their cattle breeding objectives and cash in on almost $55,000 in prize money, with entries now open for the RNA's prestigious 2022 Paddock to Palate Competition and 2023 Wagyu Challenge presented by JBS Australia.
The competition is not only the nation's richest beef supply chain competition, but it also provides cutting edge data collection technology giving producers the opportunity to benchmark their cattle.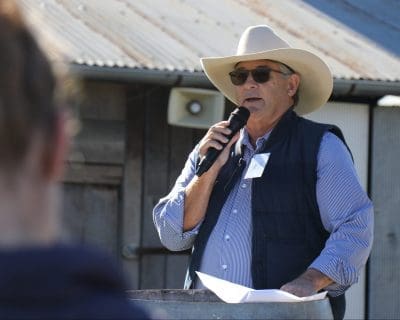 RNA Beef Committee Chair Gary Noller said the Paddock to Palate Competition was now in its 25th year and was one of the world's more commercially relevant beef cattle competitions.
"Since the Paddock to Palate Competition is three phase it offers a holistic approach to data collection,'' Mr Noller said.
"This is further enhanced by the carcass imaging technology the RNA now uses when judging entries.
"This data validation benefit is of great interest to beef producers, particularly when cattle prices are at record highs.''
Mr Noller said the competition provides a platform for producers to prove their commercial relevance which helps with their product promotion.
"Evidence of the popularity of the Paddock to Palate competition is the fact we attracted three new entries in our 2020 event – major operators who felt they needed to be a part of this prestigious contest," he said.
The Paddock to Palate competition will again feature a 100-day Hormone Growth Promotant (HGP) Free Export Class.
The competition is made up of three phases comprising best aggregate weight gain over 100 days for export and 70 days for trade; a carcass competition; and an MSA eating quality competition.
RELATED ARTICLE: Ultrablack gold rush in 2021 Paddock to Palate championships
The weight gain phase will again be held at the JBS Beef City Feedlot west of Toowoomba, following its successful debut there in 2019.
The exhibitor who polls the highest aggregate score across all three phases will be awarded the overall prize at the Paddock to Palate Beef Awards Dinner presented by JBS during the 2022 Royal Queensland Show (Ekka)'s Beef Week
RELATED ARTICLE: Paddock to Palate: "This competition is great at measuring profit"
The Paddock to Palate Wagyu Challenge is four phased finishing in a beef taste off in 2023 judged by some of Queensland's top chefs and is open to Wagyu and Wagyu-cross cattle (minimum 50% Wagyu blood).
Entries close Friday 21st January 2022. Entry numbers will be capped, so producers are encouraged to get in early.
RELATED ARTICLE: Crombie celebrates Paddock to Palate double
 Proud sponsors of the Paddock to Palate Competition and Wagyu Challenge include – JBS Australia, 3D Genetics, Australian Wagyu Association, Coopers Animal Health, Complete Women's Healthcare, Elanco, Performance Feeds, Rabobank, Smithfield Cattle Co, Thompson Longhorn, Queensland Country Life, Zoetis and Zee Tags.
The competition prize pool and key dates for 2022 are listed below.
Class 37 Export (100 days) – prize pool:
Sponsor/Section/Class
Placing
Prize
Sturrock Trophy JBS Australia Class 37 Overall Winner
1st
$2,500
2nd
$1,700
3rd
$1,100
4th
$800
5th
$550
Class 37A Best Weight Gain for Pen of Six Grain-Fed Steers supported by Rabobank
1st
$1,000
2nd
$500
3rd
$300
Class 37A Highest Individual Weight Gain supported by Rabobank
1st
$750
Class 37B Pen of 6 Carcass Competition supported by JBS Australia
1st
$1,000
2nd
$700
3rd
$300
Class 37B Champion Carcass supported by JBS Australia
Champ
$750
Class 37B Reserve Champion Carcass supported by JBS Australia
Res Champ
$500
Class 37C MSA Eating Quality supported by Zoetis
1st
$1,000
2nd
$700
3rd
$300
Class 37C Highest Individual Index Score supported by Zoetis
1st
$500
Class 37 Export (100 days) – key dates:
Delivery of animals: Friday 4th March 2022
Competition start day: Wednesday 9th March 2022
Final weighing day: Friday 17th June 2022
Field Day at Beef City: Tuesday 21st June 2022
Announcement of overall winners at the Ekka: Wednesday 3rd August 2022
Class 38 Trade (70 days) – prize pool:
Sponsor/Section/Class
Placing
Prize
Ken Crotty Trophy JBS Australia Class 38 Overall Winner
1st
$2,500
2nd
$1,700
3rd
$1,100
4th
$800
5th
$550
Class 38A Best Weight Gain for Pen of Six Grain-Fed Steers supported by Elanco Animal Health
1st
$1,000
2nd
$700
3rd
$300
Class 38A Highest Individual Weight Gain supported by Elanco Animal Health
1st
$750
Class 38B Pen of 6 Carcass Competition
1st
$1,000
2nd
$700
3rd
$300
Class 38 Champion Carcass
Champ
$750
Class 38 Reserve Champion Carcass
Res Champ
$500
Class 38C MSA Eating Quality supported by Coopers Animal Health
1st
$1,000
2nd
$700
3rd
$300
Class 38C Highest Individual Index Score supported by Coopers Animal Health
1st
$500
Class 38 Trade (70 days) – key dates:
Delivery of animals: Tuesday 5th April 2022
Competition start day: Thursday 7th April 2022
Final weighing day: Thursday 16th June 2022
Field Day at Beef City: Tuesday 21st June 2022
Announcement of overall winners at the Ekka: Wednesday 3rd August 2022
Class 39 Wagyu Challenge (400 days) – prize pool:
Sponsor/Section/Class
Placing
Prize
Australian Wagyu Association Paddock to Palate Wagyu Challenge Class 39 Overall Winner
1st
$1,750
2nd
$1,000
3rd
$750
Class 39A Smithfield Cattle Co. Best Weight Gain for Pen of Six Grain-Fed Wagyu Steers
1st
$500
2nd
$300
3rd
$150
Class 39A Smithfield Cattle Co. Highest Individual Weight Gain
1st
$450
Class 39B Australian Wagyu Association Pen of 6 Carcass Competition
1st
$500
2nd
$300
3rd
$150
Class 39B Australian Wagyu Association Champion Carcass
Champion
$500
Class 39B Australian Wagyu Association Reserve Champion Carcass
Res Champ
$300
Class 39C Pen of Six Carcass Value Competition
1st
$500
2nd
$300
3rd
$150
Class 39C Highest Scoring Carcass Value Animal
1st
$450
Class 39D Smithfield Cattle Co. Beef Taste-Off Competition
1st
$500
2nd
$300
3rd
$150
Class 39 Wagyu Challenge (400 days) – key dates:
Delivery of animals: Monday 18 April 2022
Competition start day: Wednesday 11 May 2022
Final weighing day: Thursday 15 June 2023
Field Day at Sapphire: Monday 19 June 2023
Presentation of Awards: During Ekka 2023 August
Class 40 HGP Free Export (100 days) – prize pool:
Sponsor/Section/Class
Placing
Prize
Class 40 Overall Winner supported by Rabobank
1st
$2,500
2nd
$1,700
3rd
$1,100
4th
$800
5th
$550
Class 40A Best Weight Gain for Pen of Six Grain-Fed Steers
1st
$1,000
2nd
$700
3rd
$300
Class 40A Highest Individual Weight Gain
1st
$750
Class 40B Pen of 6 Carcass Competition
1st
$1,000
2nd
$700
3rd
$300
Class 40 Champion Carcass
Champ
$750
Class 40 Reserve Champion Carcass
Res Champ
$500
Class 40C MSA Eating Quality supported by Coopers Animal Health
1st
$1,000
2nd
$700
3rd
$300
Class 40C Highest Individual Index Score supported by Coopers Animal Health
1st
$500
Class 40 HGP Free Export (100 days) – key dates:
Delivery of animals: Friday 4th March 2022
Competition start day: Tuesday 8th March 2022
Final weighing day: Thursday 16th June 2022
Field Day at Beef City: Tuesday 21st June 2022
Announcement of overall winners at the Ekka: Wednesday 3rd August 2022