THE Paddock to Palate competition held in conjunction with the Royal Queensland Show has become a valued tool for leading seedstock and commercial cattle producers to benchmark the commercial relevance of their cattle since 1997.
The competition objectively measures the performance of pens of 100 day export, 70 day trade and Wagyu steers on weight gain performance in the feedlot, carcase attributes in the chiller, commercial value and meat eating quality judged by a panel of expert chefs.
Feedback from producers who gathered at JBS Beef City Feedlot on Tuesday to view the winning 100 day and 70 entries (Wagyu entries were fed at Smithfield's Sapphire Feedlot at Goondiwindi and showcased a day earlier) reinforced the value the competition delivers in providing "neutral ground" to assess the commercial relevance of their herd's genetics.
With the nation's richest prize pool of $45,000 this year's competition attracted 748 steers from many leading Queensland and New South Wales operations.
So close was the competition officials had to delve three decimal places deep in Average Daily Gain (ADG) results to determine the winners of some weight gain classes, RNA commercial cattle councillor Gary Noller said.
According to data from JBS staff at Beef City on Tuesday, all steers in the 100 day export class (Class 37) produced an overall average daily gain (ADG) of 2.39kg, steers in the 70 day class (Class 38) produced an average ADG of 2.46kg per day and steers in the 100 day HGP-free class (Class 40) had an average ADG of 1.79kg per day.
Palgrove Charolais and Ultrablack genetics rise to fore
The performance of Ultrablack genetics has been a prominent trend in recent years of the Paddock to Palate competition, reinforced in this year's weight gain results.
A pen of Charolais and Charolais Ultrablack steers from Palgrove Cattle Company won the 100 day export competition (Class 37) and another pen of Charolais Ultrablack steers from Palgrove took out the 100 day HGP-free export section (Class 40) – pictured below.
A Palgrove Charolais Ultrablack steer also set the benchmark for highest individual weight gain for Class 40 with an ADG of 2.550kg.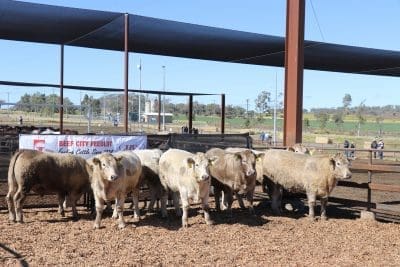 Palgrove has been breeding Charolais cattle for over 50 years and became a pioneer of Ultrablack cattle breeding in Australia in 2009 when it developed the Palgrove Ultrablack to provide a genetic solution for cattle producers looking for black hided bulls with a small percentage of Brahman content.
Ultrablack cattle must have between 50 and 87.5 percent Brangus genetics and the remaining percentage must be of registered Angus lineage. The breed cannot exceed a maximum of 20 percent Brahman infusion.
Ultrablack cattle are sometimes referred to as a "tropical Angus", drawing heat tolerant constitutions from Bos Indicus content and carcase attributes from Angus content.
At the Paddock to Palate weight gain phase awards on Tuesday at JBS Beef City feedlot, Palgrove business development and genetics manager Ben Noller said there has been a distinct increase in recent years in the uptake of Ultrablack genetics from both family and corporate sized operations from New South Wales to the Northern Territory.
"Clients taking them through to slaughter and the results they are getting there with extra with IMF (intramuscular fat) and carcase quality has been very positive, some of those guys have been doing it in big numbers and have been blown away by it," he said.
"Certainly within the last two years we have seen a real jump in the Ultrablack side of things in terms of bull sales as people are really seeing the benefits of the Ultrablack with a touch of Bos Indicus just to handle the tougher climates within Australia.
"We're also seeing a lot of family operations mixing the Ultrablack in, clients that have brought Charolais bulls in the past using the Charolais and Ultrablack in combination, similar to what you are seeing in the competition here today, and getting really positive results with it."
Palgrove's success in the weight gain section this year follows three successive overall championships in the Paddock to Palate competition from 2018 to 2020 with Charolais, Charolais Angus cross and Charolais Ultrablack cross cattle.
Mr Noller said the Paddock to Palate competition provided a strong endorsement of the commercial relevance of genetics.
"There are a lot of people that enter this competition that are high up in the industry, in stud and commercial operations, and I think it is just reassurance for our clients using our genetics that what we are doing is up there in terms of profit.
"This competition is great at measuring profit, whether it is in the weight gain section or through to the carcase quality, and to me that is just a representation to our clients of what our genetics can do."
Russell Pastoral Company: "It is the genetic base that brings them through"
"The secret is good genetics" was the simple explanation from Russell Pastoral Company's Adam Armstrong after the company continued its successful performances in the Paddock to Palate competition with multiple wins in the weight gain section of the 2021 event.
Russell Pastoral Company took out highest individual weight gain in the 100-day export class (Class 37) with an Angus cross steer recording an ADG of 3.310kg (pictured below), and won first place in the 70 day trade class (Class 38), with a pen of six Angus cross steers recording an ADG of 2.843kg.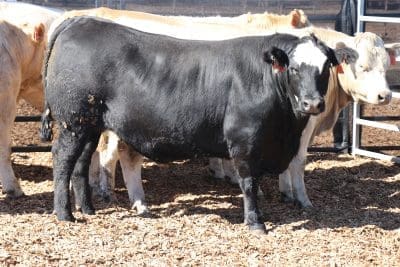 A shift in genetic composition from a high quality but late maturing Braford-based herd in 2007 to an Angus, Charolais and Droughtmaster cross has underpinned strong advances in the productivity of Russell Pastoral Company's herd.
"We just looked at the breeds that we knew the market was demanding, that was the Angus, but also we wanted growth, we wanted to make them more early maturing and we wanted survivability, and we have largely done that," Mr Armstrong explained.
"We keep about 65-70 percent of our bull base with the Angus, 25pc with Charolais and we just have a little bit of Droughtie in there as well.
"We like a little bit of Bos Indicus in there just to keep a bit of adaptability, but mind you the blacks have adapted to that country (at Champion Station near Blackall) very well.
"That is the secret to these is good genetics, the quality of the Braford herd in 2007 was a high quality Braford herd, and we now target specific blood lines of Angus, we buy from Booramooka, Te Mania, and we have also used Texas Angus which has won a prize here today.
"Really it is the genetic base that brings them through."
After managing the Russell Pastoral Company's agricultural operations on Champion Station near Blackall and Jimbour Station near Dalby for over a decade Mr Armstrong has recently bought into the business in a joint venture with owner David Russell QC.
As part of the structural change, the operation has also expanded with the acquisition of a new property, Cluny at Bingara in northern New South Wales.
The plan is to expand the herd from its current size of around 5000 breeders to over 10,000, Mr Armstrong said, which will also include an expansion of the operation's standalone Wagyu herd.
Outside investment will also be sought as part of that process, he said.
Mr Armstrong said the operation is still carrying about 90 percent of its normal breeding numbers despite the recent drought years, which included a dry 2020 through until Christmas rains provided a break.
"We always go early, and we do that with young cattle," he said.
"If we think it is getting tight we will get in and start selling young cattle very early so we have got as much grass as possible for our cow base.
"They are the factory, they are the last you should be cutting into, so that is how we have managed to do it."
Most of the steers were sold early last year, with the class winning steers which performed well in this year's Paddock to Palate competition coming from the tail of last year's steers, he said.
"We sold two thirds of our steers last year because it was so dry and we sold them very early, so these were the little fellas that were too light to go.
"The result is testament to the cattle."
Drynan steer claims individual weight gain award
John, Estelle and Ben Drynan and family from Esk have been long time supporters of and exhibitors in the Paddock to Palate competition and continued their success in the competition when a Charolais/Red Angus cross steer produced the highest individual weight gain of 3.414kg per day in the 70 day trade class.
Yulgilbar Santa Gertrudis consistency shines through
From adversity comes strength, the saying goes.
Adversity seems an understatement for what Rob and Lorraine Sinnamon and their team at Yulgilbar near Baryulgil in NSW endured from September to November 2019.
As cows were calving in the midst of the driest year on record on the historic station, relentless bushfires ravaged the region and threatened lives, with the worst coming over several horrific days in mid-November.
Losses included 28 high value stud cows of the calibre that breed bulls which can sell for prices around $40,000, hundreds of calves and much needed carefully managed grass reserves on 35,000 acres of the property's 38,000 acres.
Mr Sinnamon estimates the financial cost of the fires to have been in the vicinity of $4 million.
108km of fencing has since been replaced but there is still 50km to go.
Some mountain country that burned very, very hot may take decades to recover, Rob said, but fortunately the river flat country has bounced back "better than ever".
Despite the shock and loss of that experience the Yulgilbar team wasted no time moving from fighting dangerous fires into instant recovery mode.
Rob concedes that it felt like a crazy thing to do at the time, but as they came out of that event they made a clear decision to production feed rather than maintenance feed.
Faced with the exorbitant cost of hay at the time they devised an outside-the-box solution.
They purchased standing sugarcane on farms closer to the coast, which was then chopped and carted back to Yulgilbar for storage in corn silage pits. That formed the basis of a ration with palm kernel, wheat and feedlot concentrate to feed the herd in the charred environment.
It was a massive undertaking to prepare and feed out up to 28 mixes a day for almost two months until relieving rain restored green feed to paddocks.
The production feeding strategy paid off, with pregnancy rates across the breeding herd lifting to 93 percent last year – well above the rolling 20-year-average of 83 percent.
"Being able to hold the cattle and take advantage of the rising market conditions we've seen since, plus the additional production off that… At the time it felt like a crazy thing to do but it has certainly paid back in spades."
Yulgilbar is one of the longest running exhibitors in the Paddock to Palate competition and also one of the most consistent performers, with its steers continually featuring among the top place getters.
This year the trend continued with Yugilbar Santa and Sangus (Santa Angus cross) steers placing second in the weight gain section of the 100 day export class and third in the HGP-free 100 day export class.
"What we like about this competition is that it is held on neutral ground, everything is kept the same, it is consistent in the way that it is conducted and it is a great benchmarking tool for seedstock producers and commercial cattle producers alike," Rob said.
"We'd like to think we're breeding cattle that have the capability of being marketed at a range of ages along the production chain, and we're proud of the consistent performance our cattle have had in these competitions over the last 15 years.
"What has been nice is to see clients' cattle do well too, a couple of years ago David Crombie's steers were out of cows by Yulgilbar bulls, so it is nice to see clients' cattle breeding on with our genetics."
Womblebank composite weighs up
The 2021 weight gain component of the Paddock to Palate competition resulted in a best-ever performance for entries from Womblebank Cattle Company, Mitchell.
Six steers from a Womblebank composite developed using Rosevale Santa Gertrudis and Manchee Durham Tropical (a Shorthorn and Santa Gertrudis composite) genetics took third place in the 100 day export section (Class 37) with an average daily gain of 2.683kg.
Angus McGilvray said he values the performance feedback he receives from the Paddock to Palate competition, and was elated with this year's third placing in the tightly-contested event.
"To have six steers do well, I am stoked, because it is hard to get a ribbon.
"We enter this competition to benchmark our cattle and to know where we can improve, and have used the feedback in the past to realign our bull breeding and breeding in the direction we need to go.
"I didn't expect this. Maybe to get one steer, but to get six, it is very good."
Wentworth wins big in Wagyu Challenge
In the weight gain section of the Wagyu Challenge, fed at Smithfield Cattle Co's Sapphire Feedlot at Goondiwindi where awards were presented on Monday, Richard and Dyan Hughes' Wentworth Cattle Co from Clermont swept the major awards pool, taking first and second place in the class for pen of six grainfed Wagyu Steers (400 Day) with F1 steers averaging 1.159kg per head and 1.097kg/head.
Wentworth Cattle Co also took the award for highest individual weight gain in the Wagyu challenge with a steer recording an ADG 1.289kg.
Entries from Mary and Hamish McIntyre from McIntyre Agriculture, St George, also performed strongly in the weight gain section, taking third place in the pen of six class with an ADG of 1.058kg.
Carcase and beef taste-off results next
The Weight Gain phase of the Paddock to Palate competition accounts for 35 of 155 points in total in the 100 day and 70 day competitions and 20 percent of the total points in the Wagyu Challenge.
In the 100 and 70 day competitions the carcase competition accounts for 110 points and the MSA eating quality section accounts for 10 points, while in the Wagyu challenge 40pc of points come from the charcase competition, 20pc from carcase value and 20pc from the beef taste-off.
Those results and the overall championships in each class will be announced at a special awards event at the Ekka in early August.
2021 PADDOCK TO PALATE WEIGHT GAIN RESULTS
Class 37 – Rabobank Best Weight Gain for Pen of Six Grain Fed Steers (100 Day)
1st – Palgrove Pastoral Company – Charolais X – ADG 2.773kg – Dalveen QLD
2nd –  Yulgilbar Pastoral Company – Santa Gertrudis – ADG 2.725kg – Baryulgil NSW
3rd – Womblebank Cattle Co – Womblebank Composite – ADG 2.683kg – Mitchell QLD
Class 37 – Rabobank Highest Individual Weight Gain
1st – Russell Pastoral Operations – Angus X – ADG 3.310kg – Kenmore QLD
Class 38 – Elanco Animal Health Best Weight Gain for Pen of Six Grain Fed Steers (70 Day)
1st – Russell Pastoral Operations – Angus X – ADG 2.843kg – Kenmore QLD
2nd – Nebrean – Santa Gertrudis and Charolais X – ADG 2.807kg – Goondiwindi QLD
3rd – Russell Pastoral Operations – Angus X – ADG 2.802kg – Kenmore QLD
Class 38 – Elanco Animal Health Highest Individual Weight Gain
1st – Drynan Family – Charolais and Red Angus X – ADG 3.414kg – Esk QLD
Class 39 (Wagyu Challenge) – Smithfield Cattle Co Best Weight Gain for Pen of Six Grain Fed Wagyu Steers (400 Day)
1st – Wentworth Cattle Co – 50% Wagyu – ADG 1.159kg – Clermont QLD
2nd – Wentworth Cattle Co – 50% Wagyu – ADG 1.097kg – Clermont QLD
3rd – McIntyre Agriculture – 50% Wagyu – ADG 1.058kg – St George QLD
Class 39 (Wagyu Challenge) – Smithfield Cattle Co Highest Individual Weight Gain
1st – Wentworth Cattle Co – 50% Wagyu – ADG 1.289kg – Clermont QLD
Class 40 – Best Weight Gain for Pen of Six Grain-Fed Steers (100 Day HGP Free)
1st – Palgrove Pastoral Company – Charolais – ADG 2.245kg – Dalveen QLD
2nd – Texas Angus – Angus – ADG 2.180kg – Warialda NSW
3rd – Yulgibar Pastoral Company – Santa Gertrudis – ADG 2.177kg – Baryulgil NSW
Class 40 – Highest Individual Weight Gain
1st – Palgrove Pastoral Company – Charolais – ADG 2.550kg – Dalveen QLD