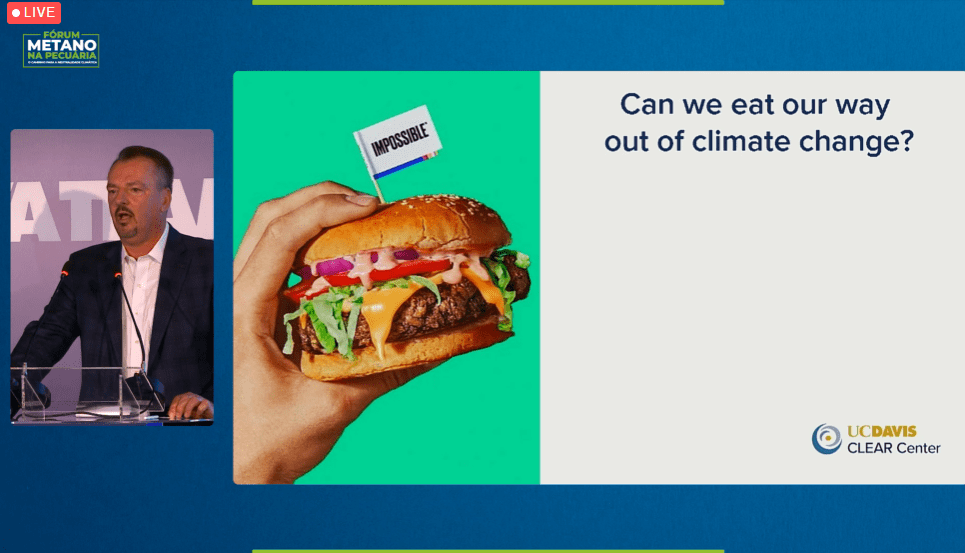 A WORLD leading air quality scientist has told a Brazilian beef conference there are major opportunities for the industry to be a leader in slowing global warming.
Scientists and beef industry leaders converged on the city of São Paulo for a conference held by the world's largest beef processor, JBS – with the company's 'net zero emissions by 2040' target to be discussed as the event continues tonight.
Methane is not just a liability, it is an opportunity
University of California, Davis professor and air quality specialist Dr Frank Mitloehner was the first of the speakers at last night's conference. He said the beef industry's methane production came with major opportunities.
"Methane does matter and methane is a potent greenhouse gas that we seek to reduce," Dr Mitloehner said.
"But it's important to account for all its properties in order to understand that methane is not just a liability, it is an opportunity. Methane is pretty much energy, methane can be burned, methane can be made into power and into fuels."
Dr Mitloehner has long been a critic of the way methane, produced by the cattle industry, is measured and treated in public debate. (See previous Beef Central article here)
Last night, he said reducing methane could quickly have an impact on global warming, with methane typically breaking down after 12 years, as opposed CO2 which stays in the atmosphere for more time than can be counted.
"If you reduce methane through the use of feed additives, through the use of anaerobic digestors and through the use of other means then you reduce carbon from the atmosphere and reduce warming," he said.
"You can look at it like a bathtub, adding CO2 to the atmosphere is like adding water to the bathtub without having a drain to let it out – whether you have the tap on high, medium or low it will never go down. Methane is like having the tap on but you have the drain open, so if you have the top on low the water level will go down."
Dr Mitloehner pointed to a case study of California dairies where lagoons were covered, trapping the methane and using it to replace diesel in cars.
Soil carbon sequestration opportunities
Sequestering carbon in agricultural soils has become a popular activity in Australia with almost 300 projects registered with Emissions Reduction Fund, most of them in the past two years. Dr Mitloehner said it also had potential in other parts of the world, particularly Brazil.
"Sequestering carbon in soils is extremely important for Brazil, because it has tropical forages that are very strong in pulling carbon from the atmosphere," he said.
"This is a really significant thing that we need to learn more about and learn how to quantify it properly."
I am partaking in an excellent methane summit in São Paulo (Brazil) these days. Every speaker agrees that we want to reach climate neutrality for livestock and that mitigation and innovation is essential in getting us there. https://t.co/kKIV8stFHY

— Frank Mitloehner (@GHGGuru) May 4, 2022

Dr Mitloehner said methane reductions and carbon sequestration by the cattle industry had the potential to help offset other industries.
"I have seen Shell, BP, BMW and others buying carbon credits from Californian dairy farmers, because they have already reduced their emissions so much that they have enough credits to sell them," he said.
"The fossil fuel industry can't do what agriculture does, it can't sequester carbon in its soils and it doesn't have meaningful ways to reduce emissions. Animal agriculture is part of the climate solution."
Dr Mitloehner said despite agriculture playing a major part in reducing emissions, it was not the silver bullet.
"We know that by far the biggest contributor to warming the environment is the fossil fuel industry – it is the 800-pound gorilla," he said.
"We need to commit to doing our part in animal agriculture to reduce methane, but let's make sure we frame things correctly."