GLOBAL burger chain giant McDonald's has launched a certified grassfed beef burger in the Australian market, under a limited-time offer.
The new grassfed offering under the company's premium burger line-up is made from 100 percent Australian grassfed beef, the company said in a statement.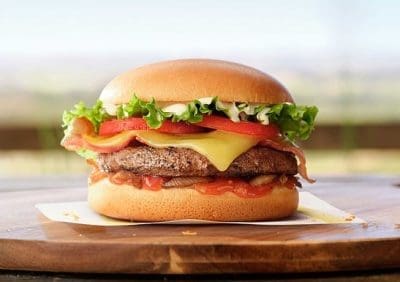 It is the company's first grassfed burger launch worldwide. The burger will cost $9.45 for the item by itself, or $12.55 in a meal deal with small fries and Coke.
For some years McDonald's has been asked during beef industry gatherings attended by McDonald's management personnel about prospects for the launch of a certified grassfed burger in Australia. The standard response has always been that the company is prepared to explore such options, but only after it is confident that the supply chain is large enough and reliable enough to service it.
The company last launched a Wagyu beef burger option in March 2018, and before that had major success with its Angus burger range, where popularity forced it to be added to the permanent menu.
"The Grassfed Beef Burger is a delicious addition to our menu that really celebrates terrific, locally-sourced products," McDonald's marketing director Jo Feeney said.
"McDonald's has a long-standing commitment to our local farmers and the agricultural industry and supporting them is at the heart of our business," she said.
McDonald's said it would purchase an additional 160 tonnes of certified grassfed beef from Australian producers for the limited-time offer. The burger, available at stores nationwide, includes a certified grassfed beef pattie, Australian-sourced Jack cheese, crispy bacon, whole leaf lettuce, tomato, grilled onions, topped-off with creamy garlic aioli and tomato onion relish on a white bun.
UK stores close, Australia under pressure
Some have speculated that Thursday's grassfed burger launch is linked to moves by McDonald's to reinforce and underpin customer loyalty, during difficult times in the food service industry surrounding coronavirus.
A number of nations have already started closing McDonald's stores to help reduce social interaction and stem the spread of the disease.
All 1350 McDonald's restaurants in the UK and Ireland have now shut, as the coronavirus pandemic escalates. Local McDonald's management said it had taken the "difficult decision" to close all its restaurants in the UK and Ireland on Monday.
"This is not a decision we are taking lightly, but one made with the wellbeing and safety of our employees in mind, as well as in the best interests of our customers," the company said.
On Sunday night, Prime Minister Scott Morrison announced that all Australian restaurants and cafes would be restricted to takeaway-only as of Noon yesterday, as part of a 'phase one' plan to halt the spread of COVID-19.
"At Macca's, looking after you, our team and the wider community is our priority, so in line with Government guidance, we're making a few changes," McDonald's Australia said in a Facebook post yesterday.
"For the time being, you won't be able to dine-in, but we'll be here for you to walk in and takeaway, and via Drive-Thru and McDelivery."
"That means people can still come in and order on kiosks, at the front counter, via the drive-through, or on our MyMaccas app and pick-up their food."