TWO and a half years after establishing its first Certified Organic beef program, JBS Australia is in an expansionary mood in the specialised market niche.
JBS launched its Australian organic program – the only example for the company across its global operations – in January 2017 (click here to view earlier story).
Because it had no pre-existing organic cattle supply base (or, indeed, organic meat customers) the company took a 'small steps' approach, starting with around 200 certified cattle per week processed through its Rockhampton (Central Queensland) facility to explore the market.
Now satisfied that organics is a niche segment that the company wants to play in, JBS is in the early stages of ramping-up production from current levels of around 500 head per week. The domestic and international meat customer-base has grown in concert with the gradual increases seen in production.
Rockhampton's daily capacity of around 700 head provides a possible pointer around the company's future ambitions in the space. Meat processing plants conducting specialised kills (like EU, HGP-free or Organic, for example) are typically keen to occupy an entire single weekly shift with dedicated production, because of operating efficiency reasons. Certified Organic processing requires specialised pre-shift wash-down and other procedures in order to comply with regulatory requirements, for example.
Livestock price big factor
Livestock price is obviously going to be a key determinant in how successful JBS is in growing both its existing organic beef market share, but also ultimately the broader organic beef 'pie' in Australia.
Currently, certified organic cattle for the Rockhampton program are drawn from across a large footprint, stretching across central, western and northern Queensland and across as far as the Northern Territory.
The company's Rockhampton grid this week offers 650c/kg for milk and two-tooth certified organic steers, and 640c for four-tooth. Heavy cows are quoted at 480c/kg.
Compare that with the plant's conventional (non-organic) grassfed grid this week of 530c for a four-tooth ox, and it represents a colossal 110c/kg incentive for organic production, and a 70c/kg premium on a heavy cow (410c).
Have there ever been bigger incentives paid for organically-certified cattle in Australia?
Certainly when JBS first launched its organic program in early 2017, it offered up to 650-660c/kg for 0-4 tooth organic steers. But given it was only getting started in the Organic segment, JBS was obviously 'buying its way into the market' at the time.
Equally importantly, the conventional cattle market back in early 2017 was substantially higher than where it sits today, with cows worth 580c/kg on the Rockhampton grids at the time. The differential between conventional and organic pricing is considerably larger today than it was then.
It supports the view that certified organic cattle premiums at present are probably higher than they have ever been. Drought and its impact on organic production is obviously playing a role in that differential, as well as growing demand and greater competition for available cattle.
US strong market for brand programs
JBS packs it's Rockhampton certified organic production under several brand names for international and domestic markets, including Acres Organic (see cryovac cube roll example image here) and Spring Crossing Organic brand, used exclusively in the US.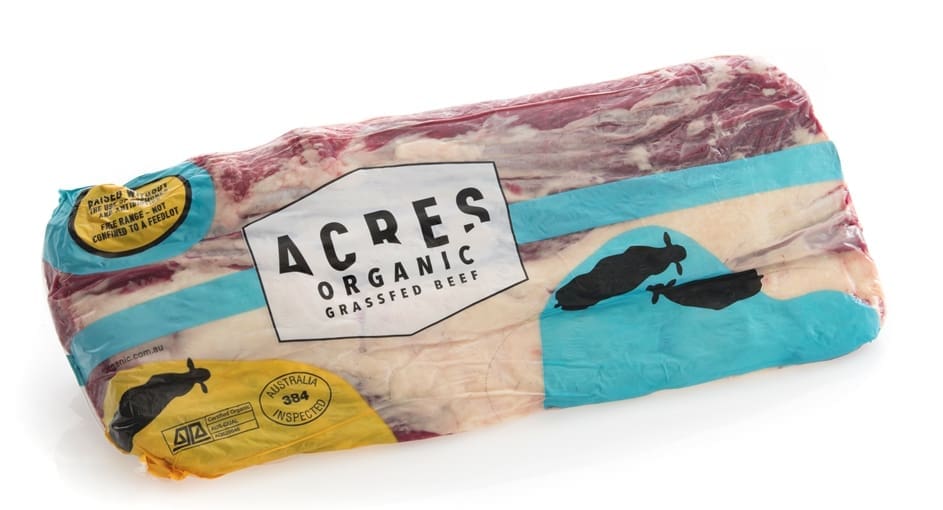 Spring Crossing has been used successfully by JBS as a large-scale consumer-facing retail brand in the US market for the past decade for natural/grassfed beef and lamb, but it has now been extended to include a Certified Organic derivative. A third-party portion-cutter in the US takes the Spring Crossing primals and portions and packages them for retail-ready use, through retailers including Roche Brothers and Market Basket across the US.
Given the brand's existing strong recognition in the US market, it was logical to extend into an Organic program under the same label.
The biggest single market for JBS Australia's growing organic beef production is the United States, where organic beef demand continues to grow, in a range of market segments from chilled primal cuts to grinding beef for hamburgers. This means that supply requirements extend from grassfed steer and heifer through to cull cows and bulls, all run under certified organic principles.
While the US is the dominant customer, JBS is opening up other important export markets for its growing certified organic output, especially in the Middle East region, and Japan and other parts of North Asia.
"We certainly don't think that the size of the organic beef market across the world has peaked yet," JBS brand manager Brad De Luca said.
"We have established consumer facing branded retail channels for Acres Organic in a number of markets and continue to analyse global consumer insights and market data to identify further opportunities for not only the organic program, but all our brands," Mr De Luca said.
"Additionally, we work in conjunction with end-users that are marketing our brands to help in establishing brand recognition and growing their market share. For example, this week we are running an aggressive promotional campaign for Spring Crossing Organic with major retailers in the US for Memorial Day.
JBS recently produced this short promotional video for its Acres Organic beef program, via a 'taste test' with people on California's Venice Beach:
"Growth in organic over the past couple of years has been substantial, but the organic segment is a 'chicken or the egg' situation, where sales volume is dictated strongly by the rate of growth in production," Mr De Luca said. "That's why we are pushing to grow the supply side of the business now."
"It's been a couple of years of trail-blazing for us, in a new field," JBS northern's livestock general manager Steve Groom told Beef Central in a briefing about the development of the organic beef project.
"There's been an encouraging lift in supply, both through producers transitioning across from conventional beef production into certified organic production, and existing certified producers consigning organic cattle to JBS Rocky," he said.